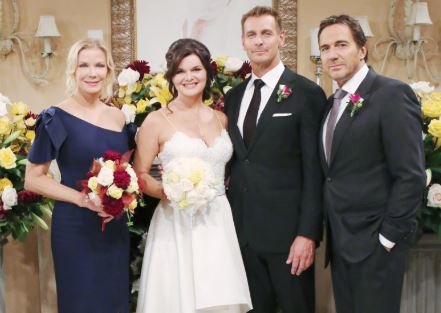 The Bold and the Beautiful fans watched a wedding and a custody battle all for the same couple this week. It's been a mess, and we didn't think that Bill would ever try to fall into the world of desperation. We don't get it. He's shown little to no interest in being a father for so many years, and he didn't do what he was meant to do the first time he had a chance. It was the straw that broke down everything that's ever happened in his life, and he doesn't get it. Katie is tired of this. She's not looking to hurt Bill for personal reasons by taking her son from him, she's just trying to stop this all from happening. She's tired of telling her son that daddy failed this time, that time, and another time. She's ready to remove this situation from her son's life.
Bill, on the other hand, feels that this is personal. Now he suddenly wants and loves his son and has the overwhelming desire to take him from his mother using her history against her. It's not exactly right what these two are doing to one another, but we do get what is happening to them. They do have to get their situations under control and make this work. She wants to put him into a place where her son doesn't need to suffer the same hurts and disappointments that he's suffered his entire life. But now she's in the middle of the process of losing him completely. We are dying to see how this battle turns out, and what it all has to do with Bill and Thorne and Katie and Ridge and Brooke and their relationships with one another. It's been a madhouse, and we cannot help but think something is going down.
What's Happening on The Bold and the Beautiful
Meet Mr. and Mrs. Thorne Forrester! #BoldandBeautiful pic.twitter.com/ZfYWmBrecF

— Bold & The Beautiful (@BandB_CBS) September 25, 2018
We have to admit this was a sweet moment, even if we don't think this marriage will last longer than a month. It's one of those things we just feel, but this is one of those things that we just want to cheer for even though we definitely know better. Sue us….we are hopeless romantics!
What's Next on the Bold and the Beautiful
Bill fights for his son this week on #BoldandBeautiful. Don't miss it! pic.twitter.com/0Ni3Cjd9mL

— Bold & The Beautiful (@BandB_CBS) September 23, 2018
Things aren't looking good for Bill as his past transgressions are used against him in a court of law. He is going to stand in the courtroom and listen to everyone he has ever wronged tell all the stories of what he's done to them. If this is not an awakening for him, we aren't sure what is. He still has to stand there and endure every bit of what they have to say, and we are positive he is not a fan of hearing what it is they have to say about him. He's been someone that they've had to deal with for a long time, and this is their chance to air their grievances about him and make it obvious to the judge that he is not a good person. Will he hear himself being spoken about like this and commit to making some changes in his life, or will he continue to make a giant mess of his own life?
We think that this won't go well for him, but we also know that there is a lot else that will happen. For one, we are going to see that both Wyatt and Brooke are worried as they testify for Bill. Perhaps they are worried what they have to say simply doesn't matter considering what everyone else just said. Or perhaps they are going to worry because they know that what they have to say makes their loved ones feel bad. They are on the opposite side of things, and they might know this will affect their relationships, too.
Stay tuned for more The Bold and the Beautiful and be sure to check out TVOvermind daily for the latest The Bold and the Beautiful spoilers, news, and updates.