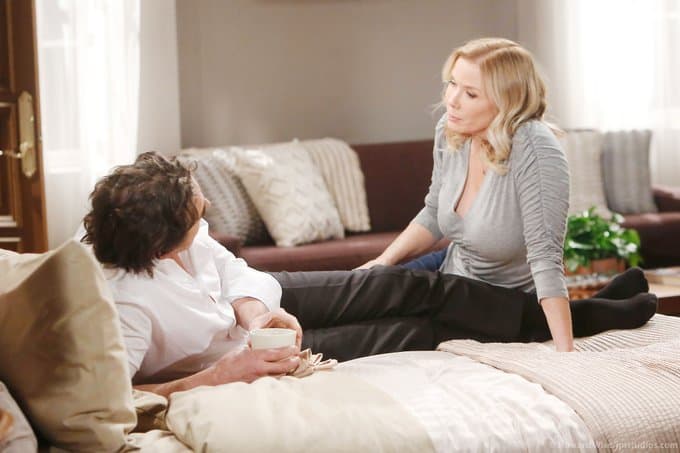 Bold and the Beautiful fans aren't shocked that Bill is off issuing threats to Quinn. We are shocked that it took him so long to do this, but we aren't shocked that he is doing it. She ruined his life for no other reason than to take down Brooke and make her pay. He's less worried about all that, but he is not happy that his wife found out he was kissing her sister — again — and that she's left him and asked him for some space. He is, once again, away from his son and his family, and he swore that would never happen again. Let's make this clear; he was wrong, and this is his fault. Quinn didn't have to share the video, and she's wrong there, but he wasn't being forced to kiss Brooke, and he should not have. Had he kept his face to himself, Quinn wouldn't have had this to even do.
Meanwhile, Sally is doing every single thing in her power to make sure that Wyatt thinks she actually likes Flo. She needs for him to think that she likes this woman so that he cannot see how much she hates her, and so that she looks like the delightful one in the situation. She knows that Flo is saying horrible things about her to Wyatt and trying to get him to leave Sally again, and she's not having any of this. She's not going to let this woman win, and that's all there is to it. She's not allowing it, and it's not going to happen. But, she has to look like she's not having any issues with Flo at all so that Wyatt doesn't think less of her, too. He's already a little annoyed with Flo.
What's Happening on the Bold and the Beautiful
Take this time to share moments with the ones you love, laugh, smile, and come together even when apart. We will get through this because we're all #InThisTogether pic.twitter.com/pfsFApuVM1

— Bold & The Beautiful (@BandB_CBS) April 15, 2020
This is so good.
What's Next on the Bold and the Beautiful
Sally sees a happy ending with Wyatt, but there's just one thing in the way. Tune in to see what happens on #BoldandBeautiful this week! pic.twitter.com/CYtt2EUxZo

— Bold & The Beautiful (@BandB_CBS) April 12, 2020
It's going to be a heck of a day around here, and we are absolutely here for it. You see, we are going to find that there is a major issue going on with Sally. She's going to find that Flo is not happy with her, even more than she thought, and that means Flo is putting herself in a situation that might not work out well for her. She's going to break into Dr. Escobar's laptop and look up Sally's personal and confidential information, which is a breach of so many different laws. She's not in a good place right now, and we get that, but we also know that she's not going to be at all happy when she finds out what is in that laptop. But, will it be hard evidence she can take to Wyatt to prove that Sally is lying about her health to Wyatt? We aren't entirely sure about any of that.
On the other side of things is Bill and Katie and Quinn. Quinn is not about to bother making an apology to Katie about what she did. She doesn't feel she's the one who needs to apologize for this. She feels that all she did was show the evidence, and that if anyone needs to apologize to Katie, it's her own husband and her own sister for actually kissing and making this happen. Quinn is convinced she did nothing wrong in this situation — not that she was the one who was the most wrong, but she should say sorry to her for doing that to her. But, the truth is that she's not sorry, so why lie about it?
Stay tuned for more The Bold and the Beautiful and be sure to check out TVOvermind daily for the latest The Bold and the Beautiful spoilers, news, and updates.