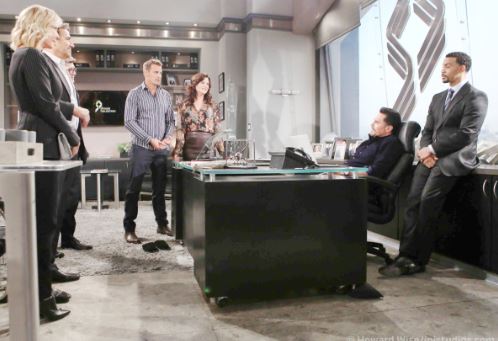 The Bold and the Beautiful fans are excited to see that Taylor is back in town, because it's always a treat when she shows up to make her daughter feel good. She's got a little granddaughter now, and that means we think we might just see a little more of her in the future. There's also the fact that Steffy has made it very clear that she's been working quite hard on her line, and her mother is proud of her. And then there is the news that her own father is in trouble thanks to Bill and Justin, and Taylor might just be there to help her daughter get Ridge out of trouble. He might not be her father, but she knows that he is the father of her child and the grandfather of her granddaughter, and she loves to stick it to Brooke, too. So she might be back for that, but we aren't entirely certain that's her main goal in life.
What we do know is that Brooke and Ridge and Thorne and Katie have to worry hard about what might happen. They now all know that Bill knows the truth, and they are doing nothing but sitting back waiting for him to make his move. And we think that he might just take his time with that one. Bill is enjoying the fact that there is so much happening around here. He's enjoying the fact that there is so much going on that might just make them all feel a bit miserable, and they might have to wait while he enjoys all their fear for the next few days. We know, after all, that there is no way he will allow them to get away with this, but he might just be enjoying this a little bit too much as they panic.
What's Happening on The Bold and the Beautiful
Gotta love Dollar Bill & Justin! #BoldandBeautiful

— Lady Dee🌹 (@drme30) November 12, 2018
For real, though. Is there a better on-screen couple than these two? They are like a match made in Heaven with one another. They are soul mates. They are there for one another. They have the best 'bro-mance' of anyone we've ever seen. And we think that they would make a wonderful team if they would admit that's what they are.
What's Next on The Bold and the Beautiful
The ultimate con could have catastrophic consequences. 🚨 See what happens this week on #BoldandBeautiful! pic.twitter.com/3PHj3H0Afo

— Bold & The Beautiful (@BandB_CBS) November 11, 2018
Brooke is going to do anything she can to save her husband from what Bill has planned, and that includes going to see him to beg him to stop whatever he has planned. Of course, her husband doesn't want her to do this and to make her spend any more time with Bill. And Bill just wants to be there when she leaves her husband, though he might just be more upset with her that she knew this than anything else. But, of course, she will not leave well enough alone. She will go out of her way to see him, and she might not like the price that she has to pay to keep her husband safe if he is even feeling generous enough to do that for her. But he might not be.
Wyatt and Liam are going to spend a little time with their little brother. They both know that there is nothing that they can do with the fact that he is the child of Bill, and they all are. But they do know that they can be there for him to be positive male role models, and they can work to be a family unit when this kids' family (and their own families) are all such a mess. They all have different mothers. They all have different stories, but that doesn't mean that they cannot help this boy grow up and not be like his family. He still has a chance if they can make that happen for him spending this time.
Stay tuned for more The Bold and the Beautiful and be sure to check out TVOvermind daily for the latest The Bold and the Beautiful spoilers, news, and updates.