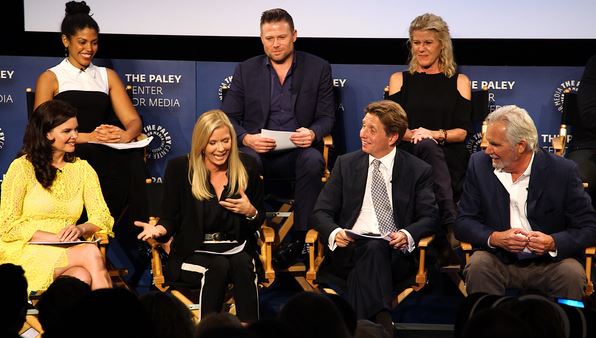 The Bold and the Beautiful fans know that things never really work out the way they are meant to, but that doesn't mean that we don't sometimes sit back and wonder where things are going or how they work. There is a lot we don't know about people and their situations, and sometimes it takes a good bit of research to figure out how families are connected and related to one another and how that all works out. So, we thought we might break down a bit of information about how the characters here are related and what that means for them.
The Forrester Family
This is a big family, and it does confuse some people who some people are and how they fit into other families, too. So, trying to break down some of the biggest characters of the moment and their ties to this family is what we will do. Stephanie Forrester and Eric Forrester created this family. She is dead, but he is alive. He is currently married to Quinn, who is the mother of Wyatt, who is also the son of a Spencer – Bill Spencer. Ridge is Stephanie's, but he doesn't belong to Eric, even though Eric claims his as his own. Thorne is their full son.
Rick is also Eric's son, but he is Eric's son with Brooke, whom he married at one point. Brooke is currently married to Ridge, though she's been married to Bill, and just about everyone else in town. She and Eric had Rick, so Rick is actually Ridge's half-brother and stepson at the same time. It's kind of ugly if you really get into that situation. Bridget is also Brooke and Eric's, and she's also Ridge's half-sister and his stepdaughter.
Ridge married Taylor and had both Thomas and Steffy, and Phoebe. Then he and Brooke, during one of their many marriages, had RJ. That makes RJ the half-brother and nephew of people like Bridget and Rick. It's very, very complicated in this line of work.
Spencer Family
Bill and Caroline are siblings, and she had a daughter that is his niece who ended up with Thomas, who belongs to Ridge and Taylor. There isn't too much overlap in terms of family in this situation being biological with the Forrester family other than the fact that now Bill's son Liam has a baby with Ridge's daughter, Steffy. So that is the first baby that will take on both the Spencer and the Forrester name in terms of being a direct relative to Bill. However, Caroline and Thomas do have a baby together, so that baby is also both, but it's just a great-nephew to Bill so it's not as important in the grand scheme of their storyline.
The Logan Family
Brooke, Donna, and Katie are all sisters, and they are all Logans. Brooke had Hope with Deacon Sharpe, and Bridget and Rick with Eric. She had RJ with Ridge. And her sister, Katie, married Bill Spencer and had Will. They both have kids with the other biggest families in town, too, and they both have ties to each family. Both Katie and Brooke were married to Bill at one point, and it wasn't the first time that Brooke and Bill spent time together. Now Katie is dating the brother of Brooke's husband, who was once in love with Brooke and did not want her to marry his brother.
Hope Logan is marrying Liam and having a baby with him, and he is a Spencer. He was one her stepbrother when her mother married his father, but now she is the stepsister of her fiance's ex-wife and the mother of his baby. So that means her baby and Steffy's baby will be stepcousins and half-siblings.
As you can see, this is a series of families that like to spend their time together, intermingling, having relationships with one another, and really sharing partners. It's not the prettiest thing you've ever seen, and there is a lot of awkward family situations if you want to sit back and really think about it. But we don't want to sit back and really think about it, so we will not do that. But it might be easier to understand, now.