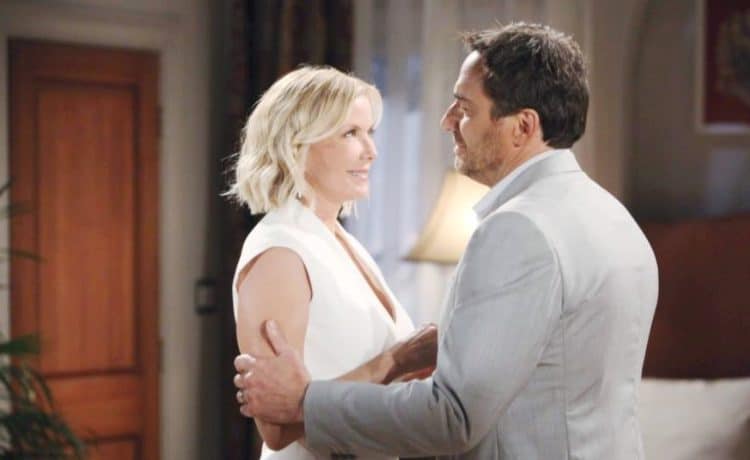 The Bold and the Beautiful fans all watched in total horror as things happened with Liam and Hope. We know that Bill has had a lot to do with this, but it doesn't change the fact that Steffy literally walked in on them in a very compromising position with their clothes coming off and some serious kissing happening. There was a lot of passion there, and Steffy's heart is broken. She cannot handle what happened and how it all went down. She is so upset by all of this, and she's not sure what to do. She turned to Bill, though, and she asked him to do whatever he wanted to do and she will give him what she wants, but that it will come at a very big cost to him. He is completely okay with it, though, and that shows us his character has not changed a bit.
And then there is Hope. She's horrified and hates that she broke Steffy's heart, but yet she did what she did and she's happy about it. She has the audacity to cry to her mother about how bad she feels, yet her mother will tell her that it's all right time and time again. She doesn't seem to care how anyone else feels so long as Hope gets what she wants. We are very surprised that her mother wants to see her with a man who still loves another woman and who will so willingly cheat on someone he just had a baby with. Why does Brooke want Hope with a man who cannot make up his mind, like ever? We simply do not understand this, but Brooke will continue to tell her daughter that it's all right and things are just fine.
What's Happening on The Bold and the Beautiful
https://twitter.com/BandB_CBS/status/1021775514799730688?ref_src=twsrc%5Etfw
The Price is Right is doing a kids week situation, and this show is also participating in it by showing off photos of the kids on the show. Well, they are not kids anymore, but you know what we mean. They are grown up adults with adult roles and things that are happening to their characters, but we still love this photo so much. It's Darrin Brooks, or Wyatt as you know him, when he was but a small boy. And we love every second. Would you have guessed it was him when you saw it?
What's Next on the Bold and the Beautiful
TODAY: Betrayed, Steffy criticizes Liam and Hope for their behavior towards her. #BoldandBeautiful pic.twitter.com/n3dAMCkLY8

— Bold & The Beautiful (@BandB_CBS) July 24, 2018
Steffy is nothing short of betrayed, and she's going to make a bad deal with Bill. She will do something that will change all of their lives, and she will not feel bad about it. Her heart hurts so much that she's not sure she cares how it makes anyone else feel or what it does. She's out to make Liam hurt so badly that he can't ever forget what he did to her. She thought they started over and things were good with them again, and she was so wrong about that. And he can't get her back at this point. We do fail to see how he can, but we do think he will certainly try if he has a chance.
At the moment, however, there is a lot more going on. For one, we are going to see that Liam is just as confused as ever. And he feels more than worse about what happened. It's clear to us that Liam is upset about what he's done, and he wants Steffy, still. She can't, though. He might realize he made a mistake and that it's not with Hope that his feelings lie, but it's too late for everyone at this point. He probably cannot make this up to her at this point, and we don't think she will even allow it. He might just end up with Hope so that he can be with someone since he is not the kind of man who can ever be alone for any reason whatsoever. He's not the type at all.
Stay tuned for more The Bold and the Beautiful and be sure to check out TVOvermind daily for the latest The Bold and the Beautiful spoilers, news, and updates.