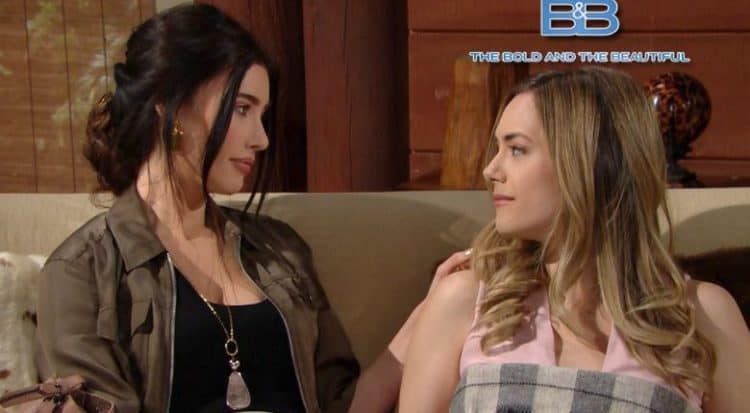 The Bold and the Beautiful fans know that Ridge is facing a tough choice. The business can only afford to support one line, and it's one that he has to choose. Now he's got Steffy and Hope back in one another's faces as they both fight for their own line to be the one that's chosen to make this happen, and they will end up in the same place they area always located — fighting with one another and causing their parents to fight in their own marriage. It's rarely good news for them as they go through this situation, and we cannot believe that they are still going through this as they see things unfolding in this manner. Ridge is always backed into a corner and asked to support his wife's family rather than his own, too, and we don't see that as being overly fair in most situations.
Additionally, Brooke is upset that the girls are fighting again. She was happy when they were getting along and she was getting what she wanted and her daughter's life seemed to be smooth sailing. Now they are back in one another's faces, and it makes her unhappy. She's less concerned about her own sister, however, as her ex is vowing he will fight for his son and his family no matter what that means for Katie. He is not at all worried or concerned hat Will doesn't want to be with him and that the young boy does want to be with his mother. He's just looking out for number one — which is himself — as always. Will Bill ever learn that this is not so much about him as it is about his own son and his wants and needs more than his? We don't think he will; at least, until it's too late.
What's Happening on the Bold and the Beautiful
Coming back from Labor Day weekend and already planning your next vacation? Get some inspiration from Darin Brooks and Jacqueline MacInnes Wood! Remember this #BoldandBeautiful scene on location in Monte Carlo? #TravelTuesday pic.twitter.com/EqGiFCyu7t

— Bold & The Beautiful (@BandB_CBS) September 4, 2018
We love throwback photos, and this one in Monte Carlo is the best! Where did you spend your long weekend? And what kind of vacation do you have planned next? Will you be spending your time focusing on things that you can control in your life, or will you be planning a major vacation that takes you out of the country and out of the situation that you're in so that you can decide where you want to go and how you want to do it?
What's Next on the Bold and the Beautiful
TODAY: Ridge announces that Forrester Creations needs to scale back the funding of one of their lines. #BoldandBeautiful pic.twitter.com/6X5vVTfUSS

— Bold & The Beautiful (@BandB_CBS) September 5, 2018
Bill and Brooke are spending a lot of time together all of a sudden. For someone who just divorced that man for all the wrong he did to her, she's taking his side when it comes to him spending his life making her sister miserable. He wants to fight Katie — Brooke's sister — for custody of their son while also dragging her name through the mud so that he can have full custody, and she doesn't really have a problem with the fact that he wants to do that to her sister, and we are all just over here wondering what is going on and why this is all happening. But, he's going to ask his ex-wife for a favor, and he's going to open up to her about how he feels and what is going on in his life with this situation. We see bigger problems brewing here.
And there is going to be a moment when Steffy has to open up to her father to tell him why she feels that her bedroom line is more important for the business than Hope's line, which was also successful. She's working on her father so that he will keep her line and make sure that she's the one who walks away with everything, and we wonder if she will bother to point out that she's the one who lost her husband, her baby's father, and everything else to Hope this year, and she's not willing to lose yet another piece of her life to this woman. We don't know.
Stay tuned for more The Bold and the Beautiful and be sure to check out TVOvermind daily for the latest The Bold and the Beautiful spoilers, news, and updates.