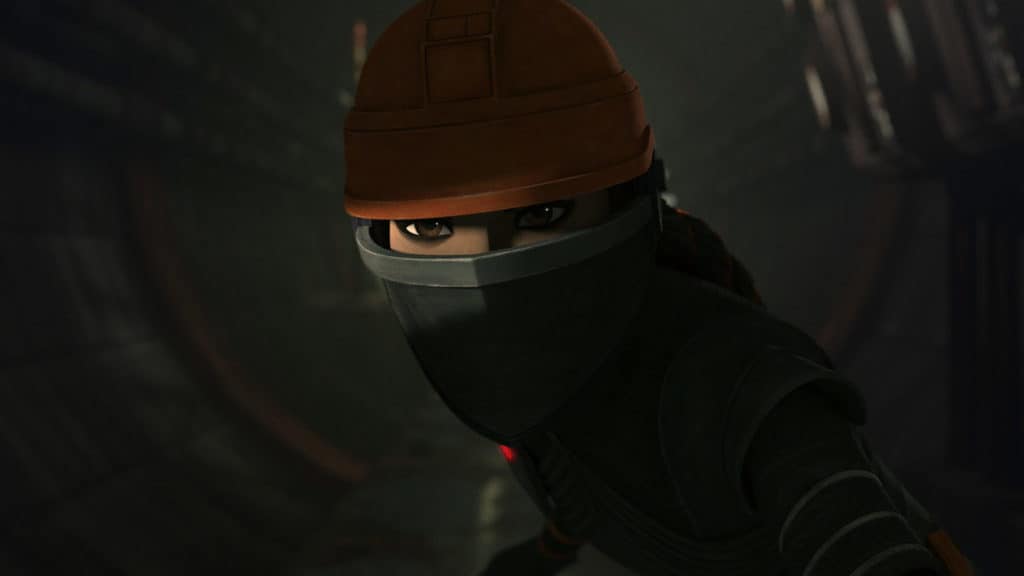 One could say that things are only getting worse for Hunter, Wrecker, Echo, Tech, and Omega, but they weren't that great to start with since they escaped Saleucami with their skins and not much else, and the same could be said of this episode as well. But the challenge this time around was even harder since instead of rank and file soldiers coming after them, Fennec Shand, bounty hunter, has entered the fray. Despite being younger and not quite as experienced it doesn't appear that Fennec had much to worry about since she put Wrecker down with a quick move and strike that the clone never saw coming. Even being big, strong, and durable didn't help the scarred-up clone since the veteran of so many battles still found himself on the ground when Fennec was done. Worse than that, Fennec isn't there for the clones, she's there for Omega. Whether it's the Empire looking for the clone or the Kaminoans, it feels likely to be the latter, but it all means trouble for Hunter and his group. So far the show feels almost aimless, as the idea that the group is looking for a safe haven to hide out and reconnoiter is being constantly undermined by the need to find some sense o security in terms of ship repairs, supplies, munitions, and a simple breath between them that isn't being interrupted by one calamity or another. The fact that Omega is the priority is kind of curious since it makes it clear that Hunter and his bunch are likely seen as deserters and dangerous on top of that, but aren't quite as valued most likely. Plus, when someone resorts to using bounty hunters there are several reasons, and one of them is that the person paying doesn't want their name as a part of public record. That still doesn't rule out the Kaminoans or the Empire, but it does widen up the pool of names that might be interested in getting hold of Omega after the gossip and rumors have flown far and wide.
It feels fair to say that if we do see Boba Fett at all that he's still going to be a young boy, impetuous and still angry at the Jedi for the death of his father. One has to wonder how Boba felt after Order 66 left the Jedi decimated, but given what he thinks about them he would have been happy to help. But so far, Fennec is the only bounty hunter the clones have run afoul of, and she might need to be the only one since she's already proven that she's more than capable of giving them a big enough problem to deal with. The fact that Omega went with her without questioning that much proves that the younger clone is still incredibly naive, but she's learning. Once Hunter caught up to the two of them she was quick to trust him and turn against Fennec, but it was a grand chase that the younger clone led through the city, and up until she was left dangling off of a tower she wasn't doing too bad. Omega is proving to be resourceful as she was in the last episode as well, and despite being treated like a young girl she's proving, albeit slowly, that she can take care of herself at least a little. It's going to be interesting to see how the rest of the season goes, but for now, it's obvious that the group is growing closer with each new adventure. There's a feeling that things are going to end up badly for the group at the end of this run, but the hope is that like several of the clones that they'll be able to disappear and start a new life that's far from the Empire or the Republic.
Or maybe, just maybe, they'll become a part of the burgeoning Rebellion. There's always the idea that they might not reach that far since Omega appears to be the one individual that Fennec's employer is coming for, which might mean that the others are seen as expendable. It wouldn't be the first or last time that such a thing had happened since if anyone recalls, the clones have been seen as expendable assets since they were created and put into service, and it's only been through the efforts of several clones and their commanders, usually the Jedi, that they've been seen as individuals. Even the Jedi have made the mistake of underestimating the clones in the past, but obviously the order was reminded in a very painful way of their shortcomings. In the long run, the clones are still on the move, and the hunt for Omega is bound to ensure that they'll stay on the move for a while longer. After all, the best bounty hunters aren't known for giving up.