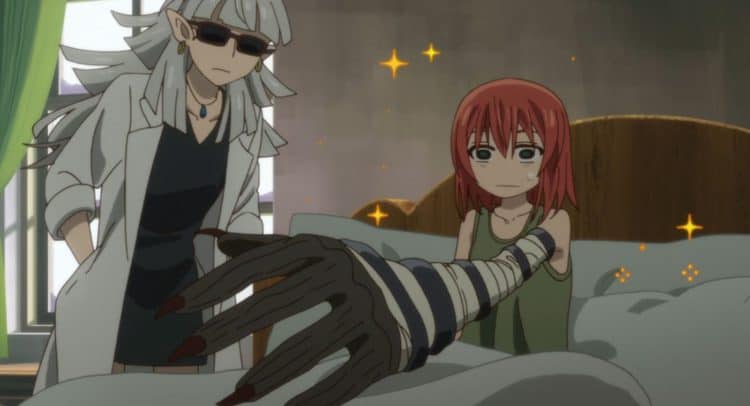 If you're considering watching The Ancient Magus' Bride, (Maho Tsukai no Yome), but are skeptical, there are a few things you should know about it first. The animated series is an adaptation of the Manga that was aired from October 2017 through March of 2018 and although there are mixed reviews, it's worth checking it out. Here are ten things that you didn't know about The Ancient Magus' Bride that may help you make up your mind.
1. The Ancient Magus Bride is a dark fantasy
The story follows Hatori Chise, a sixteen-year-old girl who has lived with more loss than most people. Her situation is bleak and she is without family and there is little reason for her to hope for any good to come into her life. It is as though fate opened a door to her in the darkest hour of her life when a magus makes an appearance into her life. He offers her opportunity that is difficult for her to refuse, but he has a darkness that makes him seem more like a demon than a human being. It's unclear if he is a source of help or someone who is going to drag her down further
2. The Manga was released in 2013
Some anime enthusiasts like to read the manga before they watch the animated version on television. It's kinda cool to compare the original with the series because they are rarely identical. The adaptations take into consideration some shortcuts to move the story along faster or slower or to get to some important points faster by omitting some details and vice versa. The Manga was written by Kore Yamazaki and published by Seven Seas Entertainment. It appeared in Magazine Monthly Comic blade from November 2013 from July of 2014.
3. Monthly Comic Garden released the Manga also
There was a run of the Manga through Monthly Comic Garden. The original ran from September 2014 through the present. There is a list of ten volumes available.
4. The original video animation was released in 2016
The original video animation was titled The Ancient Magus Bride: Those Awaiting a Star. it was written by Kore Yamazaki and Aya Takaha and directed by Norihiro Naganuma at Wit Studio. The theatrical version was released on August 13 of 2016 and the DVD was released between September 10, 2016, with a total of three episodes released.
5. The Anime is a recent release
The Anime television series was written by Kore Yamazaki and Aya Takaha and directed by Norihiro Naganuma and was produdced at Wit Studio. The original network was AT-X, Tokyo MX, MBS, TVA, TVS, CTS BS11 and HBC with the original run from October 7, 2017, through March 24th of 2018 with a total of 24 episodes.
6. Chise has a supernatural talent
Chise is a very interesting character who has the ability to attract magical beings and see them. In the world or the sorcerer, it is a good thing, but it's considered a bad thing in the human world. Her mother died and her father and brother left so she had no family to rely on. This made her vulnerable to the magus.
7. Chise is sold at a slave auction
Chise was purchased by a "weird man." She would soon find out that he was far more than an oddball. He was actually a very powerful magus. It was his plan to make her his apprentice.
8. It's an odd love story
The name of the magus is Elias Ainsworth. He wants to make her his bride as well as his apprentice. It's much like a fairy tale that is brought to life. Although not everyone has given the anime positive reviews, there are many who shared that they absolutely fell in love with the characters and the story.
9. The anime has differences from the manga
There are quite a few variations between the manga and the anime. Of course, this is nothing new and it happens in most adaptations. The main plot, however, remains unchanged.
10. It's a story of love and empathy
The Ancient Magus' Bride is truly a heartwarming story about a girl that had a terrible childhood. A weird stranger buys her from a slave auction to make her his apprentice. They fall in love and form a unique relationship that works for both of them. The magus is a humanoid but not fully human, so it's not a traditional fairy tale love story but it has its touching moments.