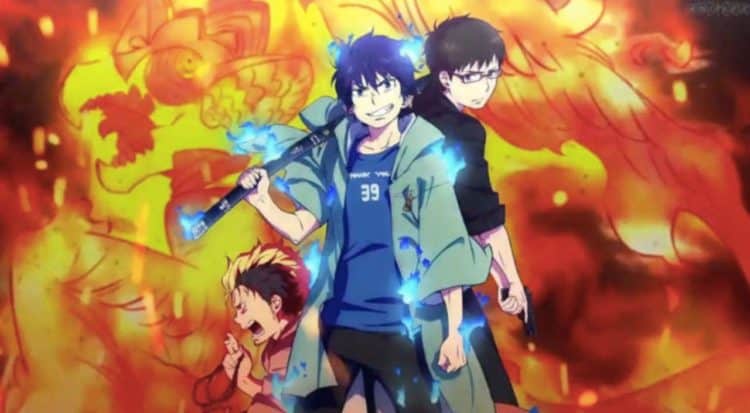 Blue Exorcist is probably one of the most popular stories in Japanese manga. It dates all the way back to 2009 and has seemingly been taking the world by storm ever since. In fact, the dark fantasy was so popular that it didn't take long for it to be adapted into a television series which has so far enjoyed two seasons. There seems to be something for everyone in this story, ranging from adventure to fantasy and even some introspective moments that really force you to think about things. One of the things that fans are thinking about right now is whether or not there will ever be a third season of the show.
The Storyline
It's no wonder this manga was so popular, nor is it any surprise that it was eventually turned into an anime series. The storyline is extremely unique and at times, it can even be a bit terrifying. It centers around a young boy named Rin Okumura. He and his twin brother are orphans. Eventually, they are taken in by Shiro, a renowned exorcist. After a Time, Rin discovers the truth, that both he and his brother are direct descendants of Satan. This is not what Rin wants, especially after his brother gives his life to save him. As a result, he makes a decision to become an exorcist himself, thereby combating his very nature. He has a sword that keeps his demonic powers in check, but there are times when things get out of hand anyway. As such, it isn't uncommon for him to be fighting off demons while simultaneously sprouting fangs or the ability to turn everything he touches into fire. When he does the latter, he lights up with blue flames around him, hence the name of the series.
Early Success
The first two seasons of this series were so successful that there was even an anime movie that was adapted and aired. The series has truly developed a worldwide following. In fact, there are approximately 50 million copies that have been sold so far. Clearly, this is a story that a lot of people want to see. Even more importantly, they want to see the story continue as opposed to it ending with what has already been completed. Despite the early success, there hasn't been a great deal of talk about a third season. In fact, the studio behind the project hasn't given any official word whatsoever. However, there is a growing wave, largely supported by a number of fans on line, that seems to indicate that an announcement may come about either a January or April release date of next year. That said, it's important to keep in mind that this is all purely speculation. As of today's date, there is no official word about the release date for season three. In fact, there isn't even an official word regarding whether or not season three will ever actually happen. It's also worth noting that it took six years to get a second season after the end of the first one, so fans may be getting a bit too anxious far too soon. Right now, it's impossible to tell what will actually happen with the series.
A Growing Fan Base
One of the reasons that current fans believe that third season will eventually happen is because the manga from which the series is based is still growing its fan base by leaps and bounds. In fact, new material is coming out and being introduced to people that have never seen it before. It only stands to reason that once they devour all of the original material they can get their hands on, they will eventually discover the series and grow more interested in watching that as well. As the number of fans continues to grow, it supports the idea that a third season could eventually happen. After all, studios want to produce things that are going to make some money. If there is a large enough fan base to support an anime series, there is no reason to think that the studio wouldn't eventually get behind the idea of doing it. Typically, studios balk at the idea of continuing with an additional season when there isn't very much material from which to source new ideas or interest in the project as a whole has waned because there aren't enough fans. Neither is the case with this particular story. There is more than enough source material and the fan base is actually growing, not declining.
Patience is Key
Fans may not be happy about the fact that there isn't an official announcement about a third season, but they're still in better shape than some fans of other Japanese anime that just aren't as popular. When you look at all of the factors, it seems more likely that this particular series will get an additional season as opposed to some of the other shows out there. That said, it doesn't mean it's going to happen overnight. As previously mentioned, the studio behind it all has taken their time to develop things in the past. There is no reason to believe that they're suddenly going to get in a hurry now. The good news is that their decision to wait and take their time doesn't necessarily mean that the project is off the table.
For now, fans can always go back and re-watch the first two seasons of the series. Fortunately, they have new manga that they can also devour. This is clearly a big plus for anyone that is a devoted fan of the show, especially when you consider the fact that the anime series almost exactly follows the manga from which it was sourced. That isn't always the case to this extent, but in this particular universe, it works well. It also gives fans an opportunity to see where the story might lead if and when another season becomes a reality.