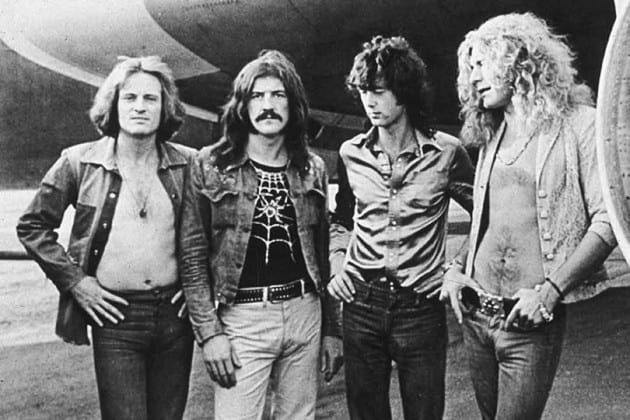 When you're dealing with a band as great (not to mention prolific) as Led Zeppelin, deciding on which songs rank as their best is no easy matter. Sure, they made a few doozies in their time (remember "Royal Orleans?" No one else does either), but the outright epic songs far outnumber those occasional lemons. Ultimately, everyone's got their own take on whether "Kashmir" is a better song than "Stairway to Heaven," and whether the gentle folk of "Going to California" outranks the brutish swagger of "Black Dog". We're all allowed our opinion, but if you want ours, these are the 20 best Led Zeppelin songs of all-time.
20. Going to California
Led Zeppelin may be best known for colossal rock songs, but now and again, they can do pretty little folk tunes too. "Going to California" is one of their most understated gems. Replete with delicate acoustic guitars, twangy mandolins, and Robert Plant at his most soothing, this gorgeous little ballad draws on inspiration from singer-songwriters like Joni Mitchell to create something extraordinary. The lyrics may be a little 'of their time' (as Plant himself noted when he explained the song "might be a bit embarrassing at times lyrically, but it did sum up a period of my life when I was 22") but if you can get past the hippyish imagery and wide-eyed nativity, it's a delight.
19. Babe I'm Gonna Leave You
If Planet Radio considers "Babe I'm Gonna Leave You" to be one of the best Led Zeppelin songs of all time, who are we to disagree? As a showcase to Plant's vocal prowess, you couldn't ask for much better. His plaintive delivery manages to wring out every drop of emotion from the lyrics, but never to the point of being overdone. The song may have originally been penned as a soft folk ballad, but Led Zeppelin's punchy rendering adds a new, vital quality to the track, with the result that over half a century after it was recorded, it still sounds as fresh as ever.
18. The Battle of Evermore
With backing vocals provided by Sandy Denny of Fairport Convention and mandolin provided by Jimmy Page, "The Battle of Evermore" is an endearing love letter from Led Zeppelin to the folk music that inspired them. Ethereal, evocative, and with lyrics that pay homage to J. R. R. Tolkien's "The Lord of the Rings," it's a dreamy little number that showcases the band's gentler side to spectacular effect.
17. Dazed and Confused
In 1967, singer-songwriter Jake Holmes wrote and recorded "Dazed and Confused." Two years later, Led Zeppelin performed their own take on the song for their debut album. The result is an epic psychedelic-blues number that shows off the wonder of Plant's vocals to spectacular effect. For years, the song featured as one of the highlights of the band's live shows, and for good reason. 52 years after it was first recorded, it's just as vital as ever.
16. Dancing Days
As vulture.com notes, no one really knows what Plant is singing about on "Dancing Days," but it doesn't matter anyway. This radio-friendly classic might have ambiguous lyrics and throwaway lines, but it's Page's genius finger-picking and Plant's ambitious vocals that carry the track. The wall of sound might leave you feeling a little exhausted by the end of it, but there's no getting away from the fact it's an epic song.
15. Misty Mountain Hop
It might be full of hippy-dippy lyrics and Lord of the Rings imagery, but thanks to Page's riffing and John Bonham's groove, "Misty Mountain Hop" still manages to be a deeply funky track. Recorded in 1971, the song was released as the B side to the single "Black Dog." As B sides go, you couldn't really ask for better.
14. In My Time Of Dying
According to loudersound.com, the sessions for Led Zeppelin's "Physical Graffiti" album produced a number of landmark songs. Considering "In My Time Of Dying" counts as one of them, it's hard to disagree. The rest of the band does a fine job, but it's Bonham who steals the show with a savage display of feral power that's frankly mind-blowing.
13. The Ocean
"The Ocean" is a funky little number that features that rare thing for a Led Zeppelin song: Bonham and John Paul Jones on backing vocals. According to Rolling Stone, Bonham sounds like a cross between a pirate and a rapper when he counts the band in at the opening. Either way. it's a classic track.
12. Black Dog
"Black Dog" is a confident, punchy song with a swagger and vitality that's almost palpable. Plant's opening cry of "Hey, hey mama said the way you move / Gon' make you sweat, gon' make you groove" sets the tone for one of Led Zeppelin's most recognizable tracks of all time. Understandably, it's won a serious share of adulation over the years, with Rolling Stone including it in their "500 Greatest Songs of All Time" and Q magazine ranking it number 1 in their "20 Greatest Guitar Tracks."
11. Ramble On
Everything about "Ramble On" has been judged perfectly, from Jones' catchy bassline to Plant's vocal gymnastics to Page's upbeat guitars. Speaking to Guitar World about how he managed to achieve the smooth violin-like tone during his solo, Page explained, "I used the neck pickup on my Les Paul and backed off on the treble knob on the guitar and ran it through the sustainer Roger Mayer (Jimi Hendrix's engineer) made for me years before. When I was recording it, I was thinking in terms of making a sound sort of like a string arrangement."
10. Rock and Roll
"Rock and Roll" shows exactly what Led Zeppelin was capable of achieving when they were firing on all cylinders. Based around a 12 bar blues progression and featuring classic 50s style guitar riffs along with clear nods to the likes of Little Richard and Chuck Berry, it's a raucous, energetic song that, somewhat incredibly, was crafted in just 30 minutes during a recording session for "Led Zeppelin IV."
9. Good Times Bad Times
"Good Times Bad Times" introduced the world to Led Zeppelin. As intros go, you couldn't have asked for much better. The first song to their first album is an exhilarating romp that shows each of the four-piece on fine form. The lyrics may be standard fare, but their delivery is anything but. From Bonham's restless drumming to Page's machine-gun fire riffs, "Good Times Bad Times" gave the world a fine taste of what was to come.
8. Ten Years Gone
If anyone ever questions Jimmy Page's genius, just play them "Ten Years Gone." Legend has it he used 14 guitar acks to create the mesmerizing, interweaving guitar harmony. The resulting wall of sound is almost hypnotic, as are the sumptuous solo pieces. The lyrics allude to one of Plant's old girlfriends, who, ten years prior, had issued the ultimatum of choosing her or the music. Thankfully, Plant decided on the latter. " A lady I really, dearly loved said, 'Right. It's me or your fans.' Not that I had fans, but I said, 'I can't stop, I've got to keep going,' he's since recalled. "She's quite content these days, I imagine. She's got a washing machine that works by itself and a little sports car. We wouldn't have anything to say anymore. I could probably relate to her, but she couldn't relate to me. I'd be smiling too much. Ten years gone, I'm afraid. Anyway, there's a gamble for you."
7. Immigrant Song
In June 1970, Led Zeppelin performed in Iceland. The experience proved to be a source of huge inspiration for Plant, who began using Norse mythology in his lyrics. Speaking about the opening line to "Immigrant Song," "We come from the land of the ice and snow," he says "We weren't being pompous … We did come from the land of the ice and snow. We were invited to play a concert in Reykjavik and the day before we arrived all the civil servants went on strike and the gig was going to be canceled. The university prepared a concert hall for us and it was phenomenal. The response from the kids was remarkable and we had a great time. 'Immigrant Song' was about that trip and it was the opening track on the album that was intended to be incredibly different." Recognizable for Page's repeating, staccato riff and Plant's primal howls, the song has proved to be one of the band's most endearingly popular hits.
6. Whole Lotta Love
Experimental, colossal, and blessed with one of the most timeless riffs ever created (not to mention some of the lewdest lyrics ever written), "Whole Lotta Love" is exactly what a great rock track should sound like. It may have "borrowed" heavily from the Muddy Waters' 1962 song "You Need Love," but even so, the creative genius and musical innovation that make the song great is purely down to Led Zeppelin.
5. Archilles Last Stand
The 1975 song "Achilles Last Stand" is a sonic masterpiece. Page's six-layered guitar harmonies, Bonham and Jones' insistent rhythms, and Plant's masterful vocals combine to create an epic production that ranks as one of Led Zeppelin's best ever – Jimmy Page has even gone so far as to name it one of the band's finest achievements. The lyrics, which are interwoven with references to Achilles, Blake's Albion and Atlas, were inspired by Plant's travels through Morocco and Southern Europe. While it failed to achieve the same level of chart success as some of Led Zeppelin's other songs from the same period, there's no doubt it's stood the test of time.
4. When The Levee Breaks
If ever a band could turn an acoustic country melody into a hard rock anthem, it would be Led Zeppelin. The proof? "When The Levee Breaks," a funky, complex production that ranks as one of the band's all-time greats. Explaining how the multi-layered piece was created, Page says "You've got backward harmonica, backward echo, phasing, and there's also flanging, and at the end you get this super-dense sound, in layers, that's all built around the drum track. And you've got Robert, constant in the middle, and everything starts t.o spiral around him. There's a lot of different effects on there that at the time had never been used before." Huge, bombastic, and unapologetically potent, it's a masterpiece.
3. Since I've Been Loving You
The slow-building blues song "Since I've Been Loving You" is a slick, 7 and a half minute production that finds Led Zeppelin at their most soulful, and their most masterful. Plant's vocal range is out in force, as are Page's epic guitar skills. One moment things are tender and heart-rending, the next raw and almost violent. The end result is an emotionally charged track that's undoubtedly one of the jewels in the band's back catalog.
2. Stairway to Heaven
There's not much that can be said about "Stairway to Heaven" that hasn't already been said. As one of the greatest anthems of all time, it's 8 minutes of sheer, unadulterated rock heaven. With Plant's plaintive vocals cozying up against Page's iconic guitar solos and with Bonhan and Jones both on top form, the track illustrates exactly why Led Zeppelin is considered one of the greatest rock bands of all time.
1. Kashmir
If Plant himself calls "Kashmir" "the definitive Zeppelin song," it goes without saying it deserves a place on our list. His 15 second Tarzan like howl adds an extra layer of intensity to the wall of sound produced by Page's Indian-inspired sitar work, Bonham's intense, insistent beats and Jones' Mellatron handiwork. With lyrics that took three years in development and the rare influence of outside musicians, the track is widely considered one of the band's very finest pieces, with PopMatters summing up the consensus by describing it as Physical Graffiti's "quintessential track" and one of the "inimitable moments in the legacy of classic rock".