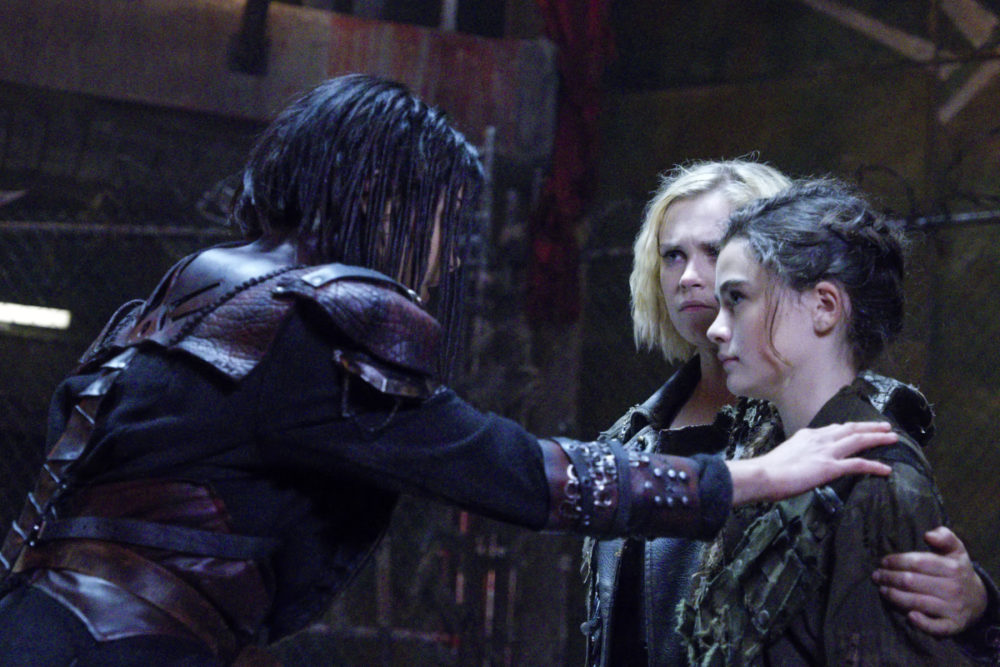 It was really a very short hiatus, but it felt like an eternity for The 100 fans (myself included). We have another one coming up, so "Exit Wounds" was in a tough spot. It had to be both enough to satisfy the fans who have been clamoring for more for the past few weeks, and simultaneously be enough to hold those same fans over until the show returns on June 19th. Luckily, there are very few episodes of The 100 that don't both satisfy me and leave me wanting more.
"Exit Wounds" struck a perfect balance between paying off and satisfying stories, while setting up new and exciting ones for fans to indulge in after a couple more weeks. Bellarke fans are probably disagreeing with me that this was a satisfying episode, but let me start with the reasons that it was: Murphy and Emori. Those who have been rooting for the couple over several seasons were disappointed to learn that these two had broken up while in space. However, the fleeting glances from Emori and the snarky, self-deprecating comments from Murphy suggested that these two would not remain apart for long. Sure enough, after Emori saved Murphy from his shock collar, the couple reunites (Emori did explicitly state that they were not back together, but…we'll see how long that lasts).
Aside from the satisfying, there was also the just plain interesting. I hadn't thought of Madi's night blood causing issues among the characters that were previously known as grounders, but Clarke kept the true nature of her under wraps as long as she could. Judging by the reactions of some of the people who found out, Clarke was right to do this. Thrusting Madi into the dangerous world of "Wonkru" will make for an excellent story. This is just another example of The 100 being wild and unpredictable. Sure, I thought that Madi's admiration for Octavia would get in the way, but to have her confess to help Clarke was both devastating and exciting. Octavia's reputation precedes her, and the audience feels what Clarke feels, so putting Madi in this situation creates a sense of dread and panic without even a little bit of bloodshed.
"Exit Wounds" was also a true relationship test on all fronts. Kane and Abby, Murphy and Emori, Bellamy and Echo, and more were all directly affected by the events of this episode. It explores jealousy, sacrifice, loss, and redemption. It illustrates that while humans are flawed and imperfect, they can also be redeemed or change. One of the show's running themes is making characters deal with impossible moral choices and asserts that there aren't right or wrong answers. Octavia, Bellamy, Echo, Kane, Madi, and more characters were faced with decisions like this just within this episode, and it's the constant internal and external struggle for the moral high ground that makes The 100 such a constantly compelling show.
Here are a few more thoughts:
Murphy and Emori getting "back together" was wild and exciting, but the story possibilities introduced by their new prisoner are even more exciting.
I know this episode wasn't a top choice for my readers out there that are Bellarke fans and I'm sorry. I really am. But any objective viewer can NOT deny how fabulous Tasya Teles was in this episode. Echo has come so far, changed so much, and turned into one of the most compelling characters on the show.
Also, that scene where Echo shoves that data drive into the bullet wound of that girl to save it from getting stolen was brilliant and gross. But mostly brilliant.
For someone who is so tiny in real life, Marie Avgeropoulos has a ton of gravitas that she brings to her role. It's incredible.
I can't tell what angle Kane is playing at yet, but he has to be working one…right?
Some weeks I'm more verbose than others, but my point remains the same. The 100's ability to explore the less than concrete morality of their world through strong character interactions and action packed television is second to none. Regardless of your "ship" preferences, we can all agree that The 100 is an exciting and at times devastating show that is among the best on television. It must get old to hear me praise the show week in and week out, but I've seen a lot of television and few shows are more deserving.
What did you guys think? Did you enjoy the episode? Let us know!
The 100 returns Tuesday, June 19th at 9/8c on The CW
The 100 Season 5 Episode 6 Review: "Exit Wounds"
Summary
Clarke tries to protect Madi, Bellamy tries to reason with Octavia, and everyone prepares for war on this week's strong episode of The 100.