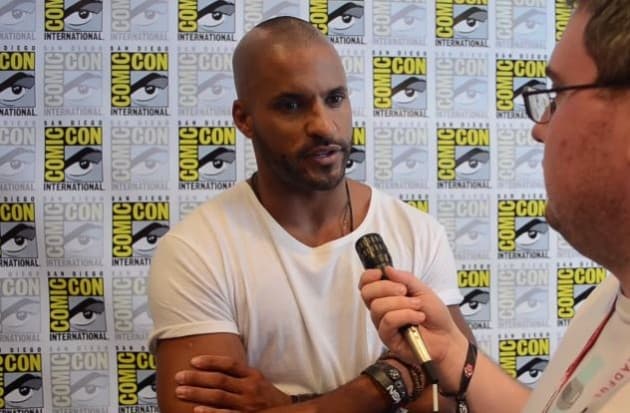 We learned a lot at The 100's panel at San Diego Comic-Con this pas Friday, like how the series will have a several-month time jump ahead of the start of Season 3, the first time the show has ever done something like that, and that Alycia Debnam-Carey, who is now a series regular on AMC's Walking Dead spin-off Fear The Walking Dead, will also return as Lexa at some point in the third season. However, there was still more scoop to get from the show's stars and executive producers, and fortunately, we were able to get some when we spoke to The 100's cast and executive producer/showrunner Jason Rothenberg at Comic-Con last week.
In this video, I talk with Ricky Whittle about Lincoln's role at Camp Jaha and whether or not he could step up and be a leader in Clarke's absence. We also discuss Lincoln's assimilation to the lifestyle of the Sky People and the "clashes" that may occur early on in the season between him and Octavia, which leads to Whittle doing a hilarious, over-the-top rant that had both me and my colleague nonstop laughing.
Check out our interview with Ricky Whittle below, and make sure to watch our interviews with Jason Rothenberg and Lindsey Morgan if you haven't already. Also, come back tomorrow for our conversation with Marie Avgeropoulos, as she looks back on Octavia's game-changing second season and previews what's in store for her in Season 3. Plus, we have a ton more interviews with actors and producers from other series as well, such as Arrow, iZombie, and Supernatural, all of which will be posted over the next few days.
The 100 returns for Season 3 at midseason on The CW.
[Photo via YouTube]