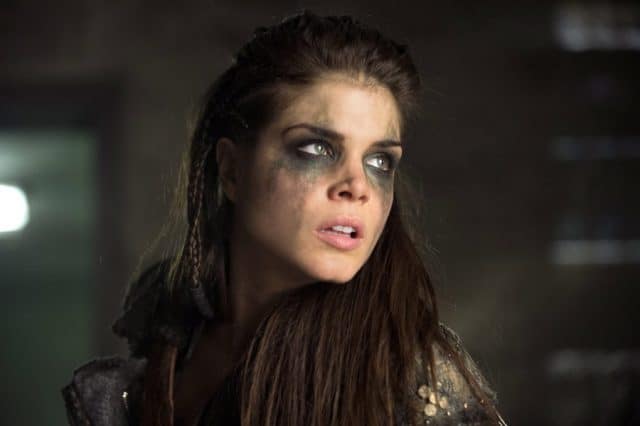 At San Diego Comic-Con, I was able to speak with the casts and crew of some of my favorite shows. In the press room for The CW's The 100, I was able to speak with series star Marie Avgeropoulos (Octavia Blake), who told us what to expect next for Octavia and the show.
Obviously, Octavia was at one of the central conflicts of Season 3, and suffered one of the most devastating losses of any character as (spoiler alert) Lincoln was executed in front of her. "This was a really hard season for Octavia," Avgeropoulos told us. Losing Lincoln was especially tough, because he was "the only man who's ever believed in her." However, Avgeropoulos noted that she was moved by how their relationship ended, because it went in a circle, and it was almost "Shakespearean".
Avgeropoulos also had a lot to say about how Octavia has grown. "She's changed so much," she told us. We all know that she's also taken a dark turn. She ended last season when she (spoiler alert) killed former Chancellor Pike. "She thought that would band-aid the giant whole in her heart…it doesn't," she told us.
So, where does murdering, grieving Octavia go from here? Avgeropoulos told us,"You're going to see her take a really dark, dark journey and path next season. She'll become an assassin with a group of people you're very familiar with. Can't tell you who. And she's going to do what she does best, which is kill people. Quickly and efficiently." Wow. Sounds like Octavia is in for a killer arc next season. Pun intended.
When Octavia left at the end of the season, it sounds like she may be off to find another fan favorite character. If Marie were a fan, her "guess" would be that Octavia left in the finale to "find Indra." Sounds like a hint to me.
"Octavia can hold her own," Avgeropoulos told us, when asked how she would handle the dangers in the upcoming season. It looks like Octavia will be battling through her heartbreak and dark place for most (if not all) of Season 4.
In my opinion, Octavia is one of the best characters on the show, and Marie has me more excited than ever about watching Season 4.
What do you guys think? Are you more excited for Season 4 now? Let us know in the comments!
The 100 returns mid-season on The CW