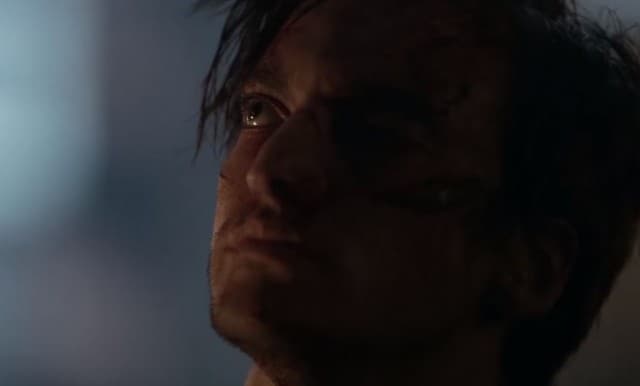 Wow. I know it seems like I start most of my articles about The 100 with "wow", but that's my legitimate reaction after almost every episode I watch. There aren't many shows that consistently build on the previous installments, but with a few exceptions, this show gets better every week. Even things I saw coming were presented in a raw, emotional way.
This week on The 100: Murphy tells Titus what he knows, but Titus is not satisfied with his explanation. Lexa orders a blockade around Arkadia, and gives Clarke and Octavia time to get back to their people. Clarke discovers where Murphy is being held. We learn the origin story of Polaris and Alie's creator as the first commander. Titus makes a grave mistake.
I was just so impressed with everything that happened in this episode. It was oozing with raw tension and power (particularly from Clarke and Lexa, WOW) and it introduced an air of mystery that the show has not previously seen. "Thirteen" reminded us all that this is a show about war, power struggles, and differing views on saving humanity. Perhaps blood must have blood, perhaps not, but watching the philosophies struggle back and forth is what makes the show compelling.
Okay. SPOILER ALERT. I know that I kept yammering on about Lexa dying because Alycia Debnam-Carey is on another show. Regardless of the reasons, she finally bit it, and it was an incredibly powerful piece of television. The sexual tension between she and Clarke finally boiled over, but Lexa died not to stick it to Clexa fans (though I'm sure the internet is going NUTS right now), but because Clarke needs to go to her people. Lexa had to die so that Clarke can assume her role as leader. I very much enjoyed Debnam-Carey's performance, and she will be sorely missed from the show. However, Lexa's death was necessary to the show. We're about to see some whole new sides to Clarke, and I. can't. wait. The best part about The 100 is that it will fearlessly kill off any character to tell a powerful story.
Obviously the middle and end of the "Clexa" story was the big news piece in this episode, but "Thirteen" had several more interesting bits to offer. I really enjoy everything that Murphy is in. Ever since Season 1 when he turns up not dead, he's become one of my favorite characters on the show. Richard Harmon is an excellent actor to just have in a scene. During Lexa's death, he said all he needed to say by being present. His slow realization that the grounder clans descended from Polaris was also pretty compelling. Aside from that, I'm just excited to see Murphy and Clarke work together.
I wasn't sure how I felt about everything with Alie and Jaha at first, but introducing this new piece of it has me totally hooked. It was exactly the right time to kill off a major character and introduce a new, intriguing plot thread to the show. Every time the Polaris space station was on screen, I wanted more. The intrigue and expansion of this world was slightly overdue and it was immensely satisfying to watch. Crisp, clean, and succinct flashbacks were the perfect way to tell this story.
What else can I say, really? It's an excellent show, and this was another excellent episode. The 100 treads fearlessly onward, moving from outer space to Earth and back again with little effort, telling entirely compelling stories along the way.
What did you guys think? Did you enjoy the episode? Let us know!
The 100 airs Thursdays at 9/8c on The CW
The 100 Season 3 Episode 7 Review: "Thirteen"
Summary
Titus and Clarke jockey for position amidst a major character death on this week's excellent episode of The 100