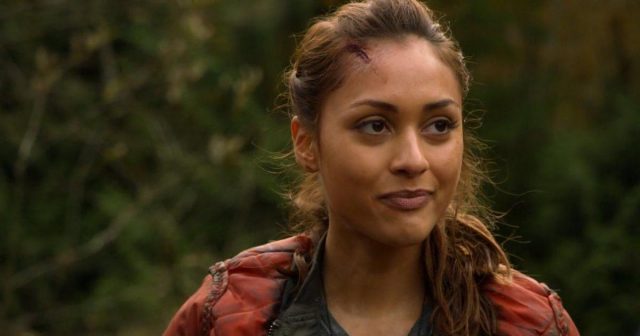 At San Diego Comic-Con, I had the chance to sit down with several members of the cast and crew of my favorite shows. In the press room for The 100, I was able to sit down with Lindsey Morgan (Raven Reyes) to talk about Raven's past and present arcs, and what's coming for the show in Season 4.
Obviously, from some of my previous interviews, we can tell that the biggest threat yet is coming to the cast of The 100. Lindsey described the new threat coming in Season 4 as "an entirely new enemy that is faceless, and bodiless, and ultimately immortal."
From there, Morgan expanded on how this affects Raven. Raven is still in pain from her decisions in the previous seasons, but she will spend Season 4 trying "to find a way to save everyone." On dealing with her own physical needs, Morgan added, "She doesn't really have time to take care of herself, and heal, and get the care that she needs." She continued that Raven is much more concerned with humanity's survival than her own. "She chose her pain over being numb. She chose humanity over being dead," Morgan said.
Though not in the best physical shape, Morgan reminded us that Raven does have the Alie upgrade, which is "an emotional, mental upgrade."
Morgan also talked about Raven's previous arc, and how that's affected her going forward. "It was hard playing such a depressing storyline," Morgan said, citing off-screen personal issues that she had to deal with. However, Morgan also said "Raven is stronger than ever…she's more brilliant than she's ever been." So what should we expect from Raven's Season 4 work ethic? "Ain't nothing can stop her now," Morgan declared. Sounds pretty exciting.
Morgan told us which characters she'd like to work with, that maybe she hasn't had much opportunity to do yet. Morgan told us that she'd really like to work with Murphy (Richard Harmon) without trying to kill him. It'd be interesting to "see them face-off." Morgan is also a big fan of Henry Ian Cusick, and has scarcely shared the screen with Kane.
Finally, Morgan echoed some of my own sentiments on what I love about the show. She mentioned the political and philosophical undertones the show carries every year. But most of all, she said, "The show always surprises me." Me too, Lindsey. Me too.
So what do you guys think? Are you primed for Lindsey and the cast to be back? Let us know in the comments!
The 100 returns mid-season on The CW