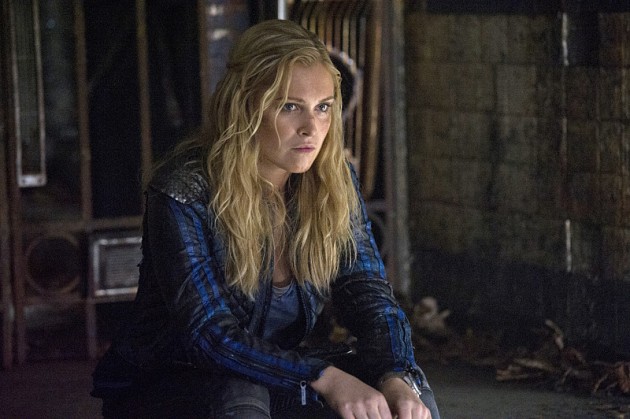 Whew. The 100 is back with a vengeance, ladies and gentlemen, and after the game-changing mid-season finale, it remains one of the most gripping shows on television.
This week on the The 100: Clarke and the rest of her people achieve peace with the Grounders, but at great personal cost. As allies, the Grounders and Sky People lay Finn to rest, but the alliance is immediately tested. Meanwhile, Jasper, Monty, and the rest of the Mt. Weather crew plot their escape, and discover some secrets about Mt. Weather along the way.
It's so great to see that the momentum that's carried The 100 pretty much through its entire run is still ever present and powerful. I tried to take notes, but it was difficult because the show is so gripping that I can't look away. This week just another excellent installment in an overall VERY compelling series. I'm SO thankful for the third season pickup, because I'm sure that it will only get better.
It's no secret that I'm a big fan of the actors on this show. Week after week, each of them proves that they belong, and they're extremely compelling. Eliza Taylor is a brilliant leader. Clarke has so many layers. Most people would not show her strength after just killing the person they loved most. Alycia Debnam-Carey (one of the leads of the new Walking Dead spin-off) has been excellent in her role as Lexa, the Grounder commander. These two have been at the center of the action, their similarities and differences creating most of the dramatic tension in this episode. This episode really reminded me what a strong group of characters this show has in general. Octavia, Lincoln, Monty, Jasper, Raven, Bellamy, Abbie, and Kane all brought something special to the table. Well, they do that all the time, but this episode was a great ensemble episode. It utilized every cast member well.
I really loved the use of Finn as a guilty conscience for Clarke. It was nice to see that character, even knowing that it was a "vision" of sorts. It was clear that he represented the part of Clarke that has feelings, and when she spurned him at the end of the episode, you know she's gone through a serious change. I thought maybe when Finn (as her subconscious) helped her solve the poison mystery toward the end of the episode, that would mean that it was a recurring theme and that Thomas McDonnell would continue on with the cast for awhile. By the end, however, I believe that is the last time we'll see Finn. At least for awhile. Rest in peace, big guy.
The betrayal of Lexa by one of her own (even though I saw it coming) was brilliant. The Grounders want to believe it's Raven, and some of the others do, too. I wanted so badly to believe that it was Indra, because she's the worst! …Okay, to be fair, she's a wonderful actress and Indra has a riveting story to this point, but her character makes me worry for my favorites, so I have it out for her.
I'm pretty worried for Monty, guys. The end of this episode did NOT leave him in a good place. The whole Mt. Weather story spent most of the first half of Season 2 on the back burner, but they really turned up the heat this week. Rarely did I find the Mt. Weather story as gripping as the story about the outside, but this week I did. Christopher Larkin (Monty) and Devin Bostick (Jasper) have really stepped up this season, and they've proven they can handle a meaty story by themselves.
Overall, I'm really pleased with the storytelling from all angles. It's visually stimulating, the characters are all interesting, and while most of the cast has come together to make a VERY strong ensemble, there are still some separate pieces that make for interesting dramatic elements. Like, what is Jaha up to back in holding? What's going to happen on Bellamy and Lincoln's mission? The 100 is having so much success because it keeps asking questions like these that people want to know the answer to. I, for one, can't wait for what's next, and I'm SO GLAD this show is back!
What did you guys think? Did you enjoy the return of The 100 as much as I did? Let us know!!
[Photo via The CW]