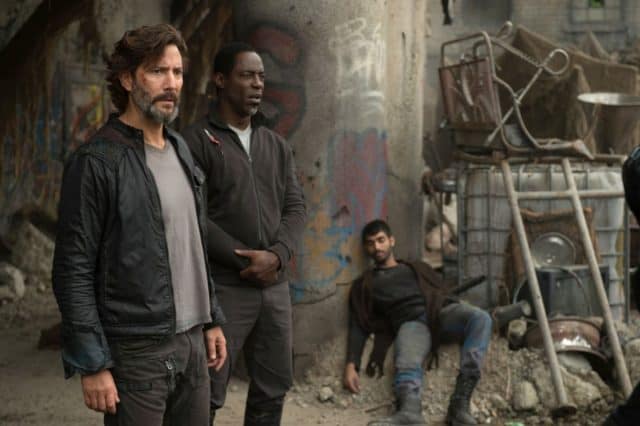 Guys. Guys. Guys. The 100 is back. I've been looking forward to this for about every other minute since I met some of the cast at Comic-Con. Showrunner Jason Rothenberg, along with the several of the cast members, teased me (and hopefully my readers, too) about Season 4 and set the expectations very high. Though some things about it felt a little odd, the premiere was action packed and exciting at every corner, and set up what should be an excellent season for the show.
This week on The 100: Skaikru is named public enemy number one in the aftermath of the City of Light's destruction. Clarke, Bellamy, Octavia and company must save Roan's life before they are killed out of vengeance. After saving the world, Raven, Jasper, Monty and Harper take a quick break before learning of the next impending devastation to the world. Monty and Harper have "the talk".
This was a great premiere episode, and just a great episode, all at the same time. Let me explain what I mean by that. It was a great PREMIERE episode because it caught us up on all the main characters after the previous season's ending. It was a great episode because it mastered the balance of epic action that we The 100 fans have come to expect, and still had those raw, emotional moments that make the show special.
Seeing how each character reacted to returning from the City of Light was fascinating. It forced a lot of hard looks at the characters they have been so far, and who they want to be. The show did a wonderful job crafting these short, focused moments for several characters that dealt with "Echoes" of their own mistakes or heartbreak. Bellamy and Kane towards the end of the episode, for instance, had a quick chat reminding the audience of their falling out, and motivating Bellamy to move forward. Clarke also had an incredible, small moment holding the flame and weeping for the loss of Lexa, which is much more fresh to her than us. All she says to Abby is "I loved her", and The 100 proves for the 100th (see what I did there?) time that less is more.
Since the last season of The 100 ended, an important change has happened in my life: I became a father. This might not seem relevant. Relax, I'm getting to it. I have a beautiful daughter now, and watching the women on this show take care of business was much more inspiring than usual. I've always been supportive of the show and its female characters (don't believe me? Check my track record), but watching the women be bad-@$$ over and over again is inspiring. I didn't need a reason to believe that my daughter can be anything or do anything she wants, but it doesn't hurt to have a little affirmation and encouragement for us both.
Few other thoughts:
I may not have gotten the point across properly, but Octavia in particular was fantastic in this show. Marie Avgeropoulos is phenomenal.
Based on what Jason Rothenberg told me at Comic-Con, the scene with Jasper at the end was ten times as heartbreaking.
I realize that it's not in Murphy's character to go back and live at Arkadia, but I desperately want that for him. He's become such a fantastic character.
All in all, I'm satisfied with the premiere. It was exciting, emotional, and everything that I could've wanted. Yes, it's that time of year where I just write an article once a week about how much I love The 100. There were some small things that could improve from this episode, but after finishing the article I barely even remembered what they were. That's how good it was.
What did you guys think? Did you enjoy the premiere? Let us know!
The 100 airs Wednesdays at 9/8c on The CW
The 100 Season 4 Episode 1 Review: "Echoes"
Summary
Clarke and company must save Roan's life so they can get home and battle a new threat on the Season 4 premiere of The 100.