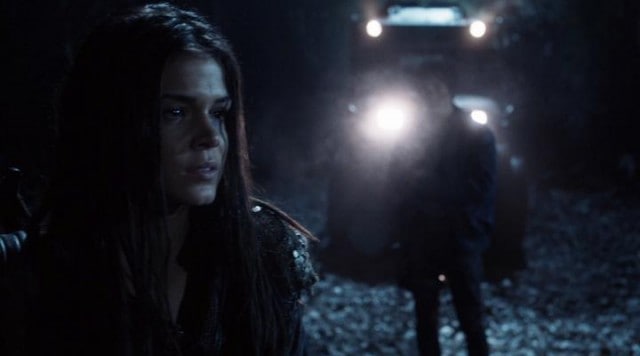 As a huge fan of the way that The 100 evolves, it may be surprising to you what I say next: I really enjoyed this episode. That may or may not come as a shock to you depending on whether or not you read my reviews with any regularity. Generally speaking, I've disliked the stories involving Alie. But, this episode served up the perfect combination of new, intriguing story and compelling reunion tales, as several of the cast members from The 100's first two seasons came back into stories together.
This week on The 100: Jasper and Clarke arrive with Raven, and they work with Sinclair, Monty, Bellamy, and Octavia to try and get the microchip out of her body. Alie knows what they are trying to do, and forces Raven to fight back. Clarke, Bellamy, Jasper, and Monty, must confront truths about themselves.
I REALLY enjoyed this episode as a Season One reunion tour. Though I constantly praise this show for changing things up and pairing different characters up, this episode was an excellent reminder why people fell in love with the show in the first place. "You're one of the 100", Monty reminded Octavia, as she lamented all the places she didn't belong, still reeling from Lincoln's death. Given recent confrontation with controversy after controversy, "Nevermore" was a perfectly timed nostalgia button for fans who have been around for the long haul. They brought Monty, Jasper, Bellamy, Octavia, and Clarke all back together in a really cool way, and explored just how far each character has come.
I really appreciated the Raven story as a modern-day possession. Lindsey Morgan absolutely killed this episode. Raven's range of emotions and consistent failed attempts to escape that situation added some real stakes that made "Nevermore" one of the more pulse-pounding episodes of the season. Perhaps the best thing to come from that story is the fact that this little original band of misfits defeated Alie this time. So all of a sudden, the game has changed for the final few episodes. Now Alie, the cocky little AI, has finally been injected with a little fear. This band of misfits and the second AI can take her down, which makes the five forthcoming episodes infinitely more exciting.
Sometimes, episodes like this can also serve as a reminder just how devastating The 100 can be. In particular, I'm referring to the scene in which Monty put down his own mother to save Octavia. Clarke had to put down someone she loved dearly in Season 2, but Monty's mother? It was one of the most heartbreaking things I've seen on this show. Some shows would be afraid to tell stories like that, but that's still one of my favorite things about this show. It's fearless.
Overall, "Nevermore" was a strong installment and got everything primed for the rest of the season. Exposing Alie and reuniting the original band of brothers and sisters created some strong, compelling television, and Lindsey Morgan took it to another level with her variant portrayal of Raven. This episode was well-crafted, and has sufficiently wet my appetite for more.
What did you guys think? Did you enjoy this episode? Let us know in the comments!
The 100 airs Thursdays at 9/8c on The CW.
The 100 Season 3 Episode 11 Review: "Nevermore"
Summary
Clarke, Jasper, Monty, Bellamy, Octavia, and Sinclair work together to help Raven in this week's compelling episode of The 100.