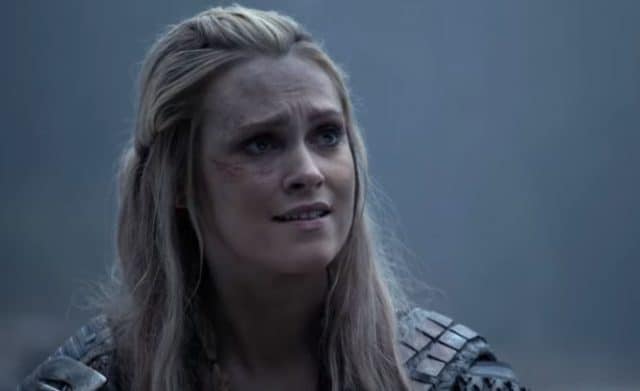 The 100 has done two-part finales in both of its first two seasons, and it will keep that tradition going in Season 3 as well, airing the first half of its season-ender tomorrow night. During the all-new hour, titled "Perverse Instantiation – Part One," Clarke remains determined to use The Flame to help the Arkers defeat A.L.I.E. once and for all, but nobody else in her group seems that supportive of the idea.
In the sneak peek below, Bellamy, Octavia, and Jasper all keep giving Clarke reasons for why The Flame is no longer a viable option against A.L.I.E. Without Luna, they no longer have a Nightblood that can utilize the piece of A.I., and how will they be able to find a new, deserving candidate in time?
"What do you want us to do, Clarke?" Jasper asks her. "Walk into random villages, asking for their Nightbloods?"
"If that's what it takes," Clarke responds.
However, it appears that she may have uncovered a different (and hopefully better) solution, as she gets Roan, who is now the King of the Ice Nation, to work with her and the rest of the group. She tells them that he's their way into Polis, but can he be trusted when they arrive there? We'll have to wait and see how it all plays out in tomorrow night's episode, and knowing The 100, there's a very good chance that it will end on a cliffhanger, which won't get resolved until part two of the finale next week.
The 100 airs Thursdays at 9 p.m. on The CW. Check out the sneak peek for "Perverse Instantiation – Part One" below:
PART ONE OF THE SEASON FINALE — Clarke (Eliza Taylor) finds hope in the most unlikely place. Meanwhile, Alie's (guest star Erica Cerra) master plan comes together. Paige Turco, Isaiah Washington, Henry Ian Cusick, Bob Morley, Marie Avgeropoulos, Lindsey Morgan, Devon Bostick, Christopher Larkin and Richard Harmon also star. Ed Fraiman directed the episode written by Aaron Ginsburg & Wade McIntyre.
[Photo via YouTube]