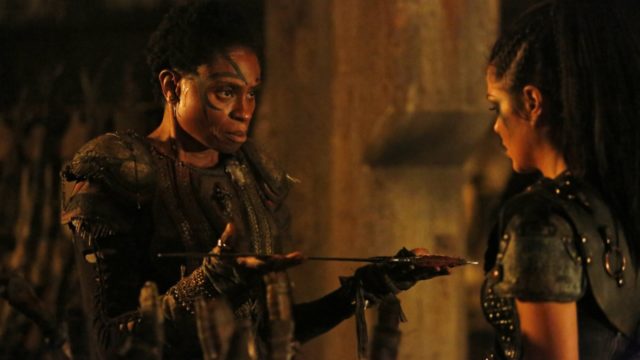 The 100 has always approached the future with a cavalier sense of "what's next" instead of trying preserve any status quo, which is a common trap for most shows. Rather than trying to capture a certain magic, the magic of The 100 is instead that it recognizes its heritage and the characters that it created, but trudges ever forward. Decisions about the plot are made, they happen, and then the show deals with the consequences of that. I once called the show "fearless" and I stand by it. This is something that many of us have known for some time, but I'm reminded of it now because it's episode 2 of Season 5 and we already have our first major casualty. It wasn't altogether unexpected, but it makes for excellent television.
We went into the season knowing that Isaiah Washington, who has spent the last four seasons as Chancellor/Former Chancellor/Engineer Thelonious Jaha, would not be a series regular in Season 5. The questions we had instead was in what capacity would we see him? "Red Queen" gave us an answer in true The 100 fashion. After all, it's rare that a character from this show can fade into the crowd, so instead Jaha joined his wife and son in the afterlife. Washington's performance as Jaha was always good, but we got to see every dimension of his character in his farewell performance. Flashback's of Jaha's fatherhood entered my mind as Jaha took care of a young boy in the bunker. As a leader, Jaha was controversial, but he was instrumental in creating the working leadership philosophy of new commander Octavia. Finally, of course, Jaha was a hero. He put his own life at risk for the welfare of his people, and gave it up for their benefit. Isaiah Washington has been excellent during his time on the show, and his swan song in "Red Queen" was no exception. He will be sorely missed, and I hope that Thelonious and Wells have a glorious afterlife reunion.
Over its last four seasons, The 100 has spent a lot of time exploring morally grey concepts, and what is moral in the post-apocalyptic world. "Red Queen" was a masterclass in this concept. To become the leader, Octavia had to buck tradition and her own expectations. She very firmly against the approach taken by Jaha and Kane on the Ark, but spent this episode learning everything that went into those decisions. Leadership is hard, and it's harder when you are trapped underground with limited resources and 1200 people. Lots of people like to talk about Bellamy and Clarke, but Marie Avgeropoulos has long been one of the strongest actresses on this show. "Red Queen" was a strong showcase for her, and since it made her the leader, I expect to see plenty of more of it.
Here are a few other thoughts:
The relationship between Kane and Abby became contentious quickly, and I'm not sure that I'm very invested in it. Both great characters, but their relationship doesn't do anything for me.
I really loved the flashbacks and how they intertwined with Clarke's story that we saw last week. Clarke's knocking, it turns out, was heard on the inside of the bunker, and they know that they're trapped.
More than I want to know anything else on this show, I want to know how Marcus got into that arena and how he's going to get out of it. He's going to get out of it, right?
A running theme so far has been the show's roots. Not only did Jah a mention his history with Wells, but Octavia's original mindset was based on her frame of reference that came with living under a floorboard. It's working really well for long-time fans of the show.
I just have to double compliment the show on fearlessly plodding forward. This show remains as compelling and exciting as ever.
"Red Queen" was exciting, devastating, and it had something to say. It's exactly the kind of episode I've come to expect from The 100, but don't worry, that's a great thing.
What did you guys think? Did you enjoy the episode? Let us know!
The 100 airs Tuesdays at 9/8c on The CW
The 100 Season 5 Episode 2 Review: "Red Queen"
Summary
Octavia encounters division among the people in the bunker, and must take on a leadership role on this week's strong episode of The 100.