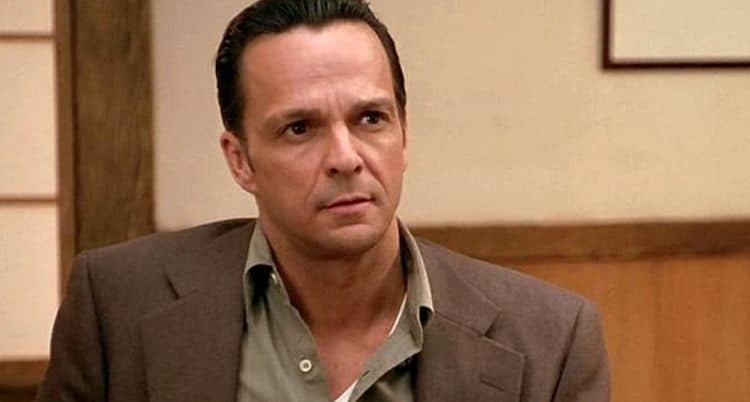 There's a good chance that you've seen James Russo more than once throughout several movies and even TV shows, but he's usually the type of character that will play a lead in a movie or show that doesn't get a lot of attention or will play a supporting character that is usually kind of rough or is someone that is there and then gone within a few scenes. One of his first and most memorable came during Beverly Hills Cop when he played the best friend of Axel Foley, Mikey. This role didn't last long but helped to set up the rest of the movie since Mikey, who was a thief that had been hired by another, bigger crook, had stolen a sheaf of bearer bonds from his employer, who sent people to look for him. Mikey's death was the inciting incident that set Foley on his way to Beverly Hills where he would eventually find the killer and the big boss that was responsible for Mikey's death. From that point James kept moving forward as he took on several other roles, sometimes taking multiple roles in a single year as he would appear in various movies and TV shows one right after the other, which is impressive in a way since it shows that he's always up for something and hasn't been too terribly picky about what he does.
It's been said more than once that typecasting can be a very limiting practice, but there are times when it appears to work for those that are subject to it, and since James Russo looks like a tough guy a lot of times it feels right to cast him as one in a number of different projects. He's been a down to earth and very nice guy in some movies, but he's been a flat out jerk in others and a villain in some. In the movie The Ninth Gate, he played a store owner that dealt in rare, antique books whose character could be said to be questionable at times but was more or less calm and relaxed most of the time. The trouble with this is that his moral ambiguity did lead him to a pretty bad end since he was hung upside down after being killed and left to implicate the man he was working with, who was played by Johnny Depp. Other roles have seen him playing a truly despicable person since in The Postman, which has been maligned more than once throughout the years since its release. Russo played the role of a moderately-ranked commander that was essentially there to make the lives of new recruits miserable since he was seen to verbally antagonize several of them. He had a definite bone to pick with Kevin Costner's character however and met his end after a skirmish in which he had a knife buried in his arm while Costner escaped. Not too long after that, his character was mauled by a lion, so it's fair to say that the character got what he deserved.
One of the more recent roles he took came in a Quentin Tarantino movie, in which he played one of two brothers that were transporting a group of slaves from one place to another, and were met in the middle of nowhere by Dr. Schultz, played by Christoph Waltz, who had come seeking the titular character, Django, played by Jamie Foxx. While Schultz blew one brother away he killed the horse of Russo's character, pinning him under the dead equestrian as Schultz continued to speak of how he needed Django to help him with a bounty he was seeking. When all was said and done Russo's character was shot and killed by the rest of the slaves in what many fans would feel is a justified manner since he was a rather miserable individual, and with a broken leg wasn't about to fight back. Right or wrong, it was what was expected of a Tarantino movie and it played out in just that manner. Russo has played several characters that cross the morality line in a big way throughout his career, and he's been doing this for a very long time now. To say that people ought to know him is accurate enough, but to admit that he does fade into the background along with many others is just as accurate since he can be front and center when he needs to be and can then fade back when his time is up. It's not so much a skill as it is a natural tendency of many actors who learn where their place in a project is and accept it since to do so isn't always submission, it can be an acknowledgment of comfort.
Sure every actor wants to be a star, but many of them have learned that being a part of the show is just as good sometimes.