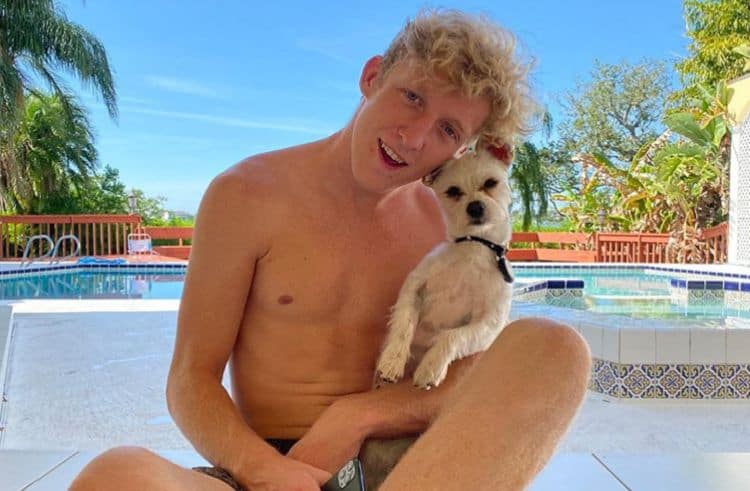 If you're one of the many people in the world who are not quite sure what an esports player is or what Fortnite is, you are clearly a parent. You know your kids want to play, they talk about it, it sounds foreign to you, and you know you need to keep an eye on this online game, but what else do you know about it? Do you know who Tfue AKA Turner Ellis Tenney is? No, you don't. Why? Because he is part of a brand-new generation of young people who make themselves famous from home with a video camera on their phone and internet access. Here's what you need to know.
1. He's a Streamer
If you don't know what this means, let us explain this to you. He's a person who streams himself online playing games. He uses his technology to film himself, play it live online, and he plays games and talks to his fans. It's what made him famous.
2. He's Young
He's very, very young. He was born in 1998, and that means he's only 22. He's not someone who has a lot of life experience, but he is someone who is good at what he does. We don't know what he did prior to his gaming job, but he's probably not someone who has lived his adult life doing any sort of 'traditional' job or lifestyle.
3. He's One of the Best
He's been voted one of the very best Fortnite Players in the world. We don't know how to play or what it means, but it seems to be a big deal in the world of gaming. He should feel pretty proud of himself for his ability, which he must because he is using this as a way to make a living.
4. He's from Florida
He was born and raised in Florida. His home was along the Gulf Coast near the St. Pete/Clearwater/Tampa area. He's from Indian Rocks Beach, which isn't a big down but it is a beach community with a lot to offer in terms of relaxation and peacefulness. It's a lovely place to grow up.
5. He's Got Some Legal Issues
Throughout his fame, which has been a situation for a few years now, he's had a few controversial legal issues. Most of which are against FaZe, which is a clan that caters to gamers. They have a house in LA, and he even lived in it for a while. Tfue ended up having some bad luck there, and he says that the company forced him to become an underage drinker, to do things he didn't want to do, and that they took some of his own royalties. They hit him back saying they did not, and their legal battles seem to continue more than they are solved.
6. He Get in Trouble for His Language
It's always best to use your judgement rather than inappropriate words when you're in a public setting, but he's not someone who always remembers this rule of thumb. Say what you want when you're at home and not on film, but he forgets sometimes. He's been in trouble for using words like the "P" word when describing some people who not happy with him. That's one thing. However, he's also someone who has been in trouble for using racial slurs, which shouldn't be used publicly or privately.
7. He's Making Bank
There's an estimated number out there that talks about how much money this guy earns a month. It's a lot. It's approximately $1.35 million per year, or something like $112K every month. That is just from his Twitch account, which has 45K subscribers. That is an insane amount of money for that kind of work.
8. He's Got a Famous Brother, Too
In case you didn't know, he has a famous online brother. His brother is the owner of JOOGSQUAD, which is a YouTube Channel. His brother has been at this even longer than he has, and he has a large following of his own. He isn't a gamer, though. He makes videos and posts them online, and his own fans love them.
9. He's a Skateboarder
When he is not inside playing games, he's outside on his skateboard. He loves it, and it's something that makes him happy. However, there was a time when he was in the Clout House in LA when he was on his board, and he accidentally fell off his board when a friend came around the corner in his own car and almost ran him over. He was not seriously injured, but it was a horrible situation.
10. He's Had a Public Breakup
Well, talk about embarrassing. This is a guy who was dating an Instagram model by the name of Corinna Kopf for a while. They kept it private for some time, but back in 2019 they made it public. Unfortunately, it did not work out. She broke up with him on the internet since she felt that was the best way. She felt she was visiting him more than he was her, that he'd only come to LA twice to see her, and that she felt she was putting in more effort, so she was ending things. Ouch.
Tell us what's wrong with this post? How could we improve it? :)
Let us improve this post!