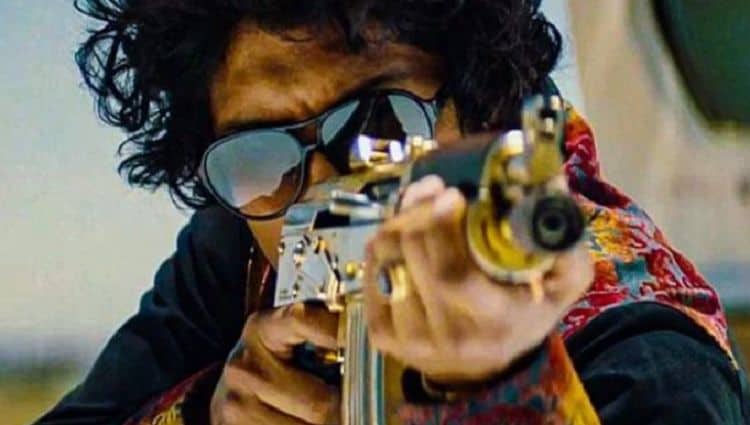 You may not be familiar with Tenoch Huerta yet, but that's all about to change. Several sources have reported that Huerta will be joining the cast of the Black Panther sequel. Though his exact role has yet to be confirmed, it is believed he will be playing a villain. While some viewers may consider Tenoch a newcomer, he has actually been in the industry for quite some time. His most notable role has been in the popular Netflix series Narcos in which he played Rafael Caro Quintero. Getting the chance to be part of a project like Black Panther 2 will undoubtedly take his career to new heights. Continue reading for 10 things you didn't know about Tenoch Huerta.
1. He Has Spoken Out Against Racism
Many people in the United States believe that racism is primarily an American issue, but in reality, racism and colorism exist in places all around the world. Tenoch, who was born and raised in Mexico, has encountered the effects of colorism first-hand as a darker-skinned actor. He discussed some of the experiences he has had in a video with El Pais.
2. He Has Theater Experience
On-screen work is what has garnered Tenoch the most attention throughout his career, but he also has extensive theater experience. He has continued to do some stage work even as his on-screen career has grown. Being able to act across multiple mediums is something that will come in handy throughout his career.
3. He Is A Writer And Producer
Tenoch is certainly a natural when it comes to being in front of the camera, but he's also interested in applying his skills on the other side. He is an accomplished writer and producer who is currently working on a film titled Tare. He earned his first production credit in 2017 with the movie Sinvivir.
4. He Has Nearly 70 Acting Credits
With close to 70 acting credits to his name, Tenoch will bring an abundance of experience to his role in the Black Panther 2. He made his debut on screen almost 15 years ago and has consistently strived for larger and more prestigious roles with each project.
5. He Likes To Travel
Tenoch has lots of love and appreciation for his home country of Mexico, but he still enjoys the opportunity to explore other places and see what they have to offer. He has been fortunate to do a great deal of traveling over the years. Some of the places he's visited include the United States and Ecuador.
6. He Is A Father
Tenoch has put in countless hours of hard work over the years to achieve success in his career. Nevertheless, he has not let that come at the expense of his personal life. He is an immensely proud father and a devoted family man. Whenever he is not busy at work, he relishes the opportunity to spend time with his family.
7. He Loves Spending Time In Nature
Sometimes it's the simple things in life that are really the most meaningful, and that's something Tenoch understands. He loves being outdoors and appreciating the beauty that nature has to offer. Some of his favorite activities include going hiking and relaxing by the water.
8. He Has A Big Social Media Following
Being on social media is more important now than ever before. Not only can social media give celebrities a chance to connect with their fans, but it can also open up new opportunities for them. Tenoch has experienced great success in his career and this has been reflected in his huge social media following – he has nearly 114,000 followers on Twitter and almost 86,000 on Instagram.
9. He Really Wanted To Play Caro Quintero
Occasionally, there are roles that just speak to an actor, and that's exactly how Tenoch felt about playing Caro Quintero. Tenoch told Insight Crime, "I wanted to play him. Caro Quintero was the character I could contribute the most to. At first glance, he may seem simple, but for me, the question was what in his life led him to be this way? And in searching for the answer, he became a very complex, nuanced character to me."
10. He Is A Sports Fan
We weren't able to find any information on whether or not Tenoch has ever played sports himself, but he does appear to be a big sports enthusiast. He loves both soccer and American football and is extremely proud of the fact that his sister Claudia is an American football coach. Tenoch loves to go to live games whenever he can, although COVID-19 has unfortunately changed the way we all enjoy sports for the time being.
Tell us what's wrong with this post? How could we improve it? :)
Let us improve this post!