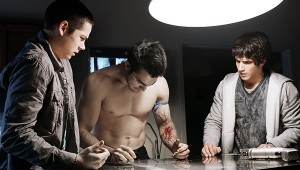 That…was…AWESOME!!!
Thank you, Stiles, for another laugh out loud moment courtesy of Teen Wolf.
Last night's episode soared on so many levels and I'm on a high that even ecstasy couldn't match. The way the writers drop mythology in the most subtle of ways, while building the characters and atmosphere around them is reminiscent of not only early Buffy, but most of The WB supernatural themed fare such as Roswell, Charmed, Smallville, and even Supernatural. I might be committing TV blogger/critic suicide with some of my colleagues (and readers) by comparing Teen Wolf with those seminal classics, but I stand by my word. Teen Wolf is rapidly becoming Must See TV and my Mondays are NOT complete without it. Seriously.
Before I overdo it on the seemingly ass-kissing I am giving this show, let's discuss the shenanigans that transpired tonight with Scott and the gang of Beacon Hills High.
First up, what an introduction for Kate Argent, portrayed by Jill Wagner (Blade: The Series, Wipeout), who is just as lethal as her brother Mr. Chris Argent and probably a bit of a loose cannon, too. As soon as Kate was attacked and then went into action mode, I couldn't help but think that the Teen Wolf writers took a class in Joss Whedon 101. The scene was like an homage to several Buffy episodes in which the female turned the tables on the bad guys and kicked their asses (or killed them) afterwards. Kate seems like she will be a very viable foe for Scott and Derek in the future, but the dramatics are sure to hit high levels when Scott's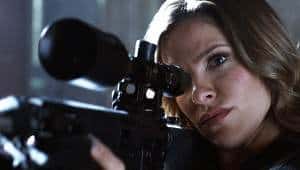 inner werewolf is revealed. Hell, the entire Argent family dynamics will need a complete overhaul due to the complications of the situation. Speaking of family…
Are the Hunters a family ran business as Derek suggested or is this a personal vendetta against all werewolves for a past transgression against the family? As Mr. Argent recounted the memory of the 'rabid dog' they had to put down when Allison was a kid, did anyone else think that the dog in question was actually a werewolf? If it wasn't, then I would love to know what got the Argents in the business of slaying werewolves and if this is a generational thing or a club they just so happened upon and joined after an attack? It would seem that the Argents belong to a group since they follow some sort of Code, plus there are the henchmen who have been seen with Mr. Argent on several occasions that help with that argument/theory. Whatever the case my be, Scott's life just got complicated times infinity since he has his Pack Leader and the Hunters on his tail now.
Now let's discuss this magic bullet that took Derek down and almost left us short one werewolf to cheer for this week. As Stiles suggested, I thought Derek was hit with a silver bullet, but just like other werewolf lore on this show, the simplicity of silver bullets went out the window. To replace that old stereotype, the writers introduced us to nordic blue monkshood, a form of wolfsbane that seems just as lethal as a silver bullet to the heart. The pairing of Stiles and Derek through this crisis was a very well-thought out move on the writers part in my opinion, because Tyler Hoechlin and Dylan O'Brien bounced right off of each other's witticisms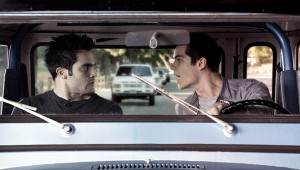 and I couldn't help but laugh every time this two were together last night. Again, I couldn't help but think about Xander and Angel from Buffy's early years when I saw Stiles and Derek go at each other verbally. Kudos to the O'Brien, Hoechlin, and the writers for some perfectly timed comedy/suspense. Let's see more of it.
Now to our main couple of the show. The chemistry between Scott and Allison was getting deeper to the point that I was sitting here scared crapless about when the two will 'consummate' their relationship, because of Scott's claws coming out when his hormones went into overdrive. Then I saw how Scott not only managed to control both beasts inside of him, but how he easily calmed Allison's nerves at the dinner table as well. This goes back to my theory that Allison will be Scott's "serenity" and vice versa, which also shows that when secrets will be revealed, the consequences will most definitely be messy to the point that a combination of Comet, Clorox, and 409 will not be able to clean up the damage. "Love. Be Afraid," indeed…
Then there is this week's Derek Hale revelation, which consisted of his uncle being "dewolfed" by the Hunters (Argents?). How is that even possible? Is there some sort of spell that could be conducted to perform such a task? Am I jumping too far ahead in the supernatural family tree by suggesting there might be witches involved in the world of Teen Wolf as well? Whether or not that latter question matters, I would love to know who attacked who first? The Argents, or the Hales?
Random Thoughts:
– I wrote an article early yesterday that dealt with Jackson and Lydia being possible pawns or targets in this episode given the trailers, video clips and the picture released on MTV's Teen Wolf tumblr page featuring Lydia running in the woods with the warning "Run For Your Life" scrawled across the photo. Apparently, these two didn't factor much into last night's episode, but will seemingly be part of the big picture in next week's episode. Since that is probably the case, my thoughts still stick so check them out.
– One of the best scenes of the night was the interrogation scene between Scott, Kate, Allison, and Mr. Argent. I knew it would end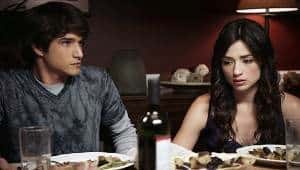 with Allison saving the day, but I didn't know it would end like that! And Scott's reaction after he made it outside and realized what happened? Price. Less.
– Is it just me or is there something off with Lydia? She's not your average bad girl, but she can throw big words out there as if they were a designer label of sorts. Plus, she's a little slutty…
– After this season is over with, I'm betting that Stiles will have enough one-lines to fill at least five volumes of books that I would undoubtedly purchase at the drop of a hat.
– I'm thinking Mrs. Argent knows about the werewolves. She would have to know something, given the arsenal that is lined throughout the Argent home.
– Wonder if the broken glass from Kate's car will make another appearance in a future episode, because the entire scene looked as if it was more than Allison noticing something else strange about her aunt…
– By Kate being a former resident of Beacon Hills, and the history between the Hales and Argents in general, is it safe to ponder if Beacon Hills has been a hotbed for werewolf activity for decades? And if so, why does everyone seem to think it's a new phenomenon?
I could go on all night on these random thoughts, but I seriously would like to hear your take on the strange happenings on Teen Wolf. Got a theory? Let us know in the comments section!