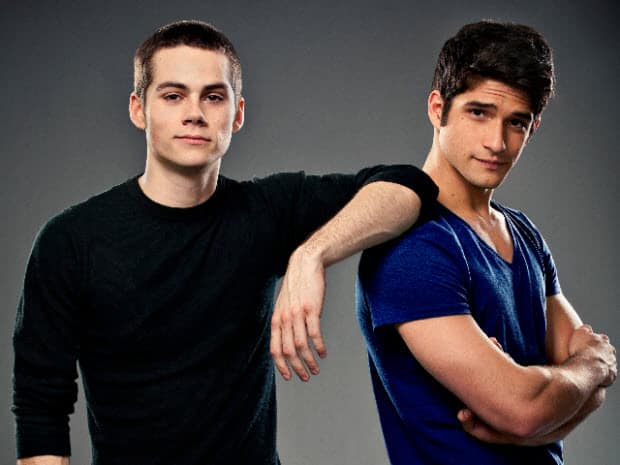 If anyone from MTV or Teen Wolf is reading this, why would you alter the opening theme music? Why fix something that isn't broken? There was no reason to alter such a perfect theme, so hopefully they will either change in the next few weeks or it will be back to the way it sounded in season 4.
The interrogation scene was one of the funniest scenes in not just this episode, but in this season. Scott's dad is clearly not going to get a break anytime soon apparently.
One of the few issues in season 3A was that they didn't use Lydia enough which they should have, because Holland Roden is simply amazing. However, she is featured much more now and has a really cool arc. Did it look like the dark figures almost "took" her banshee voice in that scene when she was surrounded by them? Only time will tell.
The scene with Derek giving candy to kids dressed up in Halloween costumes was adorable, but mostly hilarious. Can you imagine what it would be like if Derek went and knocked on doors at Halloween in his wolf-mode just yelling "trick or treat"? He would probably get a lot of candy. We see him getting surrounded by the dark figures that are still nameless as of now.
These dark figures are incredibly intimidating, and one of the show's coolest looking villains so far. The masks have a nice design and their costumes do sell the look of being from another world (if that is the case). Hopefully in the next episode, we will learn who they are (as well as getting a name to them) and what they want. The action scenes between them and the kids were fantastic and it's a new kind of fighting that Teen Wolf hasn't featured before.
Whenever we get more of Keahu Kahuanui's Danny, it's always fun and sweet. They really need to find a way to show more of him in this series. It would be very interesting to see how he would work in the Scooby gang. The twins are becoming so much likeable and hopefully the writers will present us something really neat for those two before the season ends.
Speaking of likeable, while it's not a huge progress, Scott's dad was actually a bit easy to like this week. It was mostly because of the fact that he has a photo of Scott as a kid as his screensaver. It would be good though if they can start to explore Scott's relationship with his dad in depth because there is probably a lot of history.
The only issue with this "Illuminated" was the awkward moment between Scott, Alison and Kira at the party. Now it has been quite established throughout this season that Scott and Alison have sort of moved on from each other in terms of being in a relationship together and are now just friends.
So why was Alison suddenly so shocked or surprised that Scott was there with Kira? It was just a weird scene that really doesn't make any sense, based on the current establishment that we have seen this season between them. Let's not forget that Alison is now with Isaac so if she is for some reason "upset" that Scott is with another girl now, she really has no right to. She is also with someone else now and hasn't shown any feeling for Scott this season.
It has actually been nice to see those two as just friends this season, but let's see if that scene will lead us to something bigger later this season. Regarding the Kira and Scott relationship, it's just adorable and the chemistry between the actors is just amazing. One of the most beautiful aspects of their relationship is how Scott is so cool with Kira's specialty. It was interesting to see this energy around her and that it had a fox form. Now this could mean anything, but could Kira perhaps be able to shape into a fox? Is she actually a little bit like Scott after all? We will just have to keep watching in order to find out.
Finally, what is up with Daddy Argent? It's so great to see him again, but sadly it looks like that he is going to have a rough arc in these last couple of episodes. Why does he have one of those masks and why is it shattered? So many questions to be answered in these upcoming weeks.
What else can be said? Season 3 of Teen Wolf is on fire and with eight episodes left, things are about to get bigger.
Teen Wolf airs on Monday nights, 10/9c on MTV.
[Photo via Bob Mahoney/MTV]