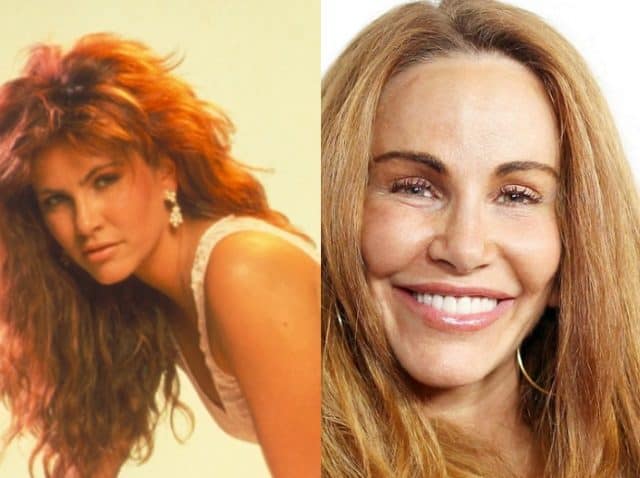 It's difficult to remember absolutely everyone from the 1980's given that the number of movies coming out and the rise of the stars was an enormous wave that seemed to never end as some were allowed to shine for a brief time before being replaced by an entirely new crop. Tawny Kitaen was among that number and at one time she was about as hot as any woman could be both in appearance and when it came to her career. Unfortunately as it happens, then and today, stars that rise without seeking to secure their position as much as possible tend to fall a lot harder when the bottom drops out. Tawny, born Julie E. Kitaen, was one of those that was rising swiftly through the ranks and actually attained the fame of a pinup girl for a while. She had the big hair, the sassy look, and had a passable amount of talent when it came to acting. But once the 80's were over it seemed that her career went the same way.
Acting Career
Tawny got into acting back in 1976, appearing on a game show called To Tell the Truth. Her first role as a character was in the show Malibu as Mahoney's girlfriend, which is what the credit reads. From there she went on to roles in films like The Perils of Gwendoline in the Land of the Yik Yak and Bachelor Party, where she was fairly well-received.
Of course one reason why she was very well-received is that she was a beautiful woman and likely there wasn't much expected of her when it came to acting. Unfortunately as is the case now, a lot of women that have these kind of looks are taken into Hollywood's bosom for that one quality and not given the benefit of the doubt that they can act. While that's changed thankfully it wasn't a mandatory thing in the 80's. But Kitaen was not the worst actress in the world thank goodness and did her part, even with the Yik Yak movie which looked, well, let's say questionable.
From there she went on to other roles in film and TV, but she also tried her hand at being featured in music videos for the band Whitesnake.
Personal Life
Kitaen actually went on to marry the lead singer David Coverdale in 1989. They divorced only two years later however in 1991. From there she moved on to baseball player Chuck Finley. That marriage lasted from 1997 to 2002 when Kitaen was charged with domestic violence for assaulting Finley. Apparently she saw fit to kick him in the face over and over while wearing a pair of high-heeled shoes. One could almost surmise that her career, pretty much at a plateau leading to an inevitable end, was a small part of what drove her to such an act. Finley filed for divorce just three days later which isn't too surprising. After that Kitaen agreed to a plea bargain that would force her to enter a spousal battery counseling program. She was also forced to avoid contact with Finley, despite the fact that they had two daughters together.
You might think that none of this is really setting Kitaen in a good light, but that's not the end of it unfortunately. In 2006 she was charged with possession of cocaine. Apparently her two daughters were home at the time of the arrest and Kitaen had even given deputies the permission they needed to search her home. That same year she entered a six-month rehabilitation program to have the drug charges dismissed. So it's not just current superstars that get off easy, former stars can do it too. If you need further proof Kitaen was arrested in 2009 for a DUI in Newport Beach, California. In July of 2010 she was allowed to plead no contest and actually spent a couple of days in jail, given community service, and even ordered to attend a first offender alcohol program. That seems like a lot of chances given to someone that was already found guilty of a couple of different crimes in the past.
It's amazing how a star goes from pinup status and being a well-respected actress to being a cautionary tale that has followed the cosmetic surgery trend to disastrous results. While Kitaen might still be known by those that remember her from the 80's a lot of them might be hard-pressed to recognize her at this point. The unfortunate effect of not allowing time to take its toll on one's body in the natural manner is that once a person starts with cosmetic surgery it seems difficult to stop as they attempt to hold back the ravages of old age. In her prime Tawny Kitaen was a very beautiful woman, and had she stayed away from the surgery she might have remained as much and aged gracefully like a few other women. However this seems to be what happens to people that can't understand when their time is up.
R.I.P Tawny. She passed recently (5-8-21) at the age of 59.