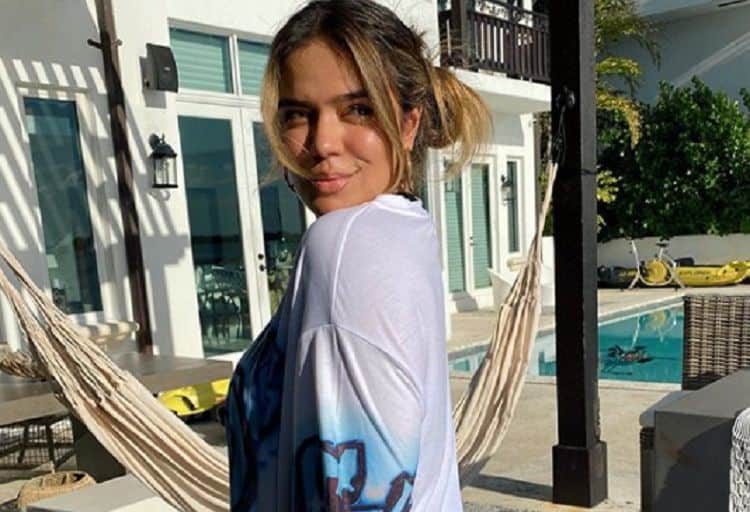 Since hitting the music scene in 2017, Karol G has shown that she has what it takes to become an international superstar. In just a short time, the reggeaton artist has become well-known for infectious music and sizzling good looks. She's already gotten the chance to work with some of the biggest names in Latin music including Daddy Yankee and J Balvin. Not only are fans feeling her music, but the critics love her as well. In 2018, she even won a Latin Grammy Award for Best New Artist. The fact that she's just getting started makes all of her accomplishments even more impressive. Keep reading for 10 things you didn't know about Karol G.
1. She's Engaged
Not only has Karol had lots of success in her professional life, but things in her personal life are also going well. At the end of 2018, Karol G and Puerto Rican rapper, Anuel AA, confirmed they were in a relationship. The couple decided to take things to the next level in the spring of 2019 when they announced their engagement.
2. She Has A Massive Social Media Following
While Karol G may not be a household name for many American music fans, her name rings bells in plenty of other households across the globe. On Instagram alone, Karol has over 30 million followers. That number is higher than many well-known American artists such as Migos, Harry Styles, and Luke Bryan.
3. She Dreams Of Becoming A Mom
Lots of people would probably assume that Karol's biggest dream is somehow tied to her career, but that isn't true. The things she wants most out of life is to start her own family. She excited to eventually become a mother but says that she wants to make sure her career is in a good place so that she won't be forgotten when she steps away for a moment.
4. She Loves Working With Anuel AA
Everyone knows that mixing business with pleasure usually isn't a good idea. Most couple's would agree that it's actually for the best that they don't work together. However, Anuel AA and Karol G seem to be an exception. She says she loves working with her fiance because the two understand each other deeply.
5. She Respects The LGBT Community
Karol G's music has become particularly popular within the LGBT community, and she couldn't be any happier about that. She told Vibe, "I love having part of my following from that community. I love people who can go out into the world and be fearless. I'm very proud of that because the world really lacks people like that: people with personality, attitude, and a strong will. That's something I admire very much from that community. They have a beautiful energy."
6. She Likes To Splurge When She Travels
Everybody's guilty of having one thing that they always spend more money on than necessary. For Karol G, that thing is traveling. Karol isn't afraid to pay extra to make sure she has the best and most comfortable experience when she travels. She says, "What I really spend money on is finding a nice place to stay near the sea. When I go on trips, I like to have everything in one place. Someone to be in charge of the food, someone to keep things organized, and someone to attend to us. I need the house to be awesome, by the water, with all the amenities I need."
7. She Hopes To Break Down Barriers
Being a woman in the music industry isn't easy, especially in a genre like reggaeton. However, Karol is all about bringing #GirlPower to everything she does. She wants to show the world that women are more than capable of being powerful and successful.
8. She Was Recently Called Out For An Insensitive Black Lives Matter Post
At the height of protests around the country, Karol G rubbed lots of people the wrong way when she used a photo of her black and white dog to send a message about Black Lives Matter. Many called the message "tone deaf" and said it was a clear example of how out of touch Karol G is. She has since apologized and said it was never her intention to offend anyone or be insensitive.
9. She Describes Working With Nicki Minaj 'Iconic'
In 2019, Karol G got to the chance to collaborate with rapper, Nicki Minaj, on the song "Tusa". Karol, who grew up listening to Minaj, says that the chance to work with her was "iconic". The song became the first collaboration between women to debut at number one on the Billboard Hot Latin chart.
10. She's Not As New To The Scene As She Seems
Even though it's only been 3 years since the release of her debut album, Karol has actually been in the industry for much longer. She got her start as a teenager when she appeared on the Colombian version of The X Factor. In 2014, she signed to Universal Music Latino.