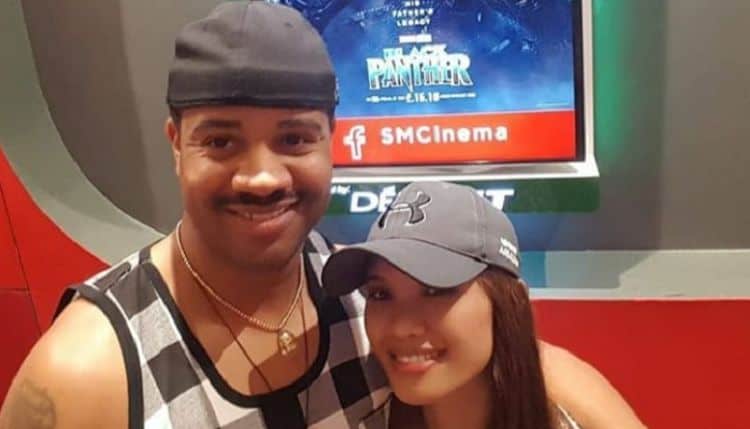 Tarik Myers is a man who met a woman, got married, and decided to film it for reality television. You know where this is going. It rarely ever ends well when you meet a woman online and one of you lives in another country, is not a citizen, but comes to America to live – and then you get married so your partner can stay in America inside of 90 days. It's really, honestly, just not the best way to live your life. However, Tarik Myers is not just a "90 Day Fiance," alum. He's the guy who also got married to his wife, and then decided they wanted a girlfriend so they could live as a throuple. To the rest of the world, it looked like he and his wife, Hazel, simply had some marital issues because he had feelings for another woman, Minty, and that's when they decided to become a party of three. It's a situation from start to finish, and fans are curious about Tarik Myers.
1. He Met His Wife in the Philippines
He met Hazel more than three years ago in the Philippines. They met online, and she was a shy, quiet young woman who fell for a man she met online. She came to the United States with him, but they did not get married until 2020. She was shy, unsure what she wanted in her life, and things were not going well with them.
2. His Wife is Bisexual
She didn't let him know this from the start, but when she told him of her feelings, he was okay with it. She was still living in the Philippines, and their plan was to move her to the US and continue to be with one another. Her revelation about her sexuality was a situation they had to overcome first.
3. They Had a Pregnancy Scare
When they were first dating, she thought she was pregnant. They had a positive test, but the subsequent tests more than a week later were negative. He thought she terminated the pregnancy without his knowledge, and they nearly ended their relationship. He ended their engagement.
4. He Met Another Woman
In the five minutes he was not with his fiancé, he decided to fall for another woman. He met someone by the name of Minty. She lived in Thailand, and he fell hard. They were seeing one another when Hazel had her doctor confirm that she was never pregnant at all, and Tarik decided to give her another chance.
5. Tarik Made Some Trouble
Rather than end things with his new girlfriend and head back to only his fiancé, he decided that the best course of action was to make sure his old fiancé met his new girlfriend and be with both of them. But, Hazel did not like Minty. Who would? She was her own fiance's new girlfriend, and it was an awkward situation. He wanted to make it work, though, and he pushed it.
6. He's a Real Estate Agent
He's a man who has been in the real estate business for many years, and it's believed he does well for himself. He grew up in Ohio where he got his start, but he currently lives in Virginia. His business as a real estate agent is doing well.
7. He's a Rapper
Because the real estate game is not enough for him to do alone, he is also a rapper. He fancies himself quite talented, too, and he never misses an opportunity to either show us or talk about it when he is on television. While he might not be a rapper with a recording contract, he still believes himself to be quite good.
8. He is Having Financial Difficulties
It seems that the rapper/reality television star/realtor is a man with some troubles. It was reported in early 2021 that he was filing for bankruptcy with nearly a half-million dollars in debt he could not repay. How this ended, we don't know, but we assume this is probably an ongoing issue in his life.
9. He is Older Than his Wife
By several years, in fact. There is an 18-year age difference between the two. He is in his late 40s, she is in her late 20s, and neither one of them seems mature enough to handle their own marriage, their own desires, and their own wants, if you want our opinion.
10. They're Still Looking for Love
Because Tarik is a giving, generous husband, he is still open to having a girlfriend he can share with his wife. They are, as we understand it, currently still looking for a third person to allow into their marriage. He just wants his wife happy, after all.