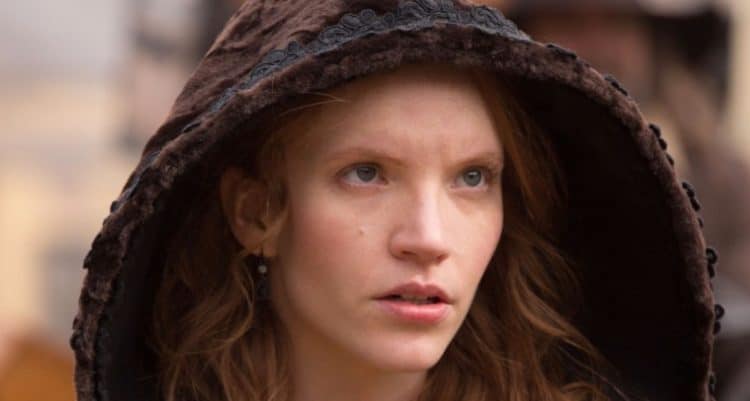 Tamzin Merchant has been active in the industry for over a decade, earning a wide fan base and critical acclaim through her outstanding performances in the likes of Salem, Supergirl, and The Tudors. Already a big name, her star rose even higher in 2019 thanks to her leading role in the hit show, Carnival Row. With a second season recently announced, there's never been a better time to find out more about the talented actress.
1. She's had a high-profile love life
Tamzin is currently dating Barney Douglas, and judging by the number of loved up snaps she posts of the pair on Instagram, the relationship is going strong. Prior to meeting Douglas, Tamzin had enjoyed several high-profile relationships, most notably with fellow actor, Freddie Fox. After the two met on the set of The Mystery of Edwin Drood, they quickly began dating. Going by some of Fox's comments at the time (including his gushing statement "I can honestly say I have never been in love before, but I know this is it. She is perfect. I know it is such a cliché – 'we played lovers and then a romance blossomed,' and all that, I get it – but, really, I couldn't be happier. I love her so much"), it was a pretty full-blown affair. Ultimately, however, it proved not to be, and the couple called it quits just two years later when Fox's burgeoning career in the US began to put pressure on the relationship.
2. She missed out on the role of a lifetime
Game of Thrones is unquestionably one of the biggest TV shows of the millennium. As much a cultural phenomenon as it is a TV show, it captured the hearts of millions over its 8-season run. It also managed to make stars of its cast, not least Emilia Clarke, the young British actress who became a household name thanks to her role as mother of the dragons, Khalessi. According to Live Ramp Up, however, Clarke wasn't the first choice for the role… that particular privilege goes to Tamzin. Unfortunately, after the disastrous pilot forced directors to completely rethink the cast, Tamzin was dropped in favor of Clarke. In an interview with Vanity Fair, Game of Thrones casting director Nina Gold said of the decision: "It's terrible to disappoint … it's difficult to let down … that's hard. It's tough, but you've got to get it right, ultimately."
3. She's a millionaire
She may only be 32 years old, but Tamzin already has a very respectable fortune to her name. According to Net Worth Post, the talented actress is currently worth around $1 million.
4. She made her film debut in Pride and Prejudice
In 2005, Tamzin made her film debut in Pride and Prejudice. Her performance as Georgina Darcy clearly caught the eye of casting directors, and she's subsequently gone on to star in numerous big-name movies. Some of her most notable film credits include Jane Eyre (2011), Copenhagen (2014), Dragonheart 3: The Sorcerer's Curse (2015), The Messenger (2015), The Dancer (2016), and Dragonheart: Battle for the Heartfire (2017).
5. Her first TV appearance was on My Family and Other Animals
In 2005, Tamzin made her first-ever TV appearance as Margo Durrell in My Family and Other Animals. The following year saw her appear in several features, including The Good Housekeeping Guide and Casualty 1906. After spending the next couple of years picking up minor parts, she landed her first major breakthrough with the recurring role of Catherine Howard in The Tudors. Since leaving the show in 2010, she's enjoyed several notable roles, including Rosa Bud in The Mystery of Edwin Drood (2012), Anne Hale in Salem (a part that earned her a Fangoria Chainsaw Award nomination for Best TV Supporting Actress in 2017), Lyra Strayd in Supergirl (2017), and most recently, Imogen Spurnrose in Carnival Row (2019).
6. She's a philanthropist
Away from acting, Tamzin is active in several charities and is a patron of the international development charity, Build Africa.
7. She's featured in several music videos
Shortly after landing her first professional job as an actress, Tamzin was cast in the music video to "If You Got the Money" by British singer-songwriter Jaimie T. A year later in 2007, she starred in her 2nd music video, this time to Groove Armada feat Mutya Buena's "Song 4 Mutya (Out of Control)". In 2014, she was asked to perform in her third music video for Belle and Sebastian's "Nobody's Empire".
8. She's an Oxbridge graduate
Tamzin is far more than just a pretty face- after completing her primary education at Windlesham House School and Brighton College, Tamzin was accepted at the prestigious University of Cambridge, Homerton College, where she graduated with a degree in Education studies after twice deferring to concentrate on her blossoming acting career.
9. She thinks the trick to acting success is honesty
Tamzin may not be a trained actor, but its clearly not held her back from achieving success. When it comes to playing a role to perfection, she thinks the trick lies in being fully authentic. "I don't have any acting training – I'm not a trained actor – but I think the approach is to play a character with honesty and with authenticity and a full version of themselves, rather than play a trope, if that makes sense," she tells Comics Beat. "I think in that way that if you try to play the whole world in every sentence that you do. You sort of have to play the specificity of something, and that gives it meaning."
10. She's a poet
What do you get when you combine a first-rate Oxbridge education with a love of the theatre? In Tamzin's case, a poet. Not content with restricting her talents to the screen, Tamzin is an accomplished poet, and has published several pieces, including Where Does Revenge Stop?" and "Ode to a Toilet", in Platforms Magazine.