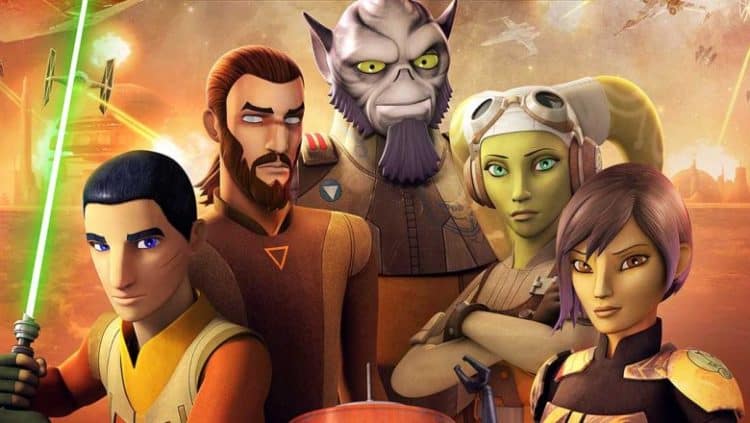 Just to be certain, there are a few other composers that will be helping out over the course that Star Wars will be continuing along in the coming years, but as of now, it does sound as though Kevin Kiner, who has been providing his expertise over the years, will be the heir apparent to John Williams, who has been in charge of scoring the music for the 9 core Star Wars movies. That is if Lucasfilm is in keeping with tradition and recognizing the fact that Kiner has been around and done far more than many other composers, which is a big hope. But as many already know, those that head up the company are bound to do what they feel is right, which can sometimes go against what is sensible. Kiner has been around long enough and he's been working diligently on the musical score for years now when it comes to the animated series. It makes more sense to keep Kiner on and have him take over, but it has to be recognized that others have stepped up and done a great job on various scores as well. The musical score of Star Wars is every bit as important to the movies as the setting or the characters since it's been used to enhance every part of it throughout the years and give an impressive sound to match the epic story that's been entertaining people for so long.
To be quite honest, there are a lot of people that might enjoy the musical score of many movies but don't give much thought to them since they're more concerned about the action, the actors, and the overall story. But the fact is that without the right music a lot of movies might fall horribly flat and their meaning might actually be lost. Music can serve a number of purposes when it comes to bringing emotion into the movies and TV shows that are served by a great soundtrack. Of course, there are those times when a soundtrack might be a little off and kind of hard to get into since the songs that are picked to accompany the movie aren't exactly on point or the instrumental pieces feel kind of awkward, but with Star Wars the music has usually been seen to match each situation in a manner that's nothing less than impressive since the skills of those that have been tapped to create one piece after another are definitely great enough to keep up with the epic story in all its forms. There are a few moments that feel a little too whimsical to some folks, but even these feel as though they tend to help the movies and series instead of dragging them down. Star Wars has been a pleasing mix of powerful and melodic pieces throughout the course of its existence since there are so many different elements that influence the story that trying to contain them all in one style feels nearly impossible. Every composer has their own style, their own level of ability, and it's likely been tough to find someone that could possibly help with the future of this franchise when it comes to the overall musical tone, but Kiner appears to be the favorite at this time, or so we hope.
The musical future of Star Wars isn't something that a lot of people are going to be worrying about, but if a composer of lesser talent and, more importantly, someone that hasn't had a lot of experience with Star Wars was to be selected then it might change things around a bit since Kiner and several others have been working with this franchise for a while and have proven to be skilled when it comes to creating music that works for the various stories that the epic has to offer. Trying to skirt around Kiner and pick someone else would be a horrible mistake, no matter that Lucasfilm is bound and determined to do things their way. It wouldn't be the first mistake they make, unfortunately, but it would likely be another that they would explain away in order to make it known to the fans that they were doing this for them, which is an explanation that a lot of people have grown tired of, especially when it comes to what's been presented within the last several years. There's hope that Kiner will be the one to replace Williams without any controversy, and it's likely that this will happen, but there's always that moment of doubt that things will turn out the way that people expect.
In any case, it does sound as though the future of Star Wars, in terms of music, should be well taken care of, as this is one part of the legacy that needs to be kept intact.
Tell us what's wrong with this post? How could we improve it? :)
Let us improve this post!