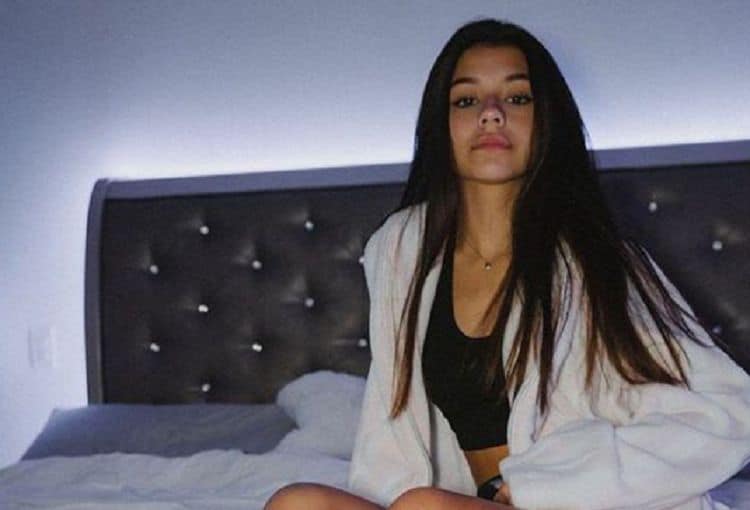 Like so many people her age, Rachel Brockman has found her niche. She's a social media star with a huge following on TikTok and Instagram. She's known for her videos, her good looks, and the fact that she has millions of people willing to follow along as she shares small snippets of her everyday life. She's gained her popularity quickly and without warning, and she's working very hard to capitalize on that by maximizing her exposure and trying to turn this into a lucrative career. So far, so good for her. Let's learn more about her.
1. She's Very Young
She posted a photo of herself online earlier in the summer of 2020 – June to be precise – in which she captioned it, "16," and thousands of people wished her a happy birthday. This means she was born in in 2004. She's so young, but she's already made a name for herself and amassed a huge following.
2. She's Repped
She may be young, but she's doing big things. She's got her own talent management company working with her to ensure she is going to go places. She's been repped by Top Talent Management, which is the same company that represents other social media stars such as Anna Shumate.
3. She's Got a House
It was announced in 2020 that she has a house with some other social media stars, but we know she's not living there. There is no way she can live with kids who are already legal adults – or who will be soon – and not have her parents there to supervise. Unless, of course, they gave her permission to do so. The house is called the Top Talent House, and it's for social media stars to work together, live, and share their followers and success with one another.
4. She's Got a Huge Following
She has millions of followers on her social media accounts. She's got most on TikTok, but she also has more than 433k followers on Instagram. Fans love her, even though she's only got 30 posts up since May of 2020.
5. She's Relatively Private
For a social media star, she doesn't share much about her personal life. We don't know a lot about her, but we know that she likes to post photos of herself online without geotagging most of it, and she also keeps her private life relatively private by not commenting on most of her stuff.
6. She's Famous for Dancing
It seems you don't have to do a lot these days to actually become famous. She posts videos of herself online doing nothing more than dancing to some songs that are famous, and she sometimes lip-syncs to them. She's just someone people love to follow, and we don't know what it is about her that has that star quality people are looking for that others don't have.
7. She's the Youngest Member of Her House
She's only 16, and that makes her a solid year younger than everyone else in the house she's not part of. She's got a lot of living to do, but we also assume she's not actually living there. Though, she did post a photo of herself tagged at the house having a sleepover. We don't know how that works with underage kids in a house filled with other underage kids, though.
8. She's Close to Brandon Rowland
She might not be someone who says a lot about her life in general, but she's very close to people like Brandon Rowland, who is a huge star. He's the creator of Vine, and he is also an Instagram influencer. He's a lot older than she is, too, but that doesn't seem to be a problem for either of them.
9. She's Big on TikTok
Instagram might have her at nearly half a million followers, but it's TikTok that shows her being more popular with her fans. She's got more than 2.1 million followers on this site, which means she's doing some big things. Her following on both pages will only keep growing, though, as she continues to work with the kids in her new house with her.
10. We Really Don't Know Much About Her
We think this is a good thing, too. There's just not that much information online about her, but she's only 16 and we think that's positive. The world does not need to know where she lives or where she goes to school or where she's hanging. We don't need to know about her family or anything like that. as much privacy as she can maintain is a good thing for her.