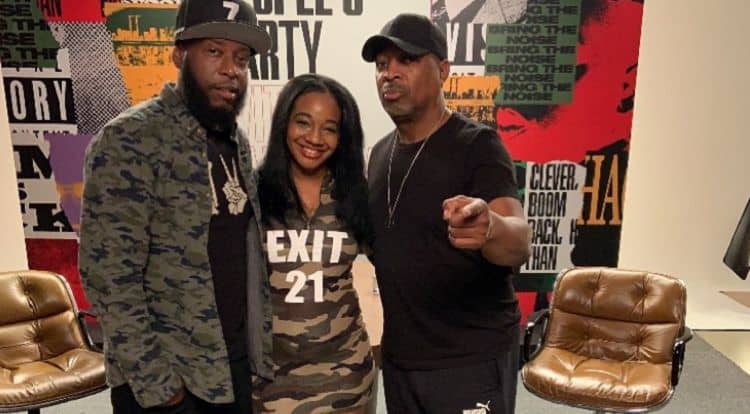 Underground hip-hop fans are sure to be familiar with the name Talib Kweli. The New York based rapper began his career in the late 90s and released his debut album, Quality, in 2002. The album featured the single "Get By" which was produced by Kanye West and became a moderate mainstream success. However, over the years, Kweli has favored staying true to himself over popularity. Despite not being the most well-known rapper in the industry, he has a strong fanbase who looks forward to his projects. Outside of rap, Kweli is an activist who is working hard to bring positive changes to his community. Continue reading for 10 things you didn't know about Talib Kweli.
1. He Went To Prep School
Talib Kweli isn't someone who anyone would describe as preppy, but he actually preppier than most people realize. Talib attended Cheshire Academy in Connecticut during high school. The school is nestled on a 104 acre campus and offers boarding for both male and female students.
2. Doug E. Fresh Inspired Him To Become A Wrapper
Every rapper has another artist in the business who they looked up to and were inspired by. For Talib Kweli, that person was Doug E. Fresh. Although Kweli says that Fresh inspired him to began writing, he really became drawn to hip-hop after listening to groups like De la Soul and Public Enemy.
3. He Thinks The Conscious Rapper Label Is Inaccurate
Most people would consider Talib Kweli to be a conscious rapper. However, he doesn't necessarily agree with that label. During a Drink Champs interview, Kweli said, "Consciousness is awareness; if you're aware of what you're doing, you're conscious, you know. N.O.R.E has made records where that might not be considered conscious rap, but he's aware of what he's saying on those records. And I think with consciousness, in the marketing sense, it gets convoluted because ain't nothing wrong with being conscious. And [there are] a lot of artists that are conscious that are not getting the credit for it that do have those records on their albums."
4. He Met Tupac And Biggie
Tupac and Biggie are two of the most iconic figures in hip-hop. Talib Kweli was lucky enough to meet them both at a hip-hop venue in New York City. Sadly, both men would be deceased by the time Kweli released his debut album in 2002.
5. He Would Still Be Involved In The Arts If He Wasn't Rapping
Rap and activism seem to be what Talib Kweli was born to do. However, if he wasn't rapping, he would likely still be working in the arts. He says he could see himself being a writer or a filmmaker. It's likely that his work would still continue to focus on politics and education.
6. He Used To Own A Bookstore
Talib Kweli has had several business ventures over the years, one of which was a book store in New York City called Nkiri Books. Unfortuntaly, Kweli had to close the store because it wasn't profitable. Around 2016, he revived the book store concept as an online store called Kweli Club.
7. He's Done Voiceovers For Video Games
As a rapper, Kweli's voice is a big part of his identity. As a way to diversify his income over the years, he has taken to using his voice for other projects outside of rap. His voice has been credited on several video games including NBA Street Vol 2, Grand Theft Auto: Episodes from Liberty City, and DJ Hero.
8. He Owns A Media Company
Talib Kweli owns a company called Javotti Media which is named after his grandmother. The company is described as "A platform for independent thinkers and doers. A home for those who are driven by passion and vision. A place for us and those like us."
9. He Thinks Celebrity Activists Should Be More Informed
The rise of social media has resulted in an increased number of celebrities being more vocal about their personal opinions – especially when it comes to politics. Kweli believes that celebrities should educate themselves more thoroughly before deciding to speak on political issues.
10. His Son Is A Rapper
Talib Kweli and his son, Amani Fela Greene, have already shared a love for rap music. So much so, that Amani decided to follow in his father's footsteps and pursue his own rap career. He has released a few songs over the years, but has yet to put out a full length project.