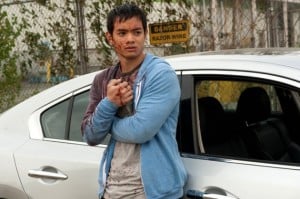 The King of Hell and His Prophets
Castiel wasn't the only familiar face to pop up in this episode. After disappearing in 8.02, Crowley and the Trans both reappeared. When we first saw the King of Hell, he was torturing the nice angel we met at the auction (Alfie) for names. As it turns out, Crowley was scouring the earth for more prophets (or future prophets). If he couldn't find Kevin, then another prophet would do. The only problem is that there can only be one prophet at a time, so none of the other prophets could truly come into their powers until Kevin died.
Kevin and Mrs. Tran, meanwhile, had been living off the grid since they escaped the Winchesters' protection. Searching for a way to make more of those "demon bombs", Mrs. Tran had hired a witch (off Craigslist, natch). Unfortunately, she turned out to be an opportunist and turned the Trans over to Crowley, who promptly took Kevin back to his lair, threatened him, tortured him and cut off his pinky in order to gain his cooperation.
Kevin decoded the tablet in Crowley's possession, summarizing the information on it, including the fact that it contains information on closing the gates to Hell (that tablet sure seems to contain a lot of information considering its small size, doesn't it?) and a little surprise. As it turns out, there isn't just one tablet. Or two. In fact, there's an entire compendium of tablets dealing with more than just demons and leviathans.
Enter Castiel, who was determined to save Kevin from Crowley. Crowley taunted Castiel, sensing the weakness of his powers, but the angel soon proved him wrong. The infamous black shadow wings made a reappearance as Castiel's grace struggled free. Crowley wisely chose to run, but not before Cas broke the tablet in half, leaving a portion with them and a portion with Crowley.
Outside, the Trans were reunited and Sam told them that they would promptly be sent to Garth to enjoy his protection until the Winchesters needed to bring them back into the fight. No more running away and getting betrayed by unscrupulous witches.
The introduction of a series of tablets is a clever plan. This season doesn't only have to be about closing the gates of Hell…it can be about anything. Who knows what these other tablets contain. They could leave the Winchesters seeking answers for the foreseeable future.
New Angels
But a strange thing happened while the Winchesters and Castiel discussed what to do next. A moment into Sam's announcement about where the Trans were headed, Castiel was summoned by a new angel named Naomi. Confused, he didn't recognize this part of Heaven. But Naomi told him that they were the ones who saved him from Purgatory and that she had a mission for him: he was to help the Winchesters when called and report back to her. He refused, but her control over him was strange, prompting him to blurt out Sam and Dean's most recent activities without any real prompting. And then she sent him on his way with the instruction to come when she called and the warning that he wouldn't actually remember their meetings.
Now, isn't that interesting? I talked to my editor about the new angels after the episode concluded. "Are they up to no good or do they want to help close the gates of Hell?" I asked him. "I think they are a level we haven't been exposed to yet," he replied. Which is curious, right? Who are these never-before-seen angels? Are they even greater or more secretive than archangels? And what are their motives here? Is there something in those tablets that the angels want to get their hands on?
Here's what I do know: we're heading towards what could be an epic battle between Heaven and Hell once again. Sure, some may say that the angels have outstayed their welcome, but these tablets are a clever way to reintroduce them to the main mytharc (and in a far more organize way than the rarely-seen angel war happening in Heaven in season 6). Could God have dictated a tablet on angels themselves? If so, what could the Winchesters do with it if they got their hands on it?
This new direction remains fascinating, but slightly worrisome. If Castiel is being manipulated (much in the same way that Sam was in season 4), could he be turned or led astray? Will that cause friction in his relationship with the Winchesters? I feel like Castiel was manipulated by many outside factors – and his own choices – in season 6 and I would hate to see that again. He has come so far in his struggle for his own free will that I think there might be a bit of a fine line here. Right now, I'm going to trust the writers not to cross it, but we'll revisit this discussion once we know more.
Lack of Discord
Despite the explosive brotherly blowout on last week's Supernatural, there was a lack of friction between the brothers. Dean came clean about "seeing" Castiel to Sam and Sam gently tried to school his brother not to feel guilt. Is that a good thing? Well, yes, in the sense that we don't have to see them fighting, which is always hard to watch. But no, if it means that they haven't truly dealt with their issues. The thing about the Winchesters is that they can look and act normal while terrible feelings are brewing beneath the surface. This speaks to their outstanding ability for repression. I hope it doesn't go too far.
Final Thoughts
I'm still pleased with the progression of season 8 of Supernatural. The overall quality dipped a little with some initial stand-alone episodes, but overall I've enjoyed nearly everything about the new season. More particularly, I've enjoyed the mytharc, which feels far more personal to the Winchesters and familiar to the audience than the leviathans did in season 7. Fighting the wars of Heaven and Hell is something Sam and Dean are intimately familiar with. Infighting between the brothers is always difficult to watch and the possibility of Castiel's manipulation leaves me worried, but if the show can keep this pacing then I think we're in for one heck of a season.
Supernatural is on hiatus next week but will return on November 28th with what looks like a very amusing episode. Watch a preview.
P.S. We all noticed that throwaway line about Chuck, right? That if Kevin is a prophet then Chuck must be dead? I still think Chuck is God, so Castiel's pithy explanation doesn't fly with me.