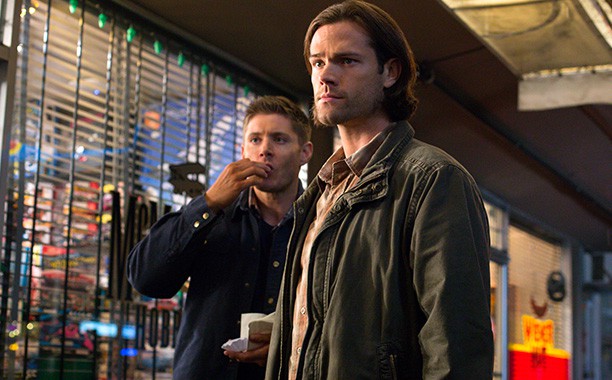 Supernatural had its strongest episode of the season tonight. The pacing, especially, was near-perfect, and these last few weeks have not been able to say that. With an A, B, and C plot all going at once Supernatural was able to build tension slowly and surely instead of haphazardly, which is a problem when it's a Winchester-only episode.
To be honest, the only weak spot of the entire episode was the opening sequence. They were going for high-emotion with the reuniting of Claire and the dad formerly known as Jimmy Novak but it fell short; they even did the slow burn horror music that rises to a fever pitch before it breaks but it still didn't hit. A lot of it, to be honest, fell on the shoulders of the actress playing Claire. The rest of the episode she nailed nearly 100% but this particular sequence just didn't work the way she played it.
After the opening, I was a little gun-shy; I'll admit it. But it improved so, so rapidly. One of my favorite parts (and it may have not even been intentional) was how the woman who ran the group home in which Claire was incarcerated (an apt description), said that she wasn't going to release Claire into her fathers custody because she was concerned for her welfare; in the opening scene, she punished Claire for her shoplifting by putting her in solitary for two hours. Kind of a quiet critique on the child welfare system, if intentional; if not, just a wonderful bit of irony.
I will say that I'm not 100% on board with the way Castiel is portrayed sometimes. They make him out to be too much of a doofus, like when he is trying to convince The Ironic Lady to give him custody of Claire. I feel like he would've either a) prepared better, or b) not been such a idiot when making up a lie. He's been around humans for a long time now, and was one for a good chunk of time. I think he would've picked up on lying. But whatever. It's not a big deal, I suppose.
I really, really loved the sound work when Dean comes back from his flashback in the diner. The clinking of forks and knives and other restaurant sounds, combined with the complete lack of background music, really hit home. An amazing bit of work there. Really, really nice.
That whole scene, with Dean and Castiel shooting the breeze, was good. Dean has clearly made some sort of peace with the way his life has turned out (how long that lasts…) and Castiel has come so far since his introduction in season 4. Sam, Dean, and Cas are all 100% different people, and it's easy to forget that because we've been growing along with them and that kind of change is easy to miss when you're that close to someone. It's nice to be reminded.
I was surprised how they played the Claire Novak stuff. The idea that her mother would just abandon her and run off is pretty dark stuff, and one that I didn't see coming. It makes sense, of course, but it doesn't, either. I also didn't see the revelation about Jimmy Novak being dead coming, though I suppose I should've figured it out before. I always wondered what happened when Cas became human; if Jimmy got shunted off to the side or merged with him or whatever. Knowing that he is in Heaven makes me feel pretty good, to tell you the truth. I can't even imagine what Crowley's vessel's soul is like, if he's even alive.
The whole house scene, in which Claire is nearly assaulted by the loan shark, was really well done. There was an appropriate amount of danger, and tension; once again, it all comes back to pacing. To have it lead into Dean's killing spree and concurrent meltdown was clever. I'm not sure, though, if the event he kept flashing back to actually was a flashback; it almost seemed like he saw the future. Perhaps that scene had been referenced before and I just don't remember. Very possible.
The Crowley-Rowena stuff was interesting. At first, I thought that Crowley allowing her to join up with him was unbelievably stupid; Rowena is one of the few adversaries who could do him real damage, on his own turf. But then I realized: they are exactly the same. They both want power because it affords them luxuries; Crowley sits on a throne, for Christs sake, and Rowena uses her incredible powers to stay in five-star hotels. They want the good life, and if Rowena were to get the good life, she wouldn't upset the status quo. For a while, anyways; this is a TV show, and if someone isn't constantly upsetting the applecart, things start to drag.
I am disappointed in the lack of build-up for Dean's meltdown. While this episode really did it justice, I felt like an opportunity was missed. I said the same thing in my last review, so I won't rehash it here in too much detail, but basically I felt like they spent too much time on filler and not enough time establishing that Dean was being pushed by the Mark. Yeah yeah yeah, I know; he did some questionable things that made Sam suspicious. But I still firmly believe that he would've told Sam the second the Mark began to itch. But the episode is good enough to overlook that.
Supernatural is gone till January 20th, which leaves a large, boring hole in my Tuesday nights. Hellatus 2015, here we are.
Photo via The CW
Tell us what's wrong with this post? How could we improve it? :)
Let us improve this post!