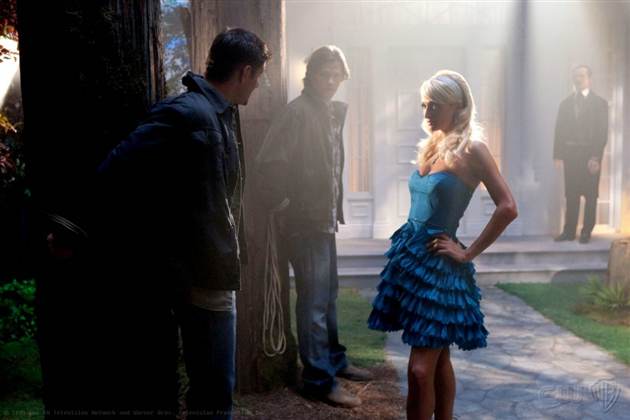 If last week was the Wal-Mart Apocalypse, then this week's episode is 'Night at the Museum,' Pagan God Edition! Now with more Paris Hilton! Yes, that's right. The Queen of the Flap herself guest stars.
As if the whole "End of the World" thing, you know, a PRESSING ISSUE, Sam and Dean decide they're putting the training wheels back on by investigating a couple of grisly murders in Canton, Ohio. Yes, Kripke tries to handwave this by being all "We're not getting anywhere finding the Colt! We can't kill Lucifer yet! We don't trust each other! So let's go check this out!" But it's just so awkwardly placed that it reminds me of Tall Tales coming in the wake of Born Under a Bad Sign. And not in a good way. The handwaving just points out that Kripke recognizes this, but wants to do it anyway. It's just… gah. My 'Okay, I'll go with it' well ran dry a some time during Season 3.
Whatever. The long and short of it is that Ãœber-Fans are being killed off by the objects of their affection: a James Dean aficionado gets his head smashed into the windshield of James Dean's car , Lincoln wails on a Civil War history buff, and Ghandi tries to eat Sam, even though he was a frutarian in real life. Yes, you heard right. Sam is a Ghandi Fanboy. The boys stumble across a wax museum that has actual items from each of those people. They figure this is a simple ghost haunting, burn the items a la Hookman, and prepare to leave town… until they get reports that Paris Hilton has kidnapped a local tween. Because Paris Hilton isn't dead yet, she can't be a ghost. Dude, the logical reasoning on these guys? Epic. So the Winchesters manage to do some actual research on their own (OMG) and figure out they're actually dealing with a Balkan pagan tree god (the "Leshi" — it kills its followers, drinks their blood, and stuffs seeds in their stomachs). The only way to kill it is by lobbing its head off with an iron axe. So they return to the wax museum and find a secret door. Behind the door, there's a faux-forest, a tied-up tweenie, and… Paris Hilton! Who proceeds to beat up the boys until she puts a red-soled Christian Louboutin stiletto in Dean's face. Easy on the merchandise, honey.
Dean and Sam wake up bound to tree trunks. Paris is sharpening her nails on a rusty knife. Instead of filling up on "fast food," she's going to do the ritual correctly this time. Hilton's not that bad, I guess. She manages to spit out "idolatry" without screwing it up, so that was more than I was expecting. Apparently since the Apocalypse started, it's a open season for Evil Things. She starts bemoaning the "new religion" of celebrity and it's all just kind of awkward given the show's tendency to spout meta about its own fandom. I know that's not what she's talking about explicitly, but I was distracted trying to figure out exactly how much of this was intended to be directed at the fans. Am I reading into this too much? I don't know. Also? Same damn monster as A Very Supernatural Christmas, just in a different package. All the way down to the "new religion" argument.
Anyway, Dean points out that Paris can't eat him because he's not a fan. (C'mon. He may not have seen House of Wax, but we know he saw the sex tape. Bloody Mary, anyone?) Paris then prepares to take the form of Dean's true idol — his Daddy. God, I miss Jeffrey Dean Morgan. She goes over to the axe that Dean brought to kill her and is about to do the shapeshifting thing until Dean breaks free of his bonds and tackles her. They fight until Sam gets free, grabs the axe, and beheads her. Bloodily.
On the Brotherly Drama front, the guys are still in the midst of a power struggle. Dean's got Sam on "Double Secret Probation" and Sam's not happy about it. Sam also points out that they can't go back to the way they were before because "before" didn't work. One of the reasons Sam went off with Ruby was to get away from Dean. He didn't like being little brother. I smell retcon and it stinks. Before they leave town, Dean tells Sam he might be being too hard on him. Dean admits to breaking the first seal (finally — jeebus) and points out that neither of them knew that killing Lilith would bring on the Apocalypse. And he's sorry. Sam decides they need to stop whining and start fighting. OMG. FINALLY. Why has it taken you two so long to figure that out?? Dean gives Sam the keys and lets him drive and the riff to Stevie Wonder's 'Superstitious' wails as the Impala shoots down the road. Niiice.