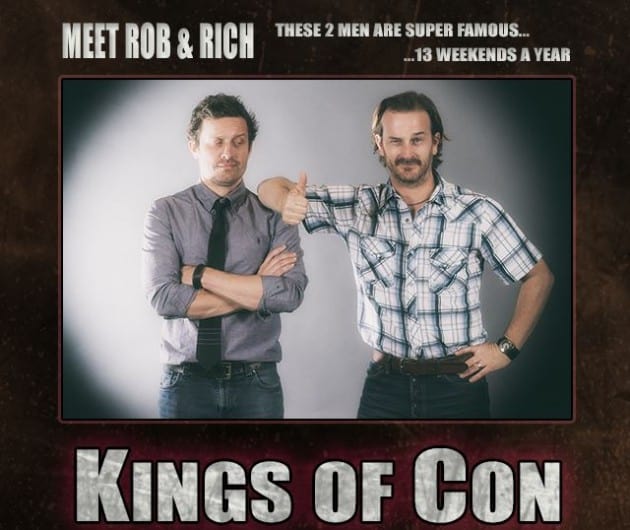 If you're a Supernatural fan, you're probably a fan of Rob Benedict and Richard Speight, Jr., both well-known for their recurring roles as the prophet Chuck and The Trickster/Gabriel on the popular CW series. However, while the characters they play on screen may be fascinating, it's Benedict and Speight's experiences off TV and on the road that have inspired their new comedy series Kings of Con, which fans have shown their enormous support for through the pair's Indiegogo campaign, which has already raised over $136,000. The single-camera comedy, written by and starring Benedict and Speight, centers on fictionalized versions of the two of them as they travel the world, going through the fan convention circuit, and shows the crazy and unpredictable encounters that these actors have on the stage, backstage, and everywhere else, from airports to hotels around the globe. In this exclusive interview, we at TVOvermind we're able to talk with both Benedict and Speight about their new series, how grateful they are to their fans, and whether or not they both may show up on Supernatural again sometime soon.
TVOvermind: When did you guys first meet? Was it on the set of Supernatural or at one of the conventions that you attended?
Rich: Conventions. Robbie and I never did an episode together and never saw each on other set. We met in the convention world. That's where our entire relationship has been born and raised.
Rob: We knew of each other because we were both sort of the same type, and we had been in the business in the same number of years. But we never officially met until we went to a convention…I think we met at one in Chicago and then we really forged a friendship when we were in Rome together. And that was six years ago, so we've traveled around the world doing these conventions and just forged a friendship through that. It was definitely all through Supernatural and the Supernatural fanbase.
Was there any one particular moment that made you guys go "We have to do this show," or would you say it was just a culmination of all these different experiences that led to Kings of Con?
Rich: Interesting question if there was one event. I don't know. I would tell you that it was more of–
Rob: –a conglomeration of events.
Rich: They get compounded in each other. We kept going on these road trips, and each weekend we would do these things. They're jam-packed. You fly in on Thursday, and you leave Monday morning. It's the longest three days if you're a performer, and probably if you're a fan as well, but Robbie and I are on stage the whole time because I host and he co-hosts. So we just spend all this time on stage and backstage coming up with bits and encountering things, and we go out on the road together. You know it's not just stuff in the convention —it's also in the airport and on our way to the convention and out in the cities surrounding the conventions. We would keep finding ourselves in these situations.
The convention world was new to us when we started in it. We had this sense of discovery in what that world was and who we were in it and how it evolved and how we and our roles evolved in the process. And it kept coming back to us that this was prime real estate for storytelling. Do we have situations and experiences that we're going to be pulling from? Absolutely. But it's also fertile ground for making stuff up. It's a really unique space to be telling these stories, and the bedrock of the whole thing is the relationship Rob and I have carved out over the last chunk of years. We have developed a rapport and a banter and sensibilities that you really can't write for two strangers. It's the kind of thing that comes from doing improv with each other for years and years and years. And now we feel like we have this unique universe, we have this incredible fanbase that would be receptive to a new type of programming, and we have this rapport…Somebody else could be making a show that has the convention world rolled into it, but there's no Rich and there's no Rob. And there's no banter, and there's no comradery, and there's no comedic honesty from our point of view in any other show. This is what we're doing and this is how we're doing it, and I think that, for us, it's its uniqueness and that it's fun.
Rob: Yeah, totally. There's been a lot of fun, crazy things. They always say the craziest people at these fan conventions are the actors and what happens backstage. It's fertile ground, as Rich says, for making stories. A lot of our storytelling is going to be inspired by actual events, but then we kind of go into a fictional [version of that]. At every convention, we go "Wow, this is the show. This is the show." And I'm always taking notes. We have a notepad of actual things that have happened that we want to, somehow, get into the show. It'll be a fun world to write from.
Kings of Con's description references many other comedy shows, such as Broad City, Party Down, Curb Your Enthusiasm, and Louie. Will Kings of Con be a blending of all these shows. What do you guys think makes Kings of Con something unique?
Rich: The honesty, because even our comedy is based on the two personalities making it up. That doesn't mean every episode's factual, because that's not true at all. We're not making a reality show, and we're not making a documentary. We're charting the adventures of these two guys and the people they live with in this very unique world. The reason why we chart those shows, Broad City, Louie, and Curb Your Enthusiasm, is because those shows are built on the backs of the main people in the show, and Kings of Con is exactly that. You know, Broad City without the two broads is nothing, but those two broads can go do whatever they want to do and we follow them because they're fun….Same thing with Louis C.K. and same thing with Larry David in Curb. The linchpin of [Kings of Con] is the antiheroes of Rob and Rich. Not Rob Benedict and Richard Speight the actors, but the actual personas we've created for the show that have one foot in a sense of reality while also finding themselves in very heightened situations, and to me, that's the linchpin that makes Kings of Con Kings of Con.
Rob: In addition to that, those shows are all mined from the reality of all those people's lives. Louis C.K. is definitely mirroring his actual life but sort of in a little more heightened reality, and that's kind of what we're trying to do as well. I said to Rich yesterday, when in doubt, we go back to the real things, the real stories, the real relationships. What's unique about [Kings of Con] is, as Rich said, it's us, and it's our real lives.
Rich: And we're pulling from the real world. We wouldn't have been able to tell this story had we not been in the trenches for five years…It's a lot of time out there and a lot experiences to figure out your place in that world and [to have] the differences between your world in reality and your world in conventions brought to light. The joke is, our catchphrase is, "Meet Rob and Rich. These two men are super famous 13 weekends a year," and that's really the honest pitch. Rob and I will go, and it will be Beatlemania for three and a half days, and then we come back to Los Angeles, California where no one would piss on us if we were on fire. The irony of the two universes is hilarious to us, and so we just felt that we had to embrace that and do something fun with it.
Supernatural fans obviously know you both best as your characters, Chuck and Gabriel, but what about Kings of Con, from the premise to the characters you play, reflects parts of you guys or shows different sides that maybe fans haven't seen before? Is it that reality-like quality you mentioned before?
Rich: Well, it's not reality. At no point are you going to go away from Kings of Con and go, "Wow, Rich's relationship with his wife is really interesting." You're not going to see my wife, and I'm not married in the show. It's not us. It's heightened versions of the personas we developed on the road. It's nothing like Chuck or Gabriel, and it's nothing like Rob and his previous TV shows or me, because it's more honest in its portrayal of the trials and tribulations of these two guys navigating this world.
Rob: For example, I think [fans] think of me as Rob, apart from Chuck, as a likable, "aw shucks" kind of guy, but in our show, you're going to see an angrier, more frustrated version of that neurotic character.
Rich: And a little less moral, as well. We definitely stretch–our characters are going to do things that Rob and Rich wouldn't do. I mean, if we came across a certain situation in the con world, we might have used common sense and restraint. Our characters won't do that so much. They're going to go down the rabbit hole a little bit, which makes it a little more fun.
You both only had recurring roles on Supernatural but have still been able to raise so much money so quickly. Do you think that speaks to the power of the show's fans and the passion of TV fans in general today?
Rich: I think we find ourselves embraced by a universe that is incredibly generous and incredibly welcoming. As you mentioned, Rob and I were not regulars, far from. You're talking about a show that has done 200-some odd episodes, and Rob and I combined barely break ten. It's their love of our characters, which is where it really starts, and then they're embracing of us as actual people, the performers, is really substantial and impressive. Though we hadn't really thought much about crowd-funding before we pulled the trigger on this. It wasn't a long-considered plan–
Rob: –on the contrary, we were kind of against it at first.
Rich: We were kind of against it at first, and then we thought this is the only way to get this story out to the people who should be able to see it, so we decided to go to the people who would enjoy seeing it to see if we could actually get it done. And their response has been just fantastic. It's just been quick and passionate and warm and supportive in a way that Rob and I did not anticipate. Certainly, they got on board quickly, which was really encouraging and really great. At the end of the day, we're getting support from fans that fans can relate to…It's been a really interesting and ingratiating experience.
And lastly, I have to ask for the fans, and because I'm a Supernatural fan myself. Rob, you made a guest appearance this season in Supernatural's 200th episode. I know neither of you guys can spoil anything , but even if/when someone dies on Supernatural, they're not really dead. So do either of you think you will return to the series at some point, and would you like to?
Rich: I would love to. I would love to revisit the character. It's a great dual character role that's unlike anything I've done and certainly much meatier than most guest spots you get when you're an actor jumping from show to show. So I would leap at the chance to do it again, and I will say that this is a kind of show where that can happen. I don't care if I get shot in the face every episode. That doesn't mean you're dead in Supernatural. I'd never write off the character returning. I mean, even when I was doing episodes of the show, I never assumed I'd come back, and I never assumed I was dead, because you just don't know what those writers have planned for you. And that rule still stands to this day. Anything can happen, including the return of a character.
Rob: What was exciting about that 200th episode is that it opened the door again and showed me and everyone else that Chuck is still relevant and still there. So yeah, I'd be up for it, and I'd be excited for what they'd have in store for my character and for Rich's character. With a kind of show like this, it's always a possibility. They're aware of how much the fans have enjoyed our characters, so my money would be on it happening again before the show's over.
Check out the trailer for Kings of Con below. To learn more about the show and to contribute to it, visit its official page right here.