The winter Supernatural hellatus is upon us and, as is the tradition here at TVOvermind, I've once again called on my group of fellow Supernatural reviewers across the internet to share our thoughts.
Participating in this roundtable review are: myself, Laura Prudom from Huffington Post TV, Vinnie from Winchester Brothers, Danielle Turchiano from Possible By Pop Culture, Alice Jester from Winchester Family Business, Marisa Roffman from Give Me My Remote (our new addition this year!), and Tina Charles from TV Guide. We hope you'll stick with us to the end, because while this is a very comprehensive (read: long) midseason review, we've got a lot of opinions to share and a lot of topics to get through.
Dean's Story: Purgatory, Fighting Flashbacks and a Renewed Sense of Purpose
Dean spent most of season 7 in a funk. Understandably crushed by the losses he has suffered over the years – not to mention the recent betrayal by his good friend Castiel – Dean really struggled to find purpose in hunting. Conflict with Sam over his decision to kill Amy, not to mention the staggering loss of Bobby pushed Dean to depression and alcoholism. Who would have thought that spending a year fighting his way through monsters would give old Dean a renewed purpose in hunting? Mopey Dean in season 7 was attractive, but it felt like the character had lost some of the fire that made him the man we know and love. "I think Purgatory was the big surprise for a lot of viewers this season – I know there was some fan trepidation about how long Sam and Dean would be separated for before the season began, and I thought that the flashbacks were a nice narrative device for fleshing out the past year without sacrificing the present-day story," Laura said.
"Sending Dean to Purgatory ended up being the best storyline for the character," Tina said. "The past couple of seasons his story just kind of laid there. He had plenty of airtime but no discernible story other than the Winchesters vs. the Leviathan stuff. There was his drinking but that didn't lead anywhere either." But simply sending Dean to Purgatory could have turned out very differently had the show not actually shown us the flashbacks to his year there. All of us were in agreement that Dean's flashbacks were comprised of stellar – and welcome – scenes. "I was afraid Purgatory would be lackluster, or worse, repetitive [after Hell], but I think what sold me on Dean's Purgatory experience was the fact that this time the show actually allowed us to see it and therefore experience it with the character," Danielle gushed. "Hell was a lost chapter for Dean, for the show, for the fans. Our minds can fill in images of what it must have looked like for Dean to be taken off the rack and start torturing, but we were thrown into the trenches with Dean (and, to a degree, Castiel and Benny) in Purgatory. The flashbacks were shot with such a frantic style, between quick cuts and jittery frames, they never let you get comfortable. You felt like you were being watched and that you could be attacked at any angle. It was equal parts beautiful and haunting and absolutely terrifying– in the shooting style but also in the storytelling in general."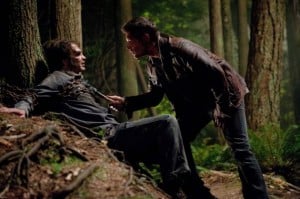 "I really like the way Dean's flashbacks have been handled," Alice agreed. "They've been a good depiction of a man who found himself dropped into a brutal war zone. I love the overall feel of the flashbacks, using the sepia tone to accent the grim surroundings, the shakiness of the camera, Dean's hard edged brutality at times, not to mention making something that pretty look so grungy and filthy. I guess they don't have showers in Purgatory. There no liquor either, which is really great. It's so wonderful not seeing Dean with a constant drink in his hand." Marisa also acknowledged that the Purgatory story struck the perfect balance for the character. "Purgatory changed Dean. We've seen shadows of that throughout the season – and more overtly displayed in the hours with full-on flashbacks – and I'm truly impressed with the balance they've struck of not totally glossing over what happened, while not constantly hitting us over the head with, 'Hey, remember how Dean spent a year in purgatory?'"
Perhaps the only thing we're all lamenting now is that the flashbacks have seemed to come to a conclusion with the return of Castiel. "Dean's Purgatory storyline is one of my favorite things Supernatural has ever done. I love the way it's presented, both visually and conceptually. I liked it so much that I wish we'd seen more of it, but it's Supernatural so it's possible those flashbacks aren't over yet," Vinnie lamented.
As for Dean's return from "God's armpit" in the season premiere – and the subsequent affect it's had on his psyche – we've enjoyed the subtle nature of his PTSD. "Dean's return has played out well. His behavior makes sense to me," Alice explained. "He's raw, on the edge, and has had to ease back into his life slowly. The transition hasn't been easy. He's making hard decisions that often don't consider the human factor, much like a person making life or death decisions during war. It's all about survival. Trying to kill Mrs. Tran when she was possessed by Crowley is the best example. He's also gone too far with Sam and his passive aggressive hints about not trying to find him during the year and giving up hunting. I don't think he's really suffering from PTSD as much as adjustment disorder. He's calmed down a bit in the later episodes. He harder though, and he's not going to sugarcoat realities. Purgatory did profoundly change him."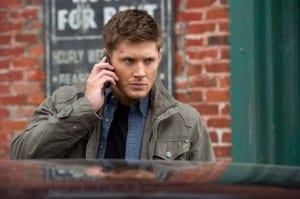 Although some of us, including Danielle, had hoped to see his reintegration into "normal" society play out a bit longer: "I hoped the show would do more with the PTSD of Purgatory because of just how unique and dark Dean's situation was there. There was a nice moment in the season premiere where he's zoned out, trying to make sense of something so mundane (but formerly loved) as junk food and in a split second, he switches to completely on edge as he hears two kids playing with toy guns. I was hoping for more of those moments that snapped him in and out of Purgatory in his mind. At the very least, he should have been sleeping with at least one hand on one weapon at all times!" On the flip side, Laura argues that "While a part of me wishes we'd seen more of his PTSD, I also think that to have made him too much of a wreck after Purgatory would've just retraced the missteps of Season 6 and Season 7, where he was barely functioning and totally miserable."
Yet, no matter how brief his recovery time from Purgatory, there's no denying the fact that post-Purgatory Dean has made all of us excited about him again. "I personally have a much greater fondness for this version of PTSD Dean versus season 4 or season 7," Vinnie said. "I'm enjoying his blunter approach and I'm enjoying that he's not hiding inside a bottle of booze, because that was becoming tedious." But it's not only New Dean that has us excited, it's his two travel companions in Purgatory that also piqued our interests. The introduction of Benny, including the writers' decision not to turn him into Ruby 2.0, was a stellar idea for the storyline. "One of the most intriguing things to me this season has been Dean and his relationship with Benny," Marisa agreed. "Their experience in purgatory and subsequent bond is fascinating and wrong and so not something I would have thought Dean would have done a couple of years ago…and yet it makes sense." As for our opinions on Benny himself, we'll get to that shortly.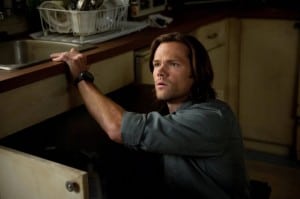 Sam's Story: Amelia, Motel Maintenance, and the Year of Living Normally
While Dean may have found a renewed sense of purpose in Purgatory, Sam did a bit of a season 1 reset and spent his last year getting reacquainted with the normal side of life. Admittedly, however, the fans seem divided on this particular arc. "The part of Supernatural season eight that seems to have caused the most controversy, even within myself, is the fact that in Sam's 'lost year' he went off the hunting grid and lived a normal life," Danielle acknowledged. "Much earlier in the season I wrote a piece about how Sam trying to find normal was the best way that Jeremy Carver, when taking the reigns of a show from which he had taken a mini break, could have proven he was keeping the characters true to who they always were. I still believe that is true. Sam, from the moment we met him in the pilot, just wanted to be normal. He didn't know then that the reasons he could never be normal went way beyond the way his father raised him to the blood that was actually coursing through his veins."
Despite the fact that Supernatural has consistently shown the audience that neither of these boys can really live a normal life, Sam has, at times – though not always – clung to the idea. For a while there, Dean seemed to crave a normal life simply because he had never experienced it. But apparently the idea has always been residing in the back of Sam's mind, no matter how dedicated to hunting he had become over the years. "Once Sam and Dean were reunited, Sam told his brother that after they found the tablet and closed the Gates of Hell forever, he was going to live la vida normal," Tina said. "I don't know about anyone else but I flashed back to 'Shadow' from Season 1 here. Back then, Dean had high hopes for reuniting the family so they could hunt together again. Sam told him he didn't want that. He wanted to go back to school. So things seem to have come full circle with him." Vinnie pointed out that "it's been argued that Sam had come to grips with his hunter lifestyle and as a result not looking for Dean has struck many fans as being out of character. I respectfully disagree. It seems to me that Sam's consistent struggle has been perceived normality versus his reality and I think that Dean's disappearance coupled with Sam's lack of support or resources created a bit of regression. Sam ran away, which Sam is prone to doing. And then clung to something, which is another thing Sam is prone to doing."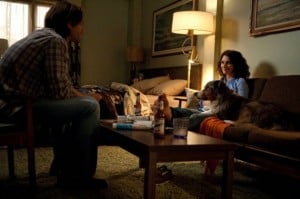 While Sam's desire to live a normal life doesn't seem farfetched based on what we know of him, there have been aspects of his story arc that don't resonate with us. "I wish Sam's flashbacks had been as successful as the Purgatory ones. But they weren't," Tina lamented. "The transition into them were awkward almost every time. And I don't know why they have all had to focus on Sam's time with Amelia. Surely, there was more to his year off than that. Ultimately, if Sam and Amelia had some chemistry, I may be saying those scenes were the best ever. But they don't, so they weren't." Marisa explained that "I really don't know how I feel about Amelia yet. She isn't unlikable, I find nothing wrong with her, but…I'm not 100% engaged with those flashbacks. (I honestly don't know what the writers could have done differently. There's nothing wrong with the actress, but her life and the relationship with Sam is simpler than anything else on the show, so it's easy for it to be the part of the episode I least connect to)."
Danielle and I seemed to agree that our biggest struggle with the Amelia storyline is that watching Sam live a normal life through flashbacks simply didn't fit in with our idea of Supernatural. "The thing about an 'apple pie life', though, is that it is boring. It is certainly not the experience I signed up for with Supernatural," Danielle said. "So the minute I saw Sam's initial flashbacks to learn he was living with a girl, I felt like I had seen all I needed to of his particular flashbacks. I understood immediately what it meant for him to find that, proven only temporary once again, and to choose to walk away from it. In the premiere it certainly seemed like he chose to walk away from it because of his brother, though more recent episodes have unnecessarily complicated his situation by implying he walked away earlier, to be a 'good guy' when Amelia's ex came back in the picture. In all honesty, I don't care much about Sam's past; I care much more about his future. It fit the story that Sam would connect with her because they were both grieving, but even people who have experienced loss aren't morose all of the time– especially if they find someone who is actually helping them grieve. Amelia just seems muted, especially when compared with the other dynamic women of Sam's past (even if they weren't always good for him). The way she is, I still find myself saying 'Why her?' which is probably also why I keep expecting the other shoe to drop and to find out that Sam's memories of her aren't true memories."
Danielle's 'why her?' actually leads perfectly into the mystery that we feel surrounds this particular storyline, even with the return of Amelia's supposedly dead husband and confirmation that Amelia is real and not a hallucination like some fans had predicted. And the 'mystery' of Sam's storyline might not even be conspiracy theories, but just an acknowledgement that we don't really understand the relationship between them. "Sam's arc is more difficult to both opine on and predict, since so much of still seems like it's being deliberately obfuscated by the writers. I'm still holding out hope that things with Amelia aren't as they seem, whether that involves the angelic manipulation of memories and perception, or Don being resurrected by the angels, Crowley, or some other outside force," Laura said. "Sam's story has me stumped," Alice admitted. "It feels very off. We're still missing too much. What does he mean when he's said (multiple times) 'I ran'? What did he mean when he told Amelia 'You saved me'? They've really failed in the 'show, don't tell' aspects of his story, which makes me suspect they're purposefully holding back on something. I don't think we're getting the whole story (insert your own conspiracy theory here). Sam is the one suffering from PTSD. Big time. Considering everything he's been through since this series started, and especially since the wall in his head came down, I have no idea why he's not in a padded cell."
"I don't think his relationship with Amelia is remotely healthy, despite the fact that he claims Amelia saved him," Vinnie acknowledged. "I feel their relationship is desperate and contrived. There's a line in the movie Untamed Heart' where Caroline (Marisa Tomei) says, (talking about Adam, played by Christian Slater) 'He doesn't make sense, I don't make sense, together we make sense.' I feel like that's what the writers want us to glean from Sam and Amelia's relationship, but it ain't happening. Aside from that, the fact is that Sam hiding his past from Amelia puts Amelia in danger; it makes her vulnerable and it's irresponsible of Sam. I also think that if Sam hadn't hit Riot, and therefore set the chain of events in place that lead to his relationship with Amelia, he would have eventually looked for Dean. Probably in a scary, focused, super unhealthy way like he did in 'Mystery Spot'."
"I'm suspicious," Marisa admitted. "Things seem too good, too idealistic. (Minus the dead husband popping back up, which, again, in Supernatural, could be a sign of something bigger, too). Though I suppose the real tragedy for Sam would be if that relationship was the real deal and it won't get the chance to properly grow."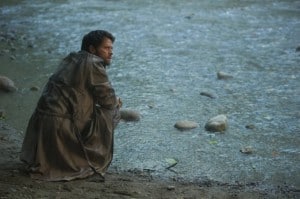 Castiel's Story: Old Cas, the Desire to Atone and the Mysterious New Angels
I've always been fond of Castiel, so I'm happy that he's stuck around so long. I've said this before, but I don't think he takes away from anything else in the show, I just think (like Bobby and some other memorable recurring characters) that he adds a little something extra to the Supernatural universe. While I did enjoy the humor of crazy Cas, I like that he's back to his old self now, although it does seem like having Purgatory 'cure him' was a bit of an easy fix. Still, I'm willing to forgive that.
After the choices he made in seasons 6 and 7, it's nice to see the writers working to redeem his character. "I love me a journey storyline and Castiel's is no exception. I'm pleased that the writers have acknowledged and chosen to, not only address but also pursue, an atonement path for Castiel," Vinnie said. While Alice chimed in that "I'm just happy we're getting more Castiel this season. Plus, am I the only one who thought it was hilarious that this almighty angel couldn't crack the mind of a cat?"
While Danielle was a bit more hesitant in her happiness about Castiel's inclusion this year, she was cautiously optimistic: "For as much as I love Misha Collins, I would have been okay with Supernatural closing his chapter by leaving Castiel locked up in the mental ward after taking on Sam's psychotic break. Castiel needed to atone, and let's be honest, I've never been a fan of "reset buttons" or false stops on this show. But season seven didn't want to leave Castiel there, and so I'm at least glad season eight has worked hard to restore his character. Leaving Dean alone in Purgatory seemed like a lame move on top of everything else he had done. Learning this season he did it because he felt he was protecting Dean certainly didn't make Dean feel better, but it did ease my concerns about his character."
Thus far, Castiel's inclusion in the season has provided us with quite a few memorable and – dare we saw it – emotional moments. Particularly for Dean. Tina admitted that "The scene where he let Dean see what really happened at the portal was simply excellent – it is one of my favorites of the year so far. Of course Dean saw himself as failing Cas. Why would he think anything else? Another amazing scene was when Cas snapped at Dean and Dean pushed his friend to talk. We found out why he wanted nothing to do with Heaven. He had destroyed so many angels. He didn't want to see what was left. To actually come face to face with it would be too painful. Cas' emotional arc is really well done so far. He's lost and looking for purpose and so I especially enjoyed when he tried to become a hunter. And can I say how much I'm enjoying Cas and the Winchesters being on the same side again?"
"I'm thrilled to see Castiel back, since I've always found him to be a fascinating and layered character, with the kind of epic daddy issues that make him a perfect addition to the team," Laura added. "I'm glad that Jeremy Carver has promised to bring him "back into the story with some force," as he told me, and hope that the writers will continue to find compelling ways to tie him to the narrative and the mythology. I know Sera Gamble wanted to take a step away from the angelic mythology in Seasons 6 and 7, which I think was a mistake, since it reinvigorated the show so spectacularly in Season 4 and opened the doors for the kind of mythic, Biblical allegory that seems to fit Sam and Dean's story so well, and I'm hopeful that Naomi and the new angels will help drive the mythology and provide a counterbalance to Crowley."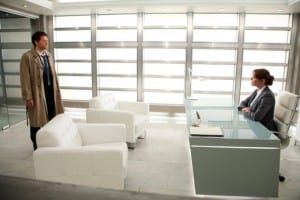 What I'm most thrilled about is that he seems to tie in well with the mythology again this year. While I really like the character, I'll admit that I can understand that it's a struggle to keep him in the loop storywise as the apocalypse ended. Connecting him to a group of mysterious angels makes sense. And the fact that the brothers are searching for the Word of God – a Heaven-related object – means Cas fits in well. As for the inclusion of the mysterious new angels headed by Naomi, I've put forward some theories on what I think they might be up to, including a search for the tablets because one of them might actually be about angels (a need to protect themselves) or because they want to go on the offensive regarding demons and other supernatural creatures in the tablets. Laura seemed to share my theories: "I'm guessing that the angels are just as interested in the tablets as Crowley, either because a tablet on angels exists, or because they hope to utilize the tablets to lay the smackdown on the demons. I also suspect that closing the gates to hell would somehow force all the evil souls up into heaven [going forward], which would probably be cause for concern."
"We've seen before that not all angels are trustworthy, nor do they always have the Winchesters' (or the world's) best interests in mind," Vinnie admitted. "I'd hazard a guess that while the Word of God is the trinket of focus for the angels, the root of all this comes down to the power struggles in Heaven." "On one hand, I feel like she may be a rogue angel, but on the other hand, just because her office is pristine doesn't mean the angels, after all they've been through, are still as "pure" and clean as they're supposed to be," Danielle offered. "Maybe she knows what's on the tablets and just wants to keep tabs on who else gets the information; maybe she needs the Winchesters to get Kevin Tran to tell them so she has it for the first time. Maybe she's being manipulated by someone, and she's turning around and manipulating Castiel to help her own situation. I honestly could see this going a few different ways at this point.
Another thing Laura and I agree on is that Castiel's involvement with the angels would be the opportune time to bring Chuck back to the show, as either God or Metatron. Considering the mystery surrounding his disappearance in the Supernatural season 5 finale was never really solved (although, Rob Benedict will say Chuck is God), bringing him back as either figure would make sense and wouldn't even require that much retconning.
New Faces: Benny and Amelia
Across the board, every single one of us agreed that Benny was a welcome addition to the show. In fact, everyone gushed about their love for the new recurring character. "Oh, how I love Benny!" Danielle said. "Let me count the ways! It is so rare for a show in its second season, let alone its eighth, to rely so heavily on just two characters, but when a show has done just that for as long as this show has, introductions to new characters can feel false and forced. Benny has been anything but." "I took an instant liking to Benny," Tina admitted, "It helps that the actor who plays him (Ty Olsson) is fantastic. He blended into the show seamlessly. Ty and Jensen Ackles immediately created this bond that's going to prove difficult to break."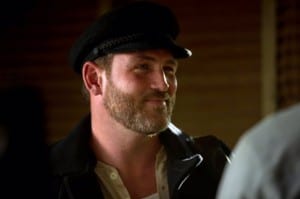 Perhaps the best thing to come out of Benny is the relationship he's developed with Dean (although, it has admittedly caused problems with Sam, which we'll address shortly). "Dean has never been a character who wants to go at anything alone," Danielle explained. "Way back when, he came to find Sam to help him find their father. Sam was always more comfortable doing his own thing; Dean thrived when he had family, or at least a partner to have his back, like a soldier. Watching Dean push aside his initial distrust and forge a very real, very deep bond with Benny speaks to both of their characters. Neither just used each other, but both brought out the best in each other."
"Benny, Benny, Benny… where to start? I love every moment of him in Purgatory and, in my opinion, the character overall is fantastic. Though I have to admit that when I heard a Southern/Creole accent come out of that vampire's mouth I was worried about Anne Rice clichés, but so far there's no cringing coming from me at all. I will also admit that I wasn't all that entertained by Benny's storyline in 8.05 "Blood Brother", however 8.09 "Citizen Fang" was a complete 180 on the entertainment scale," Vinnie said.
I'll admit that I was suspicious of Benny from day 1, convinced that he would turn on Dean. But I'm willing to admit that I was wrong, although some of us are still curious about a few mysteries regarding his character. Vinnie mentioned that she wants "to know how [Benny] had so much insider info in Purgatory, I want to know whose funeral he attended at the end of 8.01 'We Need to Talk About Kevin' and I want more interaction between Sam and Benny." Considering the hostile interaction between Sam and Benny up to this point, I'm going to have to assume Vinnie means some friendlier scenes between those two.
Laura was just happy that new characters were being introduced, in addition to piling on the Benny love as well. "I applaud Jeremy Carver for wanting to repopulate the Winchesters' world, since the body count was getting depressing, and would like to see more layered, unpredictable supporting characters, whether like Benny or like Ellen, Jo, Gordon and Meg from back in the day — characters that could drift in and out of their lives depending on the case without needing to be a full-time regular."
Like with Sam and Amelia's relationships, some of us felt it was a bit harder to get used to Amelia herself as a new character. "I don't know enough about her," Alice admitted. "She's only been seen through flashbacks as the way Sam remembers them, which is very likely a skewed point of view. I don't see the sparks or chemistry between her and Sam, but flashback world isn't a great place to tell that story. From what I can tell, she was lonely and lost and found a gorgeous guy with sad puppy dog eyes that was in the same boat. She is a vet after all! I don't hate her, but I need more to truly like her."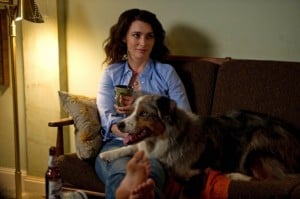 When asked, Tina said that "I don't really have much to say about Amelia. She's a very damaged character, I guess. But nothing about what I've learned about her has really connected me to her. It doesn't help that those flashbacks seem surreal as does the fact that her husband is actually alive. I see Sam and Amelia being two people who both lost someone very close to them reaching out to each other in grief. It's not something that would ever last. The whole living together thing seemed out of left field. They just don't seem like two people who would fall in love. This relationship perplexes me."
"The things I want out of [Amelia] and about her aren't being shown on screen and it's becoming frustrating," Vinnie conceded. "I want her excessive drinking to be addressed, or at least acknowledged. I want her to have some more personality. I want her to be more than just the woman who loves two men. I want to understand why Sam is so devoted to her. None of this is happening yet and I'm being to worry that it's not a slow burn, but that there's nothing there of interest, that Amelia's problems are pedestrian and normal. Which would be fine… if this were a different show. What I do find interesting is that Amelia seemingly shares character traits with Dean: casual over-drinking, trust issues, deflection, a lost sense of self, a strong need for paternal acceptance, an unwillingness to lay down roots, etc."
Admittedly, we've gotten to know more about Benny because we've had two Benny-centric episodes so far and I've really liked that we've had that opportunity. We haven't had that for Amelia and some fans might complain about that, but you have to keep in mind that Amelia is still a normal person (supposedly) and it would be a bit boring to have an episode or two devoted to her being a vet or going to the grocery store or just hanging out with Sam. The Amelia situation is a bit of a catch-22 for the writers, because you have to struggle to write this character in a way that she can connect with the fans, but you also have to remember that she's not a hunter or a supernatural creature. Unless she gets caught in a Supernatural-type situation, then there's little you can do with her other than just explore her normality and, as Vinnie said, this is not really that kind of show.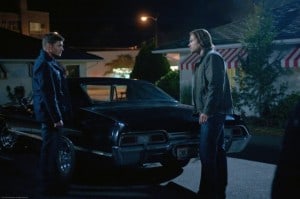 The Brothers' Relationship: Conflict and…Resolution?
I think you would be hard-pressed to find one of us who admits that they enjoy seeing the Winchester brothers at odds. We all acknowledge that Sam and Dean's relationship is the very heart of Supernatural. "I'm not going to lie," Tina admitted. "I'm not in love with all the conflict that's happening. Sam and Dean just spent a year apart. I would have loved it if they just got to be brothers for a while. But we didn't really get that. Instead we got Sam who didn't look for Dean while his brother was stuck in Purgatory. Dean pushing Sam to hunt when he clearly doesn't want to hunt. The two are not completely communicating with each other about how they spent their year."
Tina's right. In this case (and in most cases throughout the Winchesters' history), the problem between the brothers comes down to communication. "It makes so much sense that they're not on the same page, just because they're in such different places personally right now," Alice said. "Dean's primal urge for the hunt has been awakened, while Sam's has been turned off. Neither understand the other. Dean just thinks Amelia is a girl, while Sam thinks Benny is just another monster. I said this in my recent review, but by being unable to accept the other people in their lives, they're unable to accept each other. I thought the confrontation in 'Southern Comfort' was quite different from the other Sam and Dean blowouts of seasons past. They both got their feelings out in the open, they both listened, and it really didn't sink in with either of them. I know Dean was under the influence of a spectre, but Sam took what he said for real and then angrily gave his ultimatum. It's like they both accepted they aren't happy about things, so they have nothing left but do the job. In 'Citizen Fang' it was made clear they don't trust each other. They ended up hurting each other by doing what each thought was their job. Not working on the same page isn't doing them any favors."
The Winchesters' inability to communicate isn't the only problem between them (although it certainly doesn't help the other problems they have). The decision that Sam made not to look for Dean was one of the first seeds of discord between them at the beginning of this season (after Dean keeping Benny's existence a secret, but we'll get back to that shortly).
"I've talked at length in my recaps that Sam failing to look for Dean after his disappearance doesn't really bother me, and I don't particularly find it out of character in any particularly distracting way," Laura admitted. "Should a hunter with as much experience as Sam have given a cursory glance around to see if he could track Dean down? Arguably. But the guy has spent the past two seasons barely holding on to his sanity by a thread — he was soulless, then he wasn't sleeping or eating or functioning as a normal human being, then he had a legitimate psychotic break. I can absolutely believe that when faced with the loss of Dean again, his brain might've shut down or he might've gone into panic mode, and that seems to be the reaction the writers went with. I think it would've helped the audience relate to his decision if his first flashback had picked up with Sam in those initial moments after Dean's disappearance and shown his distress and confusion and hysteria, but I guess the writers thought that his reaction upon hitting the dog and meeting Amelia would illustrate his mindset enough. Either way, Jared seems completely fine with Sam's characterization, as do the writers and executive producers, and at the end of the day, they're the ones bringing this character to life, so it's not my place to say that I know what Sam would or wouldn't do in that situation better than those responsible for putting him on the screen."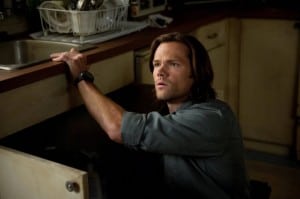 "I've said from the beginning that while I don't like that Sam didn't look for Dean, I don't have a problem with it either," Vinnie agreed. "The thing about Sam bailing on the life and not looking for Dean is people want answers and reasons, but sometimes there really aren't any. That's real. People handle grief in different ways, Sam's way was to run away from the life he knew. I don't think what Sam did, or didn't do, is wrong exactly."
"I probably didn't think nearly as much about Sam not looking for Dean at the start of the season as a lot of other people did, or perhaps even as much as Dean did," Danielle agreed. "I kind of chalked it up to Sam being completely at a loss– he may have wanted to look for Dean, but he didn't know where to begin (at least when Dean was in Hell, Sam knew where to find him, even if he couldn't get himself there or get his brother out). However, I fully expected that fact to stew with Dean for quite some time and cause a lot of tension and blow-ups. And it did. To a degree. But Dean seemed more upset that Sam gave up the life than that he gave up on him (that, too, seemed to fit Dean's character– after all, he's had low self-esteem and the belief that he's not worth saving before). If Dean couldn't be around to hunt, then he wanted his baby brother to fill in where he left off. Even after all of this time, Dean still wants the same things just the way his brother still wants the same things, and they still don't see eye to eye."
Despite an understanding that Sam's behavior in not looking for Dean isn't necessarily out of character (although Tina does say that "I am happy Sam got a year off. He deserved it. He's been through so much. However, I think he could take a year off from hunting and still look for his brother. Even if he lost it and ran away and couldn't deal, I think at some point, the fog would have lifted and he would have tried to find him. I wish Sam had been able to tell Dean that he tried to look for him but there were no leads"), there's a belief that Dean being upset about this choice is acceptable and understandable. "Dean has every right to feel hurt and angry that Sam made no effort to find out what had happened to him," Vinnie agreed. Perhaps Sam was wrong to make this choice, although I don't think his choice was malicious and that the only person who should be angry about it is Dean. But the truth is that both brothers are wrong when it comes to the next point of contention between them: Benny.
"I'm not sure where Sam's anger is coming from," Tina admitted. "While I understand him being upset whenever Dean tells him Benny's been more of a brother than he's ever been, Sam has always given a vampire (or other supernatural creatures) the benefit of the doubt. He did with Lenore. He did with the werewolf girl from 'Bitten'. Benny enabled Dean to get out of Purgatory. Was Dean just supposed to kill him right after? I don't think so. I need to find out where Sam's anger is coming from regarding Benny."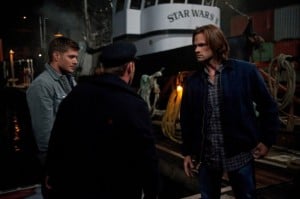 Perhaps Sam's anger regarding Benny stems from the way he was introduced to the character. Frankly, Dean should have been honest about Benny from the moment he got out of Purgatory. It's not like Dean doesn't know that Sam has embraced the greyer side of morality concerning monsters. If Dean isn't ashamed of the friendship he forged with Benny in Purgatory (and we have no reason to believe he is), then why not tell his brother about it? Not only that, but "Dean saying that Benny is the only one that has never betrayed him, thus continuing to throw all of Sam's betrayals (big and small) in his face, [is] unfair of Dean. For one, he's known Benny for a short amount of time. Secondly, Sam has never maliciously betrayed Dean, at least not in my eyes," Vinnie explained. "Should Sam feel hurt about this bond Dean has with Benny? We as viewers know it's nothing compared to Dean's bond with his brother, but it's natural that Sam would feel hurt and betrayed," Marisa agreed.
Dean's outburst in "Southern Comfort" was not a mere coincidence, I think. Sure, he was bringing up issues like Ruby that are years old in the Supernatural universe, but the truth is that the brothers have "had such differing worldviews and motivations since the very beginning of the series, and they've lied to, manipulated, hurt and betrayed each other many times over the years, whether under the influence of something supernatural or simply under the pretense of "protecting" each other," Laura explained. "They have never, ever resolved any one of their conflicts — we know that all of the cruel things they've said to each other when possessed or under a truth spell or whatever else over the years is rooted in their true feelings, but the pair have never sat down and been honest about their resentments or their differing aspirations in life, and they're long overdue to get it all out in the open." "The fact that both brothers keep bringing up old slights against each other shows how unresolved their issues with one another are and how far back it goes, Vinnie agreed. "They've never really dealt with any of it; they just allow their obsessive, all-encompassing love for each other to steamroll over it all."
Jeremy Carver has said that the goal of season 8 is to be about the brothers having a more mature relationship, but the truth is that this cannot be accomplished until they learn to communicate and actually deal with their old issues instead of sweeping them under the rug as a temporary fix. In order to repair that relationship, however, it might be necessary to tear it down to its basest level. "When you hit rock bottom, the only way you can go is up, and I feel like the brothers need to get everything out into the open, forgive each other and finally move on, and this season is charting that growth beautifully. I wholeheartedly believe that by the end of the season, both brothers will be in a healthier, more honest place with each other — that both will have had the opportunity to vent and be brutally honest, to realize how much they've damaged each other over the years and to apologize for it, and I for one can't wait to see them get there," Laura said.
If Carver can get the boys to actually solve their long-running problems in a way that feels real and brings all of us (including them) a sigh of relief, then he might accomplish something never before really done in the history of Supernatural. Like Vinnie said, the love has always been there, but they have issues to deal with that go back years and years. A temporary fix in the past does not mean that true forgiveness has been achieved.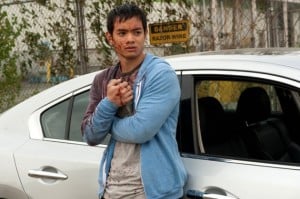 Supernatural Season 8 Mythology: The Search for the Tablets and Crowley as the Big Bad
"I think figuring out a way to close the Gates of Hell is a fun arc. It brings everything back to demons, which we kind of got away from for a while there," Tina said.
I agree. My biggest complaint about last year's mythology (which I mentioned in our roundtable back then) was that I didn't feel like the Leviathans had enough of a personal connection to the Winchesters to warrant being the season-long arc. I'm enjoying this year's tablet search far more than that. Since a demon was responsible for the very event that set the Winchester family on the path of hunting, it makes sense that an attempt to close the Gates is far more personal than the Leviathans. "Of course, Sam and Dean would want to potentially be responsible for locking those Gates up forever," Tina said. "It was back in season 2 when they were responsible for letting a whole bunch of them out."
Danielle, on the other hand, is more cautious about the mytharc: "It's a fascinating concept that there could be a gospel out there that teaches someone how to banish every evil creature from our world, isn't it? I mean, isn't one of the toughest parts of religion to wrap one's head around the fact that if there's a God, He shouldn't allow evil in the world? But in the world of Supernatural, if such a thing exists, and if Dean and Sam get their hands on it and do the job, then what? The show would have to end, and not with a bang but with a whimper. Dean and Sam would grow old, twiddling their thumbs. They'd go off in different directions, surely drift apart without hunting to keep them together, and the memory of their strong bond would fade. That's no way to treat such legends! So I have a hard time getting too excited about this search for the tablets, kind of just assuming it can't end well– whether it ends this season, in two, or in ten more." Vinnie chimes in that "I worry that the idea of the instructional tablets will paint the show into a corner as far as theme progressions go. Will the rest of the season, and any subsequent seasons, be treasure hunts for tablets? I really hope not."
Given the fact that Carver has said that this particular mytharc can last several seasons, I wonder if the boys actually will be able to close the Gates of Hell as anticipated ("It sounds like the tablet mythology could drive the story for many seasons to come – and, since Supernatural has always worked best when operating under a longer arc, not self-contained seasons, I feel like that can only be a positive thing," Laura chimed in). There are any number of wrenches that can be thrown into the plan, including the fact that maybe the whole season is not just a hunt for the tablets. The reintroduction of Chuck as God or Metatron would throw a cosmic loop in the plan and give it a far grander scale. And maybe closing the Gate is actually the last task they achieve, but they die in the process and head on up to Heaven where they get to live out the rest of eternity in their own versions of paradise. Sure, it's a bit hokey, but it might be a more fitting end than Danielle's worry that the Winchesters will spend the rest of their days living a 'normal' life.
Admittedly, Danielle does go on to say that while there is a worry about the eventual outcome of the tablet search, there are many benefits to this story arc as well. "I have long believed Crowley doesn't get enough screen or story time. If he's the King of Hell, he's pretty damn important and therefore should be treated as such. That is really, finally, coming into play with this search for the tablets, and I love that so much more than the Leviathans. Anything that had to immediately follow Lucifer as a 'big bad' had an unfair disadvantage. What could possibly be worse than the devil himself – especially when the devil himself had such a deep, personal connection to one of our heroes? The Leviathans were an unknown, and sure, they were scary, but they never (in my opinion) seemed all that much worse than the other things Dean and Sam had battled for years. I had a hard time, to the end, wrapping my head around that they were 'It' for the season. With the tablets, it doesn't seem like there is an it at all but rather a they – a ton of possibilities for where the story can go, how much the tablets themselves can impact the future, and perhaps how much they have impacted the past until now."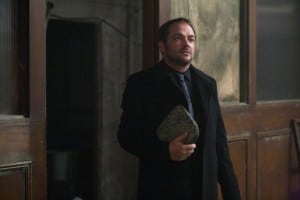 Across the board, we all agree that connecting the tablet search to Crowley was a stroke of genius. "The show is at its best when Sam and Dean have a personal connection to the villains – there's a reason why Azazel and Lucifer were such powerful and memorable antagonists, and why Eve and Dick Roman fell completely flat," Laura explained, echoing my sentiment regarding the personal tablet search as well. "The brothers have always had a fascinating relationship with Crowley, whether as a tentative ally or as an obstacle, and I think Carver was smart to position him as the big bad for the season, since he knows their weaknesses the way a new and unrelated villain couldn't."
"Crowley has always been one of my favorite recurring characters, and whenever someone who pops up occasionally becomes a bigger presence, there's always the risk of overdoing it," Marisa acknowledged. "Personally, I don't feel they've watered Crowley down or made him unbearable in larger doses. His history on the show — and with the brothers and Cas — delights me, because we know how these encounters have gone in the past. We're not starting fresh with an unknown Big Bad. I just hope that whatever the conclusion is doesn't mean we lose Crowley when the tablet arc ends."
"I love that Crowley is finally the Big Bad," Vinnie added. "It feels like a very literal head-nod to 'the devil you know'. For me, this succeeds where the Leviathan storyline failed; season 7 felt so much like social commentary and that didn't fit with the heart of the show. This, on the other hand, gets back to what the Winchesters seem to do best: lash out when it gets personal."
"Crowley's role in all this is a real treat," Alice agreed. "He's gotten more nasty, thus coming across as more of a threat, but is keeping that snarky sense of humor. Blowing on a pinwheel while Kevin reads him the word of God? Not your typical King of Hell. Judging by the personalized handkerchiefs, he's also found a new tailor. His relationship with Sam and Dean really interests me though. Why hasn't he killed them by now (other than the show would end)? He surely doesn't underestimate them."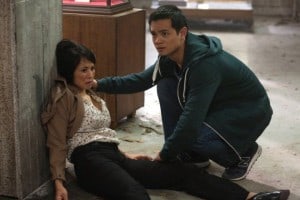 Returning Characters: The Tran Family, Garth as New Bobby, the Future Return of Charlie and Bobby's Absence
As Laura previously mentioned, with the body count on Supernatural so spectacularly high, it's always nice to see familiar faces return. Kevin and his mother may have only been introduced at the end of season 7, but they've growing into welcome recurring characters for us. "I'm so glad we have the Trans, Vinnie said. "Kevin has really evolved as a character without becoming out of character. I really respect how the writers have given him a "brains over brawn" approach to survival and hunting. What I enjoy most about the Trans is that while they are in need of protection; the Trans have proven themselves to be smart and reliable assets."
"After learning he was a prophet and going on the run from Crowley, every booby trap [Kevin] set was reminiscent of Kevin McAlister in Home Alone: they were equally brilliant and the best a kid could do," Danielle added, "And Mama Tran? Lauren Tom infused her with such a bad-ass spirit, I kind of wish she could become the new Ellen and set up some kind of home base for hunters to hang out and strategize and knock sense into those making dumb mistakes.".
While the debate over Mrs. Tran seems to come down to Marisa ("Um, is it wrong I ADORE Mrs. Tran? She's been one of my favorite new characters since maybe Castiel's introduction. She's feisty, she brings something to the show we've never really seen (her dynamic with Sam/Dean kills me), and she just genuinely loves Kevin) versus Laura ("I still find Mrs. Tran a little (or a lot) broad and overdramatic, to the point where I want Crowley to kill her already"), Kevin has earned his place in our hearts. "[Kevin is] showing off why he's in advanced placement," Alice added. "Never mess with the prophet honor student. I don't know why, but I laughed so hard at the chain of voicemails he left Sam in the premiere. His 'eat me' got me howling. He's quite skilled at staying ahead of Sam and Dean and has easily figured out he'll likely end up dead if he hangs with those two. Good thing he pays attention to history. He's so young though and he's gotten into something he was never expecting. I hope Heaven goes back to protecting their prophets someday. The kid deserves a break."
Meanwhile, when Garth was first introduced to us, a lot of us liked him, but not necessarily the episodes he appeared in. Vinnie admitted that "I had worried that my affection for Garth stemmed solely from my long-standing adoration of DJ Qualls and my love for '90s pop music, because when I looked back on the episodes he'd been in I found I was a bit underwhelmed by the scripts. Then 'Southern Comfort' happened and it was everything I needed to cement Garth as a character." Laura added that Garth "added a lot of heart to 'Southern Comfort,' especially in his ability to call Dean out on some of his issues. As long as the character continues to be utilized well, I'm glad to have him around."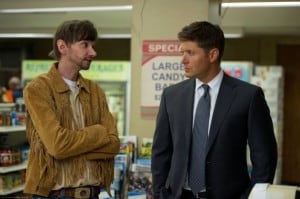 As for Garth taking on Bobby's role in the hunting community, Alice explained that "He's really matured and is doing well as the new Bobby. At least someone out there is looking out for the other hunters. He could see right through Sam and Dean and offered them some very healthy advice. Now all they have to do is take it! It's refreshing to see a well adjusted hunter for once."
Of course, Bobby's absence still leaves a hole in the hearts of many us. "I've said this numerous times, and I'll say it again. I will never, never, never, never, ever, never, ever, ever, never forgive the creative decision to kill Bobby. They did that for one spectacular hour of television. Boo hiss. Never, never, never, ever…" Alice said. Tina added that "Bobby, Ellen, Jo, Rufus, Ash, Pamela – they are irreplaceable. I hate that every single one of them is dead. I can't help thinking about what Bobby would do right now if he were still a part of the show. He certainly wouldn't let things get so bad with the brothers. He'd make them see sense. That part of Bobby I miss."
And yet, one day, perhaps we'll see Bobby return. Personally, I'd like to see Kim Rhodes make another appearance as Sheriff Mills. Like Ellen and Mrs. Tran, she's always had a motherly quality, which is something the Winchesters have lacked in their lives since Mary was taken from them while they were so young. And speaking of other awesome females, the return of Charlie in episode 8.11 of Supernatural (in late January) is highly anticipated. "As a geeky girl myself, I loved Charlie from the start, and was glad to see the show introducing a fully-formed lesbian character who wasn't just there to make out with another girl for ratings. I'm excited to see her back in another fun, geek-centric episode, and hope she'll continue to pop up," Laura said.
There was one disappointing returning character this season, however, that we have to bring up: Martin. The last time he popped he was a lovable, but slightly crazy, mental hospital patient. In 'Citizen Fang' he seemingly went off the deep end and went to terrible lengths to try and kill Benny. "The only returning character I dislike was Martin — and you saw what happened to him. I still feel like there was something weird going on there with him at the end. I just don't know what yet. It sucks because I liked him so much in 'Sam, Interrupted'," Tina admitted. Based on his actions, we all admit that Martin got what was coming to him, but that doesn't mean we're not surprised – and dismayed – by the turn of the events.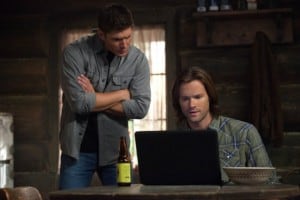 Hopes for the Rest of Season 8
With only nine episodes of Supernatural under our belt at midseason, there's a lot coming down the line for us to be hopeful for.
First up are our hopes for Sam, which Danielle summed up quite nicely: "With the confrontation of Sam by Amelia at the very end of 'Citizen Fang,' I am most excited to see his Sam make his choice again when the season returns. If life with Amelia was what he has been pining for – and why he only reluctantly got dragged back into hunting with his brother – then something pretty big has to happen to not only keep him with his brother now, even though he's mad about the whole Benny situation, but make him want to stay with his brother. Again, my theory is that his relationship with Amelia, in reality, was never as domestic and serious as he chooses to remember it, and by being forced to confront that, he realizes his true relationship is his brother and fully embraces that again." As for Amelia specifically, Laura said "I hope that the Don and Amelia arc is more than it appears, or that it's gotten rid of fairly quickly if not."
Then there's our hopes for Dean, voiced by Tina: "I would like for Dean to strengthen his relationship with the people in his life (Sam, Cas, Benny). I thought his post-Purgatory issues were dealt with a little too quickly and I would like to see more of him dealing with the fact that major portions of his life were spent in hell and Purgatory. And I just want him to continue being a badass hunter. If he can find a love interest along the way (one he shares a ton of chemistry with) then that's cool too. I really liked his minor flirtation with Elizabeth in 'Citizen Fang'." If the writers want to throw a few more Purgatory flashbacks into the mix, none of us would be disappointed by that.
Of course, all of us are hoping that the Winchesters will also soon work out their problems. "I'd like Sam and Dean to open up to each other about the year they were separated," Tina requested. "It doesn't have to be done in chick flick fashion, but they are not communicating right now. So I hope we get several moments or conversations where they lift their unofficial ban on talking to each other about something other than the MOWs they face or the Word of God tablet mission and get back on the same page." And, of course, we hope that the show will continue to focus on character development. I think Alice has a point in saying that "Supernatural has always been known for smart, emotionally compelling, original stories and I hope the show continues in that tradition. I'd like to see more emotional and engaging episodes, like the most recent 'Citizen Fang'. Some of the scripts have gotten too formulaic over the past few seasons. The FBI investigations are too routine. As long as they keep digging into the brotherly dynamic in a sensible way, I'm good."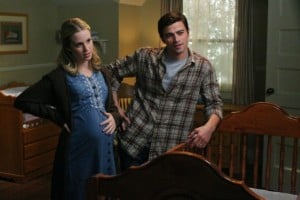 The one thing we're all waiting for with baited breath is the appearance of Henry Winchester (Sam and Dean's paternal grandfather) in episode 8.12 "We know a lot about Mary's side of the family and how it related not only to the boys' destiny but also how they relate to each other and their individual senses of family," Danielle explained. "It was a shock for Dean to realize his mother was the hunter first – the bad-ass and the babe – and I have no doubt we'll be learning some new things about John that might challenge the way Dean and Sam think about him." Since the crux of Supernatural is 'family', I've never been disappointed in an episode where Sam and Dean have learned more about their familial history, especially the time-travel episodes that introduced us to younger versions of Mary and John. Vinnie acknowledged that the Campbell family was a bit of a disappointment, which I agree with because I never feel that their full potential was utilized. But finally getting a peek into the Winchester side of the family will be a treat. Especially, as Tina says, if that paves the way for the return of John Winchester some day. Jeffrey Dean Morgan needs to show up on Supernatural at least one more time before the series ends forever.
Our Overall Impression: Welcome Back, Jeremy Carver
Perhaps the best way to let you know our overall feelings on season 8 of Supernatural is to show you, one by one, how each of us closed out our thoughts for this midseason review.
"I've been really newly enthusiastic about Supernatural this season thanks to what I've seen so far and the vision Carver seems to be exhibiting for the season overall. Any time a show switches showrunners in the middle of its run, regardless of how well the showrunner knows the show, there is usually an adjustment period," Danielle admitted. "For a show this late in the run, it can't afford an adjustment period, and Carver understood that and didn't waste time easing anyone in. He started the season at high-speed, and he has been able to hold the momentum for the majority of the first half of the season (I'd argue that 'Bitten' was a detour we didn't need, despite how stylistically fun it may have been). It is clear that he not only has a point of view, but he also has a plan, and it is paying off a little at a time, from the beginning."
"I wouldn't put season 8 on the level of the first few seasons, but it's monumentally better than seasons 6 and 7 (and some of 5 too). My love for Supernatural has been rejuvenated. I'm still not a big fan of all the brotherly conflict that's been going on but if it gets the Winchesters to relate to each other on a healthier level, then I've got mad respect for Jeremy Carver," Tina said. "Carver put his stamp on the show right away. I love his use of flashbacks (specifically the Purgatory ones) – they gave the show a fresh new perspective. The introduction of Benny was well done and I'm curious to know what's going on with Cas and the whole Naomi/heaven business. As for Sam and Dean, I'm hoping the end of this season will be a cliff-hanger that involves both of them and doesn't tear them apart emotionally or physically. I want them to face something big and bad together going into Season 9 (which I'm sure this show is going to get)."
Alice was a bit more cautious in her praise: "I'm enjoying it. This season seems more consistent and evenly paced that the last two seasons. The episodes for the most part flow together well and the plotting ties in better from week to week. They're also paying more attention to continuity. The stories have been good, and there's been the right amount of mythology woven in with the monster of the week formats. I'm also very pleased they've tried to do different things as well. 'Bitten' was a bold experiment and a very successful one, even if it didn't please some fans. I love that the show is still willing to take such chances. My biggest complaint is season eight so far has been moving too slow. I know Jeremy Carver thought that season seven was bogged down a bit too much by mythology and season arcs, but I feel at times they've gone too far the other way. There hasn't been a lot of excitement or a completely engaging mystery. The pace of the background information through the flashbacks isn't giving us enough to satisfy, which can be tough considering this is one very restless fandom. As a result, season eight at times has come across as lackluster. However, this is only the first part of the season, and historically things have kicked up in the second half. They can't all be season four, so I'm anxious to see what they have in store for the rest of it."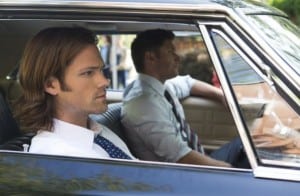 Vinnie gushed that "So far season 8 is gearing up to be one of my top seasons. I don't think I've felt this impressed with the show since season 2. Not to say I didn't enjoy seasons 3-7, but I feel like the show is hitting a late stride and I'm digging it. There's so much going on: the Trans and the tablet, Crowley, Benny, Amelia, Castiel, Sam and Dean, yet it's not jumbled or rushed; the story is quite literally unfolding. I like how much of this season is character based, not mission driven. Right now we're seeing how time and events have shaped Sam and Dean, how they've changed and how they inherently haven't. I think Carver has really hit on something, because the responses people are having to the show right now, positive or negative, are clearly strong. I haven't seen this level of heated debate in years; that's a job well done in my opinion."
Marisa agreed that she is "enjoying this season thus far; as dangerous as it can be to feel like someone has a plan (especially in a sci-fi show where things can go so wildly off track), it feels like the show is solidly going somewhere. I've enjoyed this start to the season more than I've enjoyed the series since probably season 5. I honestly don't know if the Kevin/Crowley/tablet search can sustain several seasons – or if I'd even want it to – but it also feels like it could be a jumping point for something bigger we don't even see coming yet. And I'm excited/can't wait to see what they come up with. I'm incredibly happy to feel that way about this show again."
Laura concluded that "I will watch this show for as long as it continues to air, but there were certainly moments during Seasons 6 and 7 where it felt more like a chore than a pleasure, so I'm unspeakably relieved that Season 8 has never felt that way. While there are still weaker episodes, as there are in every series of episodic television, overall the show has been so much stronger this year than the previous two, with a return to the wit and forethought that made the first five seasons so enjoyable. I feel like Jeremy Carver has a real plan in place, not just for this season but for years to come, and I feel like the show is in good hands based on what we've seen so far."
As for me…I'm hopeful that Supernatural will continue to entertain me and its fans for many years to come. I came into the show late (mid-season 5, actually) and I had an opportunity to marathon the earlier seasons in a period of a few weeks. I was hooked on the show, but didn't have much to do with the fandom until the fifth season. I've heard all of your complaints in seasons 6 and 7 (and even in season 8), but I feel a renewed sense of purpose in this show in season 8, not only in the writing, but also with the cast and crew and, equally as importantly, with the network. Even when I didn't like the overall mythology of season 7, I always found individual episodes and moments to like, but now I feel rejuvenated about the overall Supernatural package. The show will never be perfect, but I think they're building towards something that could, one day, end the series in a fashion that will, hopefully, please everyone (although, that's kind of as unrealistic as wishing for world peace, isn't it?). Let's all just remember that conflicts and complaints come and go, but the Winchesters are, ultimately, for forever!
Supernatural returns with all new episodes on January 16. Watch a preview.
Do you agree with our thoughts? Disagree? Share your own opinions in the comments below.