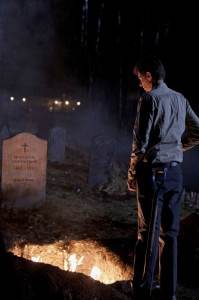 I don't know what it is about Supernatural lately, but the show has become an absolute master of misdirection. Every time you think you've got an episode figured out, it veers off in a completely unexpected direction. This first happened this season with the stellar "How to Win Friends and Influence Monsters" and continued with the so-so episode "Out with the Old". This week, "Party on Garth" started out as a light-hearted episode that promised the return of the very amusing DJ Qualls. But it ended up being a serious look at the brothers' grief over Bobby's death and Dean's eagerness for his surrogate father to actually be haunting them. Was he? Oh, we'll get to that in a moment…
That Girl is Poison
We opened this week's Supernatural in the woods, where a group of kids were telling ghost stories around a campfire. One boy was regalling the others with the tale of Jenny Greentree, who supposedly haunted the woods. The others brushed off the tale, at least until one of the camper's brother showed up in the woods, drunk. Through a terrible twist of the fate, the boy was chased through the woods and gutted.
Later, Garth went to investigate, pulling up in an old clunker with Bell Biv Devoe blaring from the speakers (what an entrance!). After hearing the tale of Jenny Greentree, he found her grave and salted and burned her bones. Unfortunately, that didn't actually solve the case, because shortly thereafter the brother of the first victim headed out to the woods, drunk off his arse, and also got slaughtered.
So Garth called in reinforcements: the Winchesters. They arrived in town in time to meet Garth at the coroner's office and realized that both brothers were killed in the same way, but it didn't sound like a ghost, or an invisible ghost werewolf as Dean had suggested.
Let's summarize the case quickly: there were three men who owned a brewery, as the boys soon discovered. One of them was upset that the company was going to be sold, so he bought a box that contained a Japanese creature called a Shojo. This creature can be summoned to enact revenge for you. The one partner, angry that the other two wanted to get rid of his baby (ie. the company), sought his revenge by having the Shojo take away the other partners' babies…in this case, their literal children.
Thanks to some help from a completely random Japaneses restaurant worker, the Winchesters soon realized what kind of a monster they were dealing with, and they also realized they could only see it when they were drunk. This led to some hilarity on the part of all the boys as they spent most of the episode alternating between severe drunkenness and mild sobriety
Eventually, Garth realized that one of the partners had an illegitimate son that would be targeted next, and the action moved back to the brewery, with Sam and Dean soon joining in. Fortunately, Dean had managed to get his hands on a sword (blessed by the aforementioned Japanese restaurant worker) and, with Sam's help (and a little "outside" assistance), he managed to kill the Shojo.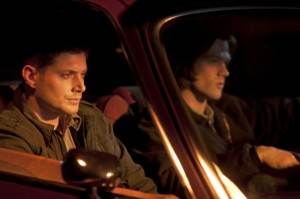 A Welcome Return
Earlier in the episode, Garth realized that the EMF meter seemed to go crazy around Dean's flask…or Bobby's flask, to be exact. He suggested that perhaps Bobby was haunting the flask, but Dean shot that down. More to the point, he didn't want to discuss Bobby with Garth, since it's clear that the wounds of his death are still too raw. But Sam jumped into this conversation, admitting to Dean that he had attempted to communicate with Bobby using a Ouija board after the first disappearing beer incident. Unfortunately, Sam couldn't connect with him.
Later, Dean let it all out, telling Sam that maybe Bobby was haunting them, because there have been a lot of strange coincidences, including the fact that something helped move the sword into Dean's hand after he had lost a hold of it during the fight. Sam told Dean that normal people have a tendency to see loved one's everywhere when they die, and maybe these strange occurrences are just a by-product of that.
Only Sam is completely, 100% wrong (yes, it happens). Because Supernatural delivered an ending this week that I honestly did not see coming. Bobby returned! Bobby is absolutely haunting the Winchesters and we saw his ghost in the hotel room. Only he seems to be unable to communicate with the Winchesters in any meaningful way, which would account for the Ouija board incident.
"Balls!" Bobby cursed as Dean walked right up to his ghostly form and didn't see him. Balls, indeed.
Concluded on next page…
Tell us what's wrong with this post? How could we improve it? :)
Let us improve this post!