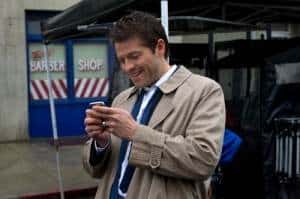 I Don't Think We're in Kansas Anymore…
While Sam and Dean are camping out at Bobby's house (sans Bobby), Balthazar shows up to announce some unfortunate news: Raphael is trying to find the weapons Balthazar had taken from Heaven and has sent an angelic hit man – Virgil – after all of Castiel's allies, including Balthazar and the Winchesters. To protect the brothers, Balthazar sets up a spell and sends them hurtling into another dimension just as Virgil arrives to kill them all.
Let me break down this other dimension for you. Sam and Dean take the place of Jared Padalecki and Jensen Ackles, two actors who happen to star on a show called Supernatural. While Jared and Jensen are friends in real life, the AU J & J in the episode are pretentious actors who don't speak to each other. As the brothers work their way through the set, they quickly realize that their alter egos star in a show about their lives. They come across Castiel, who actually turns out to be a tweet-happy actor named Misha Collins.
The boys decide to try and recreate Balthazar's spell and dig through the set of Bobby's house to gather the ingredients. Unfortunately, much like the Impala they try to use to make their escape, everything on the set is fake. Executive producer Bob Singer strolls by while the brothers are trying to search Bobby's place. He thinks they're weird, but is happy Jared and Jensen are finally speaking.
Eventually the brothers make their way to the Palace du Padalecki. Jared's house turns out to be a monstrous mansion, complete with egotistical photos of himself on the wall (which are potentially the funniest thing ever) and an alpaca in the backyard. The brothers are also shocked to discover that Jared is married to Genevieve Cortese, the actress who played the second version of Ruby. After she leaves for an otter benefit, the brothers manage to buy some of the ingredients they need for the spell off the internet, courtesy of Jared Padalecki's credit card (man, he's gonna be so pissed when he gets that bill). While Dean settles down for a snooze, Jared greets Genevieve when she returns home, and then goes upstairs to enjoy some conjugal benefits of being married.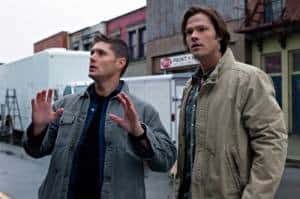 Scene 8, Take 159
The next morning, the boys head out to the airport to pick up the box of spell ingredients. Unfortunately, their plan to recreate the spell on the set of Bobby's house in interrupted by Bob Singer and the rest of the crew. Sam and Dean are forced to act in a scene with Misha. I can't do the following scene justice. Let's just say that Sam and Dean are absolutely wretched – and hilarious – actors.
Bob and the rest of the crew finally give up, allowing the boys to perform the spell. But since there's no magic in this universe, it doesn't work. Bob also gives producer and new showrunner Sera Gamble a call to warn her that J2 might be on drugs. Shortly after, Virgil also appears in the alternate universe.
The brothers come across Virgil on the set and, when Virgil can't use his angelic powers to hurt them, they decide to beat him up. They're stopped by the stunt coordinator and Virgil manages to steal the key from Sam's pocket and takes off. Bob's in a conference call now with Sera and some other producers, explaining that the boys are clearly on some sort of prolonged acid trip. Sera offers to fly up to talk to them, but since she's a 'new'showrunner, Bob suggests they call in Eric Kirpke, Supernatural's creator (who's off in a cabin somewhere writing his new show: 'Octocobra').
After leaving the set, Misha gets kidnapped by Virgil, who takes him to an alley and slits his throat, using his blood to communicate with Raphael. Before Sam and Dean get word of Misha's death, they're confronted by Bob, who reveals that he named the character of Bobby Singer after himself. Dean makes a big speech about how working on the TV show is nothing compared to saving the world back home. Sam also realizes that Virgil stole the key, and the boys quit the show and run off to find it.
Sam and Dean head to the crime scene and question the homeless man who witnessed the murder and who reveals that Virgil called Raphael over the 'blood phone'. He also tells them that Raphael responded and instructed Virgil to head to a specific place so that he could be summoned back to the real world. The brothers decide to try and intercept Virgil, who's now off at a gun store stocking up on weapons since his mojo is useless.
Back on set, the boys discuss the possibility of returning home. Dean suggests that maybe Sam will want to stay in the alternate universe. His life has been somewhat terrible back home and he's been a target for evil since he was a baby. But Sam wants to get back home to their friends and to a place where they're actually brothers.
The show's creator – Eric Kripke – arrives on set and turns out to be a bit of a hilarious douche. When Virgil is spotted on set he goes to talk to him. Then it's a Supernatural slaughter, as Kripke, Bob Singer and multiple crew on the show are all shot and killed by Virgil. Sam manages to distract him long enough for Dean to get the jump on him. They retrieve the key and go hurtling through the window, just as the spell that Raphael sent to summon Virgil back into the real universe is activated.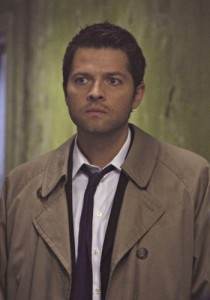 Castiel's Betrayal?
Back home now, the boys are confronted by Raphael, who unfortunately walked into a trap set up by Balthazar and Castiel, both of whom show up. It turns out that Castiel needed time to find the weapons, so he and Balthazar sent the brothers – along with a fake key – to the alternate universe. Castiel allows Raphael to escape and then transports the boys back to Bobby's house. Dean is furious that Cas used them as a pawn, but Cas reminds them that the war in Heaven is serious business and he needs to do whatever it takes to win. He disappears soon after and Sam is thrilled to confirm they're back in the real world now.
Epic Humor on a Grand Scale
I had been sent a screener of this episode earlier in the week and I found it to be one of the funniest episodes of Supernatural EVER. But I moaned to one of my pals over at Winchester Daily today that I had no idea what to write about it beyond 'it was so funny!'
The truth is that Supernatural is one of the very few shows on television that is self-aware enough to pull off an enormous meta episode like this. The whole thing worked not only because it was completely over-the-top (which it was), but also because Sam and Dean kept the episode grounded by not understanding what was happening in the alternate universe. This is not the kind of show that goes meta and then has the actors making it seem like they're in on the joke. That's why Supernatural can successfully pull off this kind of self-realization without making it seem cheap.
There's not enough I can say that will express my glee over this episode. The first time I watched the screener I was literally breathless with laughter. This episode ranks up there in the top 5 of all comedic episodes of this show. It was really a love letter to all of the devoted fans of this show. The ones who understand the inside jokes and the fact that so many things about the alternate universe were different from what we know of Jared and Jensen in real life. I love that everyone involved in this show are such good spots and don't mind taking a joke at their own expense.
But…I guess I have just one complaint with the episode. The whole angel business felt a bit tacked on. I feel like the focus was really the alternate universe and it wouldn't have mattered how or why the boys went there, only that they did. The thing is, we are constantly being told, particularly by Castiel, that the war up in Heaven is very serious. But we've seen so little of what's actually happening there – and been told so little of the actual consequences of Castiel losing – that it almost seems like an afterthought at this point.
I mentioned this in some recent reviews, but my only real concern this season is that it seems like it's taken so long for them to arrive at the big moments: dealing with the war in Heaven and revealing the season's new big bad (the Mother of All). Because of this, the danger and conflict that have been so prevalent in other seasons almost seems to be missing in season 6. Individually, a lot of the episodes have been great. But taken together, it seems like something is missing in the season-long arc. There's still time for the writers to resolve this problem, but I worry that there's not a lot of time left.
In any event, tonight's episode was hilarious, inspired and one of the best Supernatural episodes ever. Ben Edlund, you've done it again.
A new episode will be airing on March 4 (view the promo) and then Supernatural will be on hiatus for the rest of March. You can also view a new slide-show we posted today about our favorite guest stars from the show.
clarissa @ tvovermind.com
twitter.com/clarissa373
twitter.com/tvovermind