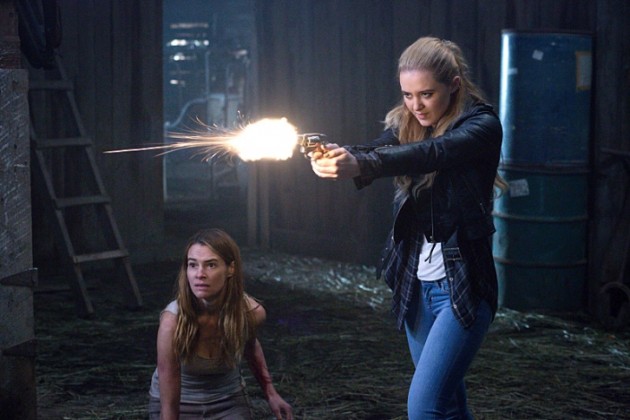 Last night's episode of Supernatural was about whether going it alone is preferable to the alternative. Dean, of course, was on the side of going it alone, while Sam, of course, believed support is necessary to live a productive life or whatever.
What's confusing for me is what point the show is trying to make. Sam, in the overall arching season-plot, is wrong; this is undeniable. But in this episode, Sam appeared to be in the right. So are they saying that both Winchesters are correct, but in different ways? I'm not saying that's impossible, but it's just really strange to be fed this line of "Sam is wrong" for so long and then be like "well, perhaps not so wrong."
As an episode of television, both independent and contextualized, this was not Supernatural's best work. The directing, especially, was kind of strange; a lot of abrupt cuts that messed with the sense of pacing. And unless I hallucinated this, they came back from commercial for like forty-five seconds and then went right back into commercial. That's not really their fault, but it was weird.
One of the things that made this episode kind of meh for me is that it had a lot of emotional moments that didn't hit. I was supposed to feel sorry for Claire and her mother and Jimmy, but I really didn't. There was no sense of catharsis for me. I don't really care if Claire Novak finds her mom, and I don't care that Castiel cares, because his character is at his absolute most buffoonish when he's around her. Wasn't Castiel implanted with all pop culture knowledge? Why does he still act like a doofus if he has been?
The scene with Jimmy and Amelia in Heaven was also non-affecting. There wasn't any sort of energy to it or specificity; it's the same kind of dialogue that you'd expect to see in a car commercial about a daughter going off to college. There was just nothing there for me.
Also, just how exactly did Sam get away from Peter Holloway? I get that he picked the lock, but then Holloway is just gone? He's an angel! By the time Sam dropped the damn handcuffs Holloway would be on top of him! But Holloway is just gone, and Sam is just walking around. What?
Here's some more weird plot stuff: Dean's revelation about the angel blade was ludicrous. You're supposed to drop the putter in after the ball at that putt-putt place, which, okay, fine. But the putter doesn't even go all the way in the ground! What if there are other people behind you? Are the people who work at the park going to come get the putter now? If that's true, why not just take the putters back to the people themselves? None of that made any sense.
What does it matter that Holloway's a Grigori? You don't have to kill him any differently. You just stab him with the angel blade/sword. It didn't matter that they knew what he was. It was just a way to get Dean and Claire at the same place as Sam and Cas.
That's enough for this episode. I hope next week's is better.
Stray Thoughts
– I haven't eaten yet today. Maybe that's why I'm so cranky.
– Please, for the love of god, give Sam more to do. They did it for like five scenes with Claire and then they gave that side relationship to Dean. As always.
[Photo credit: Liane Hentscher/The CW]