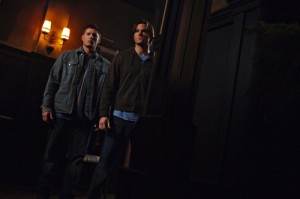 Apparently whatever vile demon had posessed TheCW's programming department has finally been exorcised because this week – finally – brings some new Winchester goodness with Supernatural "Death Takes a Holiday." We have the low down on what Sam and Dean are up to in their highly anticipated return, and a trio of highly intriguing clips to whet your appetite.
Here's the lowdown on "Death Takes a Holiday" from the good folks at TheCW:
When no one seems to be dying in a small town, Sam (Jared Padalecki) and Dean (Jensen Ackles) think that something sinister may be the cause and enlist the help of now-blind psychic Pamela Barnes (guest star Traci Dinwiddie) to pierce the veil between the living and the dead. Also guest starring Christopher Heyendahl as '˜Alistair'and Lindsey McKeon, reprising her role as Tessa (The Reaper from the Season 2 premiere episode "In My Time of Dying"). 'Death Takes a Holiday'was written by Jeremy Carver and was directed by Steve Boyum.
[media id=17 width=480 height=360]
[media id=18 width=480 height=360]
[media id=19 width=480 height=360]