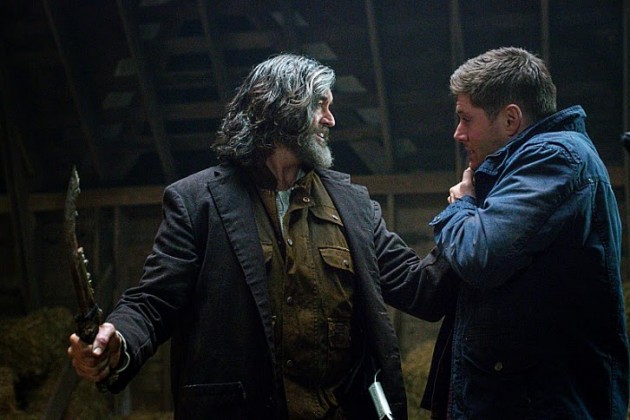 This was the best Supernatural of the season, and maybe the best one in five years. Seriously. For the first time in longer than I can even remember, I was totally into the show. It was incredible. From the opening scene, something felt different. The psycho Tommy Tolliver, the prison set, Cain's entrance; it was all so entrancing and interesting. A lot of Supernatural episodes feel perfunctory; many of them feel like filler to pad the massive order of episodes they get every season. This episode very much did not.
Timothy Omundson is a very, very good actor, and he has the gravitas to pull off such a heavy character. His voice, his demeanor; all of it works together to create the character of Cain. It's a character that could easily turn into farce or camp. But he takes the lines given to him ("There's only remission, and relapse" was delivered really, really incredibly) and just knocks them out of the park. I wish we'd seen more of him. Two episodes was not enough. His little mini-arc left me wanting more.
A lot more, in fact. If I was in control of Supernatural, I would've spent the past thirteen episodes building up a confrontation with Cain, because, to be honest, his Mark hasn't exactly been great entertainment. It's been mostly standalones with tangential connections to the overall season plot, and most of it has been pretty familiar. I just can't imagine that the first fourteen episodes of the season wouldn't have benefited from a clearer purpose. They could've kept the A-plot as "Remove The Mark," but had Cain as the secondary villain/B-Plot that kept the early season afloat. This episode was so intense and so enjoyable, and that's with less prep work than it deserved.
But anyways.
Probably my favorite development of this season is the character of Rowena. Whatever game Rowena is playing has been fascinating to watch, and she has resurrected Crowley from a wisecracking villain to a character with real depth. The human blood story has also paid dividends this season, as it has set a precedent for all of his actions so far. That's good, forethought character/plot work, and I'm really impressed. Her and Crowley's plot has been one of the bigger mysteries of the first half of this season. We have the gist of what she wants to do, but not quite the full picture; she wants power, a lot of it, that much we know, but is she willing to share that with her son? Crowley has obviously gone soft, with the human blood and all. In the old days, he would've zapped her before she got within a hundred feet of him. But Crowley isn't a demon anymore, not really; he's at least a third human, and instead of just wanton violence or suffering he's more apt to let someone push for credit than kill them for it. Of course, he does kill that kind of person this episode, but that is 100% Rowena's doing.
Going along with that, I think the Rowena/Crowley stuff highlights the biggest weakness the Winchesters have: stubbornness. They know that Crowley is different from the human blood injections, and that there is something more there, but they give him no respect, and continually kick him to the curb. The man is the King of Hell, and he obviously has a soft spot for the Winchesters. Why make him mad? Why not try and stay on cordial terms? Crowley is a powerful ally, and friend, and to continually ignore his contributions and push him away is foolish. It's gonna come back to bite them, and it probably already has: Crowley is going to fall more and more under Rowena's spell, and if that happens, they're going to have a truly massive fight on their hands.
I am hoping, very much, that all of these disparate threads (The Mark, Crowley/Rowena, Castiel's #heavenproblems) come together in some way. It would be really epic to see all of this come back and tie together. It'd be an impressive feat for any television show, and especially for Supernatural, which has struggled with that sort of thing of late.
Stray Thoughts
– I really, really loved this episode. Timothy Omundson was a force of nature, and I am legit sad he's gone.
– Dean is in bad shape, and I think he might kill himself.
– Cain describing Dean's fate, in which he kills Crowley, Castiel, and Sam, was really poignant. I thought his description of Dean's "strange, mixed feelings" towards Crowley was really cool. I want more of that, please!
-Mr. Omundson, please come back. Your hair was so great this episode, as was your beard. You were such a great guest star. I even gave you two Stray Thoughts to entice you to come back! Come on! What a deal!
[Photo via The CW]