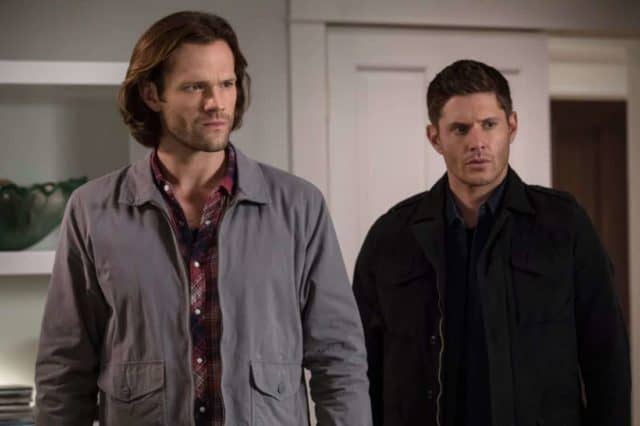 We're only a few episodes in to the lucky 13th season of Supernatural, but already a lot has happened. Mostly, the boys have adjusted to their new dynamic as parental/older brother figures to Jack, the son of Lucifer and Kelly Cline. A slight detour to assist the launch of the Wayward Sisters spin-off, we are back on the story between the brothers Winchester and dealing with some stuff that they've left hanging so far. Namely, the death of Castiel and disappearance of Mary.
The theme of dealing with loss wasn't exactly subtle throughout the episode. The case of the week led the boys to two victims who had been seeing a medium that helped them deal with the loss of loved ones, but those loved ones were appearing and killing them. So that correlated to the boys' own loss of Castiel and their mother (again), and Jack's loss of his mother before he even knew her. Though it was a little on the nose (see: "catharsis") to have the brothers deal with their losses and new circumstances this way, but it worked. All it took was a simple hunt to get the Winchester boys to deal with their problem and reconcile their oft-fractured fraternal relationship. Even though they were working a case, it hit too close to home and shook things up, especially for Sam. I don't know that I've ever seen Dean get so hostile that Sam had to leave the room before, but it was so raw and felt natural.
The real gem in this story though was Jack. Jack was all of us as he's forced into an interaction where he's desperate for approval but he's still not sure of himself. He's struggling with whether or not he can be good and is looking to fill the void in his life. Alexander Calvert has been excellent so far as the conflicted son of Lucifer, but the strongest scene he's done so far was when the shape-shifting medium took the form of Jack's late mother, Kelly Cline. Courtney Ford returned to the show and gave one of the most heartfelt, raw performances of the season. I wasn't sure until now that Jack was a character I cared about, but this scene elicited some serious feels from me. It was a great scene and surprisingly emotional given that Sam and/or Dean weren't involved. Jack is one of the best non Winchester characters to come along on Supernatural in some time.
Here are a few other thoughts:
Castiel's scene was a little strange but I have two thoughts. One: I'm really glad that he's finally reached the land of the living. I've missed him. Two: that's where ALL angels go to die? Any chance Cas could take a detour back there to find Gabriel? I just really miss my trickster, guys.
Sam and Dean making up after a fight is adorable, even after all these years.
I'd like for shape-shifting mediums to become a real thing. That was so much fun to explore.
Overall, this was a strong episode and it was necessary to pushing the boys beyond their recent losses. Not only because Castiel was in fact not dead, but this was exactly what they needed to overcome their conflict with one another and Jack and move forward into tackling more dangerous missions that inevitably lie ahead.
What did you guys think? Did you enjoy the episode? Let us know in the comments!
Supernatural airs Thursdays at 8/7c on the CW
Supernatural Season 13 Episode 4: "The Big Empty""
Summary
Sam, Dean, and Jack hunt for clients of a medium being killed while dealing with their own losses on this week's strong episode of Supernatural