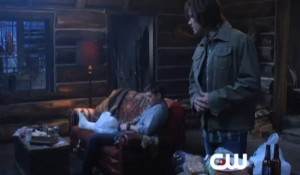 I always find it interesting when the Supernatural writers tack on a crazy ending to an otherwise steady episode. 'The Girl Next Door'felt like a nice break after the epicness of the first two episodes of the season. I don't want to call it a filler episode, because it certainly moved along the storyline, if a bit slower than the two previous episodes. And it was enjoyable, as most episodes focusing on the brothers and their relationship is. But that ending….
Let's get to that shortly.
After the cliffhanger at the end of the previous episode, we saw the Winchesters (and Bobby!) escape from the hospital fairly unscathed after their last encounter with the leviathans. They quickly moved their base of operations to Rufus' Montana cabin and Dean proceeded to spend the next three weeks resting his broken leg and watching Mexican soaps (he's ridiculously addicted to them, by the way). That is, until Sam noticed a story in a newspaper and took off to handle a case involving a monster who eats brains.
But not just any monster: a girl he had known as a teenager. Cue Colin Ford, teenage Sam and the flashbacks. As it turns out, Sam had met a girl named Amy when he was staying in a small town while Dean and John went hunting. While researching the monster his father and brother were trying to kill, Sam came across a young Amy and proceeded to befriend her. Until he realized she and her mother were monsters. But Amy convinced him that they shouldn't kill each other and Sam was going to let them escape town before the other Winchesters caught up to the women and killed them. Unfortunately, Amy's mother was far less charitable and attempted to kill a teenage Sam, only to be killed by Amy herself.
In present day, Sam seemed determined to kill Amy, but she explained that she was now a mortician who only ate the brains of dead people. The only reason she had killed was to give her son 'fresh meat'because he had gotten sick. She swore to Sam she would never kill again and he decided to believe her. After all, this is the girl who killed her own mother to save him when they were both kids.
Enter Dean, who – the moment Sam disappeared – cut off his own cast and got back on the road, chasing his brother down. In the end, it looked like Sam had convinced Dean to simply let Amy be. But we soon realized that was not the case. Instead, Dean went to Amy's motel room and stabbed her because, as he said, one day she would kill again. Cue the Kill Bill moment, when Dean turned around only to realize that Amy's son was now in the room. He let the boy go, but the boy swore he would kill Dean as revenge for his actions.
Concluded on next page…
Tell us what's wrong with this post? How could we improve it? :)
Let us improve this post!