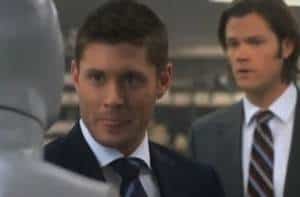 Mannequins Are Creepy
We open right where we left off: with Sam passed out on the floor. Dean is devastated that Sam is obviously remembering Hell (but doesn't cry the one perfect tear….damnit!). Fortunately, Sam comes out of the memory and the boys split.
Cut to New Jersey, where I'm supremely freaked out by a possessed mannequin killing a janitor. Creepy.
The next morning, Dean's trying to push pain pills on Sam while they discuss Sam's '˜episode'from the night before. And it's deja vu, when one brother doesn't want to tell the other about his Hell nightmares. Dean is resolute that Sam absolutely, positively, must STOP digging up past memories, then suggests they go investigate the dead janitor. While at the science lab, Dean ignores a call from Lisa, while Sam picks up an EMF trace near a mannequin.
Cue the semi-porno/'80s workout soundtrack (seriously, worst music ever on the show), while the boys go through the security tapes, only to find the part with the murder was tampered with. The janitor's girlfriend is also a dead end.
Cut to a mannequin warehouse, where a worker hears strange noises at night and then gets stabbed by a possessed mannequin. The next morning, the boys arrive at the newest crime scene and Sam's EMF meter again goes haywire near a mannequin, so he suggests the mannequins are being possessed. Shortly after, the boys find a girl who disappeared has a connection to the factory.
At which point Dean gets another call from Lisa and, at Sam's urging, answers it. Only it's not Lisa, it's Ben, who tells Dean Lisa's in trouble. Sam tells Dean to go help Lisa and Ben and then goes to speak to the disappeared girl's (Rose) sister. He discovers that both sisters worked at the mannequin factory and sees a photo with Rose and other factory workers, including the factory victim.
More bad music over a montage of Sam interviewing factory workers. Oh, I lament the days of good music on this show. He finds one of the male factory workers is acting kind of suspicious.
Moving On…
After arriving at Lisa's house, Dean finds her all dressed up for a date and she's not exactly pleased to see him. He realizes Ben set them up and she reluctantly invites him in for a beer. He asks about her date and she admits that she can never really be with Dean; that they'll never work. She says she's trying to get over him, but wants to know what he wants from them.
The suspicious factory worker (Johnny) is freaking out over the phone, saying the feds are onto him, when he too appears to be attacked, but Sam swoops in to save the day. He pours protective salt circles and then demands that he tell them what Johnny and his friends did to Rose. Johnny says it was just a joke: they made Rose think she had a secret admirer, lured her to an apartment, set up a mannequin at the table and then laughed about her humiliation. She went to storm out, one of the men grabbed her arm and then she fell, cracking her head on the coffee table. The boys decided to cover up her death. Sam asks where Rose is buried and Johnny tells him. He orders Johnny to stay behind the salt lines and goes off to dig up the body.
Back at Lisa's, Dean goes to talk to Ben. Ben asks Dean to apologize and just come home, but Dean says he can't do that. Dean says he can't be around them because his job can make him a bad person and he doesn't want Ben to turn out like him. Ben flat out tells Dean that they're his family and he's walking out on them.
Sam digs up Rose's bones, burns them, and then calls Johnny to tell him he's free. While driving back to Sam, Dean keeps having flashbacks to time spent with Ben and Lisa.
Johnny heads back to his house where we find out he's a bona fide psycho: he has a mannequin on his bed that he pretends is his girlfriend. A mannequin who suddenly becomes possessed.
The next morning, Sam checks out the crime scene at Johnny's apartment and leaves a message for Dean that Rose's ghost is still alive and strong. He returns to Rose's sister (Isabelle) and realizes that she's visited all of the crime scenes in the last week and that she's the link to all of the murders. He finds out that Rose donated a kidney to Isabelle when they were teenagers and that is keeping her tied to this plane.
The brothers reunite to discuss how to save Isabelle and get rid of Rose's ghost. They decide on hoodoo right around the time Rose's ghost possesses the Impala and chases down Dean. The car finally stops and the boys see blood pouring from Isabelle's mouth. Rose's ghost appears to say she's sorry and Isabelle dies.
Back at Bobby's, Dean is fixing up his poor Impala. Dean tells Sam they just leave messes everywhere they go, while Sam tells them they do occasionally save people. Sam thanks Dean for getting him his soul back and then tells his brother (for real, this time) that he's got his back.
Concluded on next page…