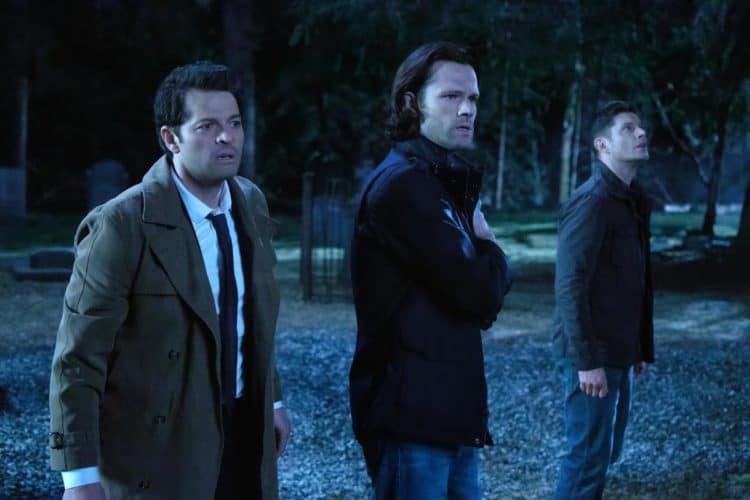 Vampires, werewolves, witches, and other supernatural beings may not exist (at least as far as we know), but that hasn't stopped people all over the world from developing a serious interest in them. For 15 years, the TV series Supernatural gave viewers a chance to experience hundreds of otherworldly stories. Even though the show had an incredible run, many fans were still sad to see the series end in the fall of 2020. The good news is that if you were a fan of Supernatural, there are a few other shows out there that can give you the same feeling. While none of these shows are exactly like Supernatural, they will tap into your love for science fiction, adventure, and suspense. Keep reading for 10 TV shows that are similar to Supernatural.
What Was Supernatural About?
Before we dive into our list, let's take a look at what Supernatural is all about. The show follows the lives of two brothers, Dean and Sam Winchester, who are paranormal hunters of demons, monsters, and ghosts. In their quest to uncover all paranormal activity around America, they get help from Castiel, an angel friend, and Crowley, the king of hell. Other hunters also come in to assist. However, their journey isn't easy. On top of their work as hunters, the brothers also have to deal with the stresses of everyday life. Not only does Supernatural focus on the paranormal, but it also has themes of love, betrayal, friendship, family ties, and atonement.
1. The X-Files
The X-Files is definitely a classic in the science fiction realm. It's actually one of the shows that helped lay the foundation for Supernatural. The series, which aired from 1993 to 2002, followed two FBI special agents who were tasked with investigating unsolved paranormal cases. The X-Files is clever and entertaining and it has a way of sucking viewers in. Plus, with over 200 episodes, this is the perfect show to binge-watch.
2. Angel
Debuting in 1999, Angel is a spin-off from the popular TV series Buffy the Vampire Slayer. Angel, the protagonist, is a vampire who spent years torturing and murdering innocent souls. In search of a fresh start, he leaves the fictional town of Sunnydale relocates to Los Angeles where he makes it his mission to make up for the bad things he's done. One of the things that makes Angel so special is the fact that it isn't your typical vampire show. However, it still has many of the characteristics that vampire fans are familiar with.
3. Warehouse 13
If you like to laugh as much as you like science fiction then Warehouse 13 is a show you'll definitely want to add to your watch list. The series is about a pair of U.S. Secret Service Agents who were put in charge of a top-secret warehouse that houses all of the supernatural items the US government has collected over the years. The show managed to find the perfect balance between humor and the paranormal.
4. The Vampire Diaries
The Vampire Diaries was inspired by the book series of the same name, but you don't have to be familiar with any of the books to enjoy the show. The show is set in a fictional town called Mystic Falls which is a place with a long history of supernatural occurrences. While vampires are at the center of the show, it also features witches and werewolves. In the interest of not giving anything away, I'll just say that The Vampire Diaries has a little something to offer everyone.
5. American Horror Story
Since its debut in 2011, American Horror Story has become one of the most popular horror shows on TV. The anthology series features a new story each season, and it tends to tap into some pretty dark things. On top of that, American Horror Story always has an incredible cast so you can count on top-notch performances no matter which season you watch.
6. Once Upon a Time
Most people grew up hearing all sorts of fairytales, and these stories are usually associated with happy endings. Once Upon a Time, however, takes a different — and much darker — approach to some of your favorite fairy tales. Throughout its run, the series put its spin on several popular stories such as Peter Pan and Snow White. That said, if fairytale-type stories aren't really your thing, you might not enjoy Once Upon a Time.
7. Grimm
What would you do if you woke up one day and saw things that nobody else could see? That was detective Nick's predicament in this 2011 series, Grimm. One day, he discovers that he comes from a long line of people called Grimms who have supernatural abilities and are responsible for keeping the peace between the 'real' world and the magical realm. Nick's supernatural powers help him in his line of work but also expose him to situations he wishes he could avoid.
8. The Originals
The Originals is a spinoff of The Vampire Diaries, and many have argued that it's much better. The series follows the lives if vampires, witches, and werewolves who live in the New Orleans area. The show is full of great characters who have interesting stories and it's very easy to get hooked on. Although watching The Vampire Diaries beforehand will help provide context, you don't necessarily have to have seen it in order to enjoy The Originals.
9. Lucifer
Lucifer is based on the DC Comics character, Lucifer Samael Morningstar, who was inspired by the devil. In the show, Lucifer leaves hell and moves to Los Angeles where he opens up a nightclub. Eventually, he finds himself in the middle of a murder investigation and he ends up becoming a consultant for the police department.
10. Stranger Things
Stranger Things is arguably one of Netflix's most popular original series. Although it features a young cast, the show appeals to viewers of all ages and it combines the best of mystery, suspense, and supernatural activity. Three seasons of the show have already been released and the fourth season is set to premiere in 2022.
Tell us what's wrong with this post? How could we improve it? :)
Let us improve this post!