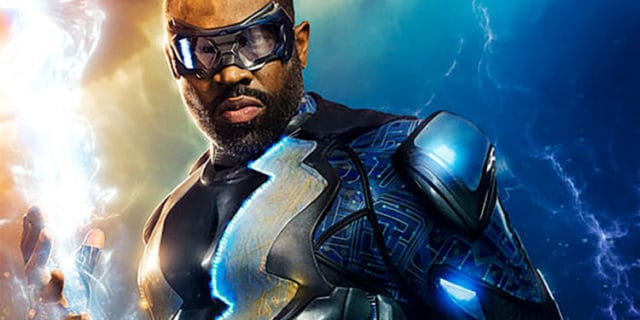 Last week, The CW network gave Black Lightning a full series pickup order. The show will be live-action, rather than animated. It will likely debut toward the end of this year or early next year. This version of Black Lightning comes from superhero uberproducer Greg Berlanti along with Mara Brock Akil and Salim Akil. Black Lightning stars Cress Williams in the title role. Co-creators the Akils began developing the show at Fox. When that didn't work out, they and Mr. Berlanti brought the show to the CW.
According to The Wrap, the pilot for Black Lightning focuses on Jefferson Pierce, an educator and a father with electrical powers. Years ago, Pierce retired his secret identity as Black Lightning, so he could be a better father. Now that his daughters are teenagers, and at least one of them has powers, Pierce may take up his secret identity again. A local street gang pursing a star student will tip the balance. Once more, Jefferson Pierce will take up the role of Black Lightning: superhero, wanted vigilante and DC Comics legend.
A superhero with electrical powers, Black Lightning was created by Tony Isabella with Trevor Von Eeden. Black Lightning first appeared in 1977 in DC Comics publications. Black Lightning also bears the distinction of the first African-American/Black DC Comics superhero to headline his own title.
Bringing the character Black Lightning from comics to live-action television has been a very long journey:
Late 1970s.
Black Lightning almost appeared in animation, as a primary character on Super Friends. Animation company Hannah-Barbarra produced Super Friends for ABC. Disagreements between Hannah-Barberra and DC Comics led to 'Black Vulcan' appearing on Super Friends instead of Black Lightning. Hannah-Barbarra created Black Vulcan as an African-American/Black character with a slightly different uniform and powers than DC Comics' Black Lightning.
Early 2000s.
Black Lightning had another near miss in TV animation on Static Shock at Kids' WB. Static Shock needed an older, African-American/Black, retired superhero with electrical powers for a few episodes. This might have been a great opportunity for Jefferson Pierce. But the show's creators went with an original character who was a couple of generations older than Jefferson Pierce. This original character lived in a retirement home, rather than working in education like Pierce.
Late 2000s.
A version of Black Lightning finally appeared in Warner Bros. Amimation's Batman: the Brave and the Bold. This version of the character was an angry teenager. Also, no civilian identity ever appeared on screen. In 2010 and later in 2013, adult versions of Black Lightning appeared briefly in the direct-to-video animated feature Justice League: Crisis on Two Earths and the animated series Young Justice.
Live-action.
It is fitting that Jefferson Pierce/Black Lightning should be the first African-American/Black DC Comics character to headline his own TV show, since he was the first Black hero to headline his own DC Comics title.
In the Black Lightning series, producers cast Cress Williams in the title role. Mr Williams previously starred in Heart of Dixie. Joining Mr. Williams in the cast of Black Lightning are Nefessa Williams (Code Black), China Anne McClain (Descendants 2) and Christine Adams (Terra Nova). The producers have many prior credits. Mr. Berlanti is known for Arrow, The Flash and Supergirl. Salim Akil and his wife Mara Brock Akil previously made The Game, Sparkle, and Being Mary Jane together.