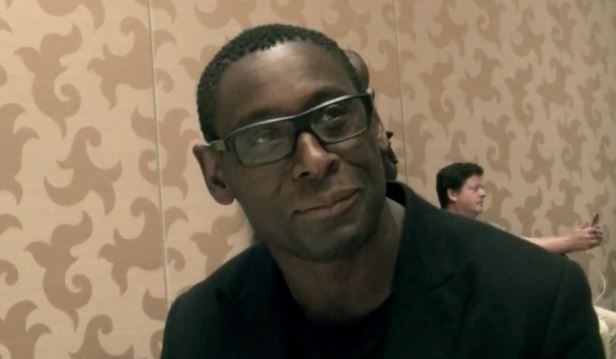 One of the most anticipated new shows of the 2015-2016 TV season is CBS' Supergirl, the story of Kara Zor-El (played by Melissa Benoist), who decides after several years of hiding her abilities to step into the light and become National City's own protector. In the series, we meet many classic characters from the Super-mythology, including Hank Henshaw (played by David Harewood), who, in the comics, becomes the villain known as Cyborg-Superman. However, in Supergirl, he's introduced to us as the director of the D.E.O. (Department of Extra-Normal Operations), someone who Kara is going to have a number of challenges working with.
TVOvermind was fortunate enough to participate in the Supergirl Press Room at San Diego Comic-Con with other news outlets at roundtables where stars and producers from the show discussed what viewers can expect from the new show. Harewood was one of the people we got to talk to, and you can watch his entire roundtable interview in below. Here are some of the highlights:
When asked whether or not Hank could act as a mentor-figure for Kara in the first season: "You know what, I don't know, but you know the saying, 'The lady who doth protest too much?' With Hank, it makes you think, 'Why does he have such a problem with this girl?' So I think there is going to be something in there, and she obviously has got some great abilities, so why would someone who is in Hank's position, why would he not want her on the team? It's going to be very interesting to unpack that and find out what exactly is his relationship with her and where that is going to go. I think, not just me, but the audience will be surprised. He's got a problem with Superman, too! In the comic books, I think Superman was responsible for his wife's death. It's kind of muddy. He has got a big problem with aliens. They are big problems on the planet. I don't know if it's a fear [on Hank's part], but once again when you see the show, you will be surprised."
What some of his favorite dynamics have been so far on the show: "Well, you know, all my scenes are with Chyler [Leigh, who plays Alex Danvers] and Melissa [Benoist, who plays Supegirl]. It's wonderful! I'm acting with these beautiful women all day long–it is torturous! I think it's going to be very interesting to see how my relationship develops with both of them. We are essentially there as a department that fights extra-terrestrial beings. It's just going to be very interesting to see where that trajectory takes us, and I want to play with some big guns! I'm looking forward to shooting some aliens!"
Supergirl begins on Monday October 26, at 8:30 p.m. on CBS. Stay tuned for more roundtable videos of the cast and producers in the next few days right here at TVOvermind.
[Photo via YouTube]