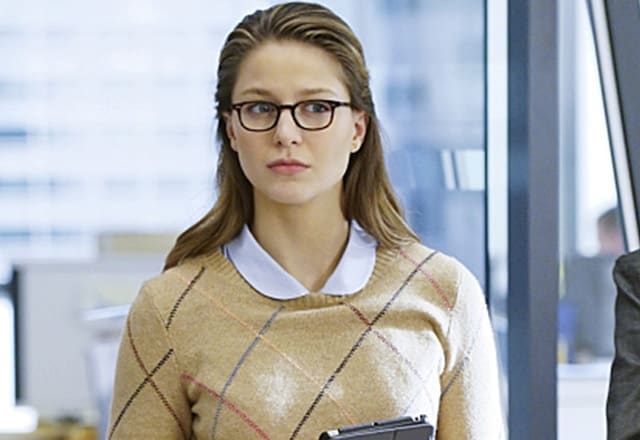 As Supergirl continues to dive into the bigger mythology, this week's episode appropriately titled "Bizarro" introduced Kara's mirror version of herself, Bizarro-Girl, created by Maxwell Lord who unleashes his villainous side at his fullest.
While I'm more familiar with Superman's Bizarro, I know bits and pieces of Bizarro-Girl in the books. It was hard to picture whether or not the TV show's version would have a very dark tone to her or if it would have an element of campy. Fortunately, the show did a really solid job in making Bizarro-Girl intimidating and complex. It also gave Benoist a great opportunity to play a twisted version of herself which she did a good job with. I enjoyed the pacing of how she went from looking exactly like Kara into her bizarre appearance. Her scenes with Maxwell whenever he was giving her orders and instructions made "Bizarro" one of Supergirl's darkest episodes so far in the first season. However, "Bizarro" didn't step outside of its established tone too much and kept the darker tone at a balanced level. As a comic book nerd, I appreciated the faithful design of Bizarro-Girl from her reverse-Supergirl costume and her white cracked face from the books. The fight scenes between the two of them were some of the show's stronger action scenes. Their final scene together after the fight was over: was heartbreaking on every level which makes me hope that this isn't the last we have seen of Bizarro-Girl. That's a dynamic I want to see more of, to the point where I wouldn't mind if Bizarro-Girl goes into an anti-hero-y role of sort.
It can't be denied that Supergirl's version of Maxwell Lord has a very Lex Luthor-y vibe to himself which can be both good and bad. While I enjoyed seeing Maxwell pretty much put all the cards on table and take on the villain role to its fullest, I still didn't get a sense of what his motivations are. It's been over ten episodes now and I still feel that I don't know why he is doing all of this. If the point is that he is just a mustache -twirling villain without a tragic or complex backstory, that's fine. Those sorts of villains still work when you do it right, but right now, I'm mixed on Maxwell's character as a whole. The moment he reveals to Alex how many comatose women he had tried to create a Supergirl out of, was one of those intense moments when just the dialogue itself made him look like the biggest creep ever. As he is being kept at the DEO, it will be interesting to see what role he will serve moving forward, how he will get out and what else he may have in store for Kara. It wouldn't shock me if J'onn wipes Maxwell's mind from everything he knows about Supergirl.
"Bizarro" also spent a lot of time focusing on the new relationship between Adam and Kara which had me mixed. It should be repeated that Benoist and Renner's chemistry is a blast to watch. Unfortunately, living a double-life as a superhero can have its many ups and downs, which we see clearly in this episode. Every time they did manage to get together or grow closer to one another, trouble would just fly in and get in the way. As Kara wants to protect Adam from the threats that come after her, she breaks up with Adam which was a shocker because I expected that it would have gone on for a few more episodes at least. While Cat said that he is going back to Opal City, hopefully he will be coming back down the line. On the other hand, one of the few weaknesses of "Bizarro" was that the romantic aspect felt it was crammed into the story, along with Jimmy now having revealed his feelings about Kara.
Overall, despite the awkward conclusion (supposedly) to Adam and Kara's relationship, "Bizarro" was a powerful episode that did a good introduction of one of Kara's most compelling villains, but as one enemy gets taken care of, a new one appears as the episode ended on a twisted cliffhanger and knowing what comic story the next episode is borrowing from: you don't want to miss it!
Supergirl airs on Monday nights, 8/7c on CBS.
[Photo: Monty Brinton/CBS]
Supergirl Season 1 Episode 12 Review:
Summary
Kara Zor-El goes up against her mirror version, Bizarro-Girl, in this week's very dark, but stellar episode of Supergirl.