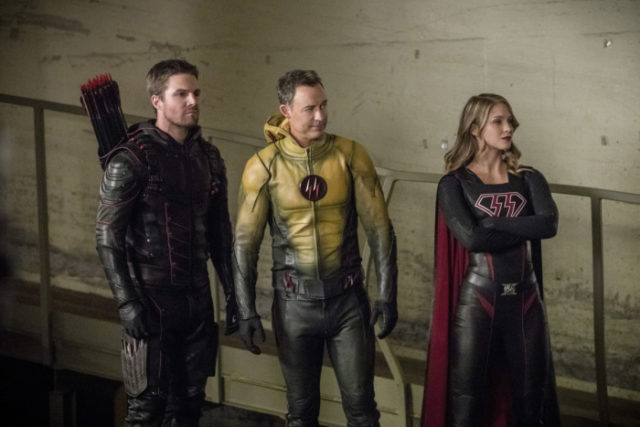 Get ready DCTV fans, because the epic "Crisis on Earth-X" Crossover Event is just a week away! The CW's DCTV shows Arrow, The Flash, Legends of Tomorrow, and Supergirl will unite for an epic two-night crossover. The event's of this year's crossover will rival last year's in several ways, including a double dose of your favorite heroes. The Green Arrow, The Flash, Supergirl, White Canary, and their respective teams, will face their greatest foes yet: evil version of themselves. In preparation for the event, fans attending this past weekend's Heroes and Villains Fan Fest in Atlanta, GA came prepared with questions. The stars remained (mostly) mum on what fans can expect, aside from what has been revealed through the recently released "Crisis on Earth-X" photo gallery. However, Arrow star Stephen Amell did reveal one key spoiler that had, Olicity fans in particular, in a frenzy.
Asked on Day 1 of the convention to give a hint of what Oliver will be doing in the crossover (besides saving the world), his portrayer Amell teased, "Oliver kisses someone…. that… is not here [at Heroes and Villains Fan Fest]." Those who have a deeper knowledge of the "Crisis" storyline may have immediately figured out that Amell was not talking about his onscreen love Felicity Smoak (Emily Bett Rickards). Just to solidify this statement, Amell revealed the name of this other leading lady during the OTA (Original Team Arrow) panel's '2 Truths and a Lie' segment: "I hand Felicity a gun, Oliver and Kara share a passionate kiss, and we do not spend any time whatsoever in Star City." You guess which one is the lie. However, because there will be two Oliver Queens and two Kara Danvers, which versions will share this 'passionate' moment?
Other Arrow News From Heroes and Villains:
-WestAllen and [SPOILER] Olicity fans will get the weddings they've been waiting for, just not in the way they thought. Possible Dialogue Teases include: "I've been trying to get these two together for six years!" and "You are my Star."
-John Barrowman confirms Malcolm Merlyn is dead. Period.
-Juliana Harkavy (Dinah/Black Canary) says the Vigilante story will play a bigger role than it already has this season.
-Despite Felicity Smoak recently settling on a name for her new company, Emily Bett Rickards thinks the name will eventually change ("I feel like it's supposed to happen in the future").
-David Ramsey says that in the upcoming "Thanksgiving" episode, events will occur that force Diggle to give up the Green Arrow hood, but "there will be the return of a new and improved Spartan suit." Also, "The responsibility, the desire to lead the city [sparked in last year's crossover and picked up by the Green Arrow switch] is in his [Diggle's] head to a certain degree. We haven't finished playing that out yet, but there's a big story (there)."
-Amell asked the writers to address a particular elephant in the room in a story that will be told across episodes 10, 11, and 12 of Season 6.
"Crisis on Earth-X" airs Monday, November 27 and Tuesday, November 28 across all DCTV shows on The CW.
Tell us what's wrong with this post? How could we improve it? :)
Let us improve this post!